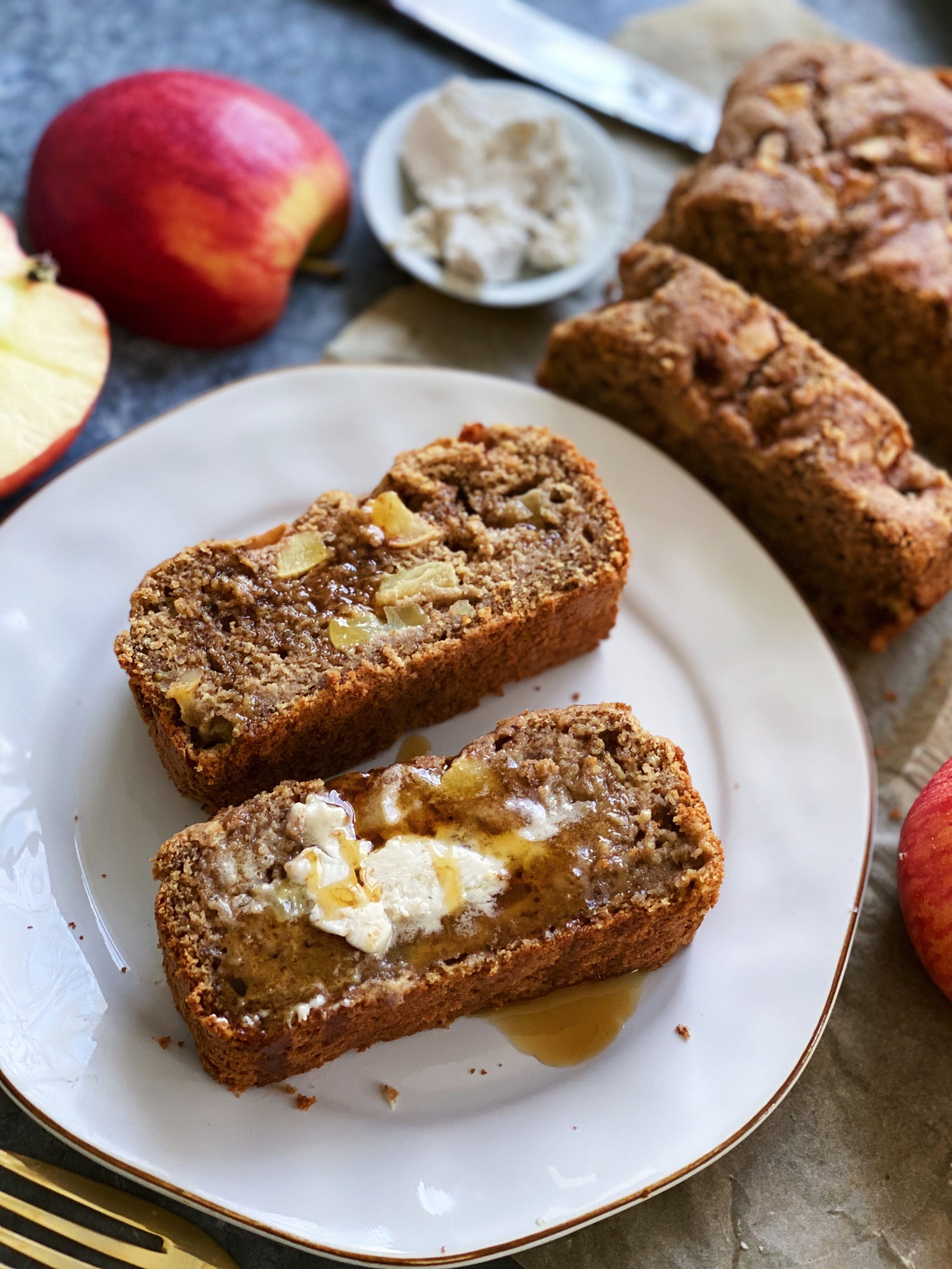 Let me see, just how do I describe this fluffy, moist, maple forward, fresh apple, cinnamon swirled insanely delicious loaf of bread.
I cant seem to find the words, so I'll just take another bite. And you should too.
I have now had this bread for dessert ( with an extra drizzle of maple syrup) , for breakfast ( with a smear of cashew butter) and for a mid- day snack ( extra dash cinnamon ) , but whatever time of day this bread always seemed to hit the spot.
It was my pleasure working with Forager's Projecton creating a Tasty As Fit recipe and this one hit It out of the park!
I n g r e d i e n t s 
D r y
1.5 cup GF oat flour
1 cup almond flour
1/4 cup tapioca flour
1/4 cup coconut sugar
2.5 tsp cinnamon
2 tsp baking powder
1/2 tsp baking soda
1/2 tsp salt
W e t
2 flax eggs ( 2 tbsp flax meal + 4 tbsp water)
1/2 cup maple syrup
1/2 cup unsweetened applesauce
1/2 cup Foragers unsweetened yogurt
1.5 tsp vanilla extract
1 tsp lemon juice
O t h e r 
 ¾ cup red apple, chopped
1 tsp cinnamon
D i r e c t i o n s 
Preheat oven to 350 F. Line a loaf pan with parchment paper.
Prepare your flax egg in a small bowl. Mix and set aside,
Add all your dry ingredients into a small bowl. Mix and set aside.
In another large bowl add all your remaining wet ingredients EXCEPT lemon juice. Now whisk in your flax eggs until one uniform mixture remains.
Add your dry ingredients into your wet and mix until well combined.
Add your chopped apples into the bowl your dry ingredients were in. Add your extra tsp cinnamon and mix well. Fold in the majority of your apples into the batter, saving a few to top bread with.
Now mix in your lemon juice.
Add all batter into bread pan, and top your loaf with remaining cinnamon apples.
Bake for 40-45 minutes, or until top is golden brown and top feels hollow.
Allow to completely cool so bread can set before slicing.