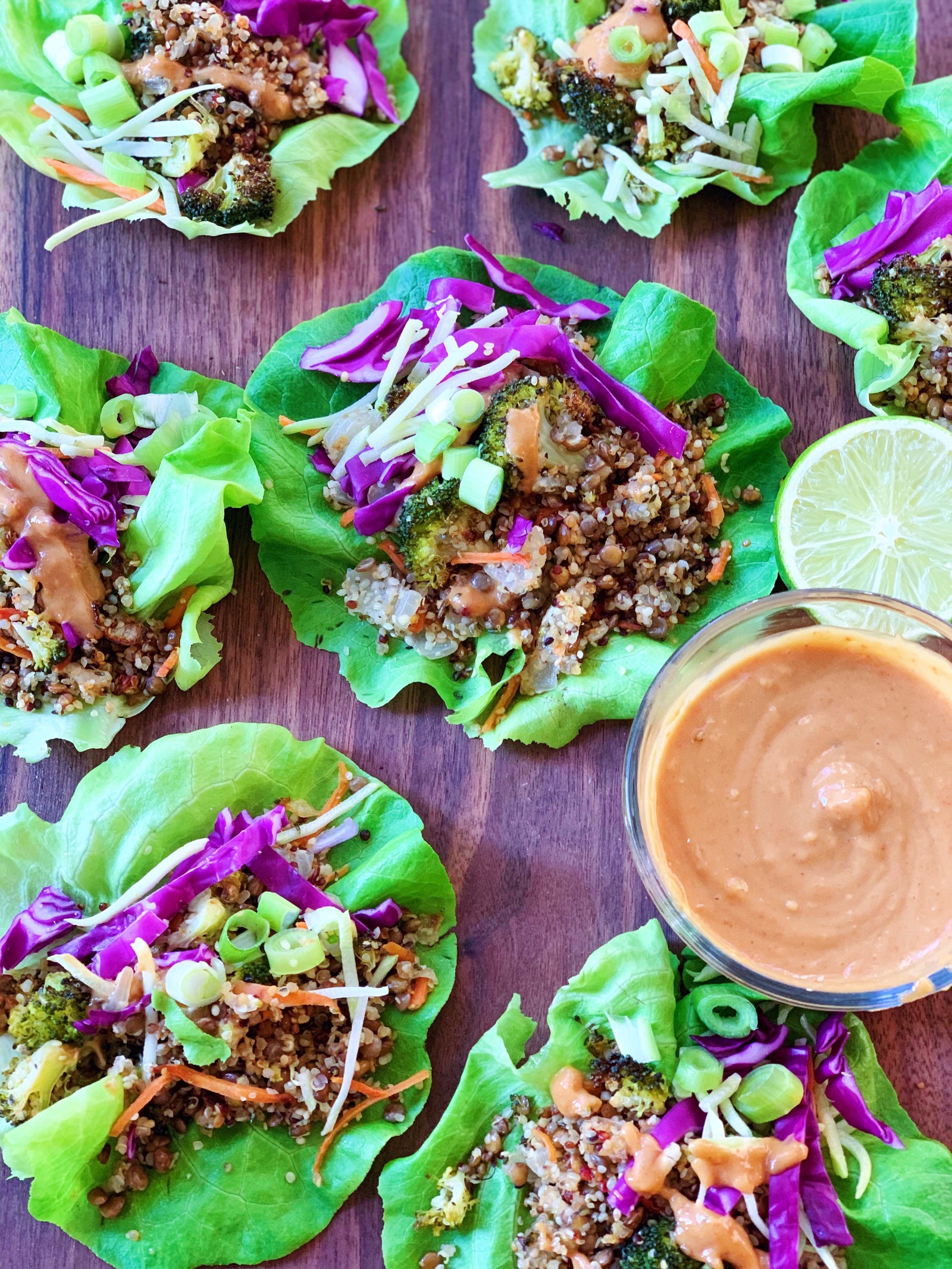 ASIAN LETTUCE CUPS WITH CRISPY LENTIL QUINOA FILLING
Asian Lettuce Cups.... with a "One Pan Crispy Lentil Quinoa Filling"
That, might I add, is out of this world.
Yall, this filling IS A MUST TRY. Especially for those of you who are on the hunt for meat replacements that are delicious, hearty, and satisfying! Not to mention packed with protein! 
Its gets crispy and toasty in all the right ways and you can add it to salads, wraps, power bowls, or on its own! 
I might be a little biased, but in these Asian Lettuce Cups should be the first way you try.  
I kid you not, my husband was blown away with this one!
Cant wait to hear what you think!
I N G R E D I E N T S 
Filling
1.5 cups cooked green lentils
1.5 cups cooked quinoa
1 cup hemp seeds
3 tbsp sesame seeds
1 cup sweet onion, diced (about one small)
1 tsp fresh grated ginger
1 cup shredded carrots
2 cups broccoli
2.5 tbsp coconut aminos or low sodium tamari
3 tbsp ghee, melted ( olive oil will work but might not get as crispy)
3/4 tsp sea salt
1/2 tsp pepper
2 tsp sesame oil
1/2 cup green onion. Sliced thin
Lettuce Cups
8-10 Bibb lettuce leaves ( any lettuce will do)
2 cups sliced red cabbage
1 large sliced red pepper
(Sub anything here to your liking!)
1 batch Pad Thai Sauce for dipping (optional-- linked here) 
D I R E C T I O N S
Preheat oven to 400F. Bring out a large baking sheet.
In a large bowl mix your lentils, quinoa, hemp seeds, sesame seeds, onion, ginger, carrots, ghee, broccoli, coconut aminos/tamari, sea salt and pepper.
Spread the mixture directly onto the baking sheet into an even layer. You want to spread It out as much as possible to allow It to get crispy.
Bake the mixture for 28-35 minutes or until the edges are starting to brown and the mix has gotten crispy!
If making, use this time to make the sauce, linked here!
Remove from the oven. Drizzle the sesame oil all over the pan, and use a spatula to mix and scrape up all the good crispy pieces! Add your green onion
Serve in lettuce cups, and add your cabbage and red pepper garnish! Drizzle with the cashew sauce if using! Siracha would be a great addition here too.
Save the rest of the filling for salads, power bowls, or a quick protein bite! Stays good for 3-4 days.