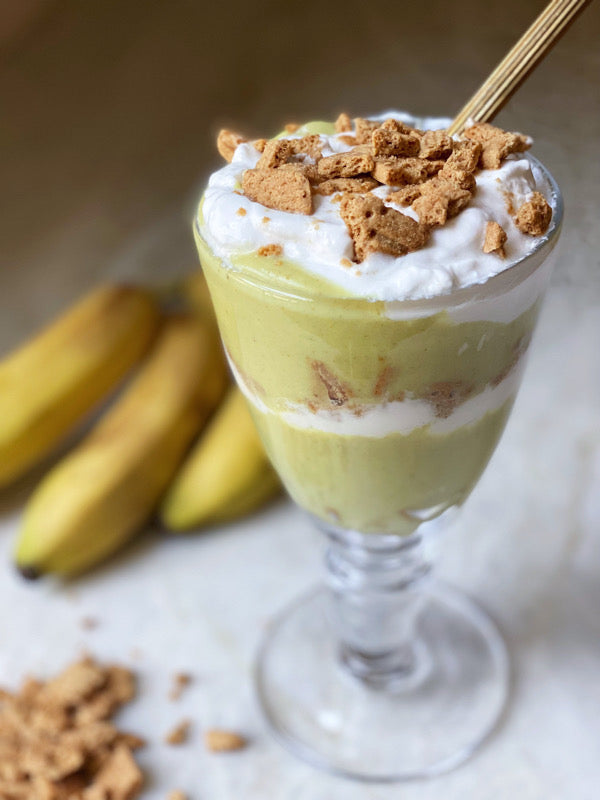 I grew up on banana pudding. The southern way, chilled with heavy cream, vanilla wafers, and lots of sugar. And dang was it good. I had high expectations for this banana pudding since we have lightened it up a bit ( a lot ) and though it took me a few times, it is still as decadent as ever. 
I layered mine with coconut yogurt ( you can use coconut whipped cream too) and crumbled Simple Mills Honey Cinnamon cookies and the combo is divine! 
The perfect "everyone grab a spoon" kind of dessert. 
Ingredients
2 large ripe bananas 
1 can full-fat coconut milk ( refrigerated overnight )
3 tbsp maple syrup 
1/8 tsp turmeric ( optional for color ) 
1.5 tbsp arrowroot powder + 1/4 cup of liquid 
1/4 tsp sea salt 
2 tsp vanilla extract 
Optional for Layering 
1 large container coconut yogurt ( I LOVE this one ) OR a coconut whipped cream 
1 box Simple Mills Honey Cinnamon Crackers 
To a high-speed blender add your ripe bananas. 
Open your coconut milk can and scoop out all the hardened coconut cream that has separated from the liquid. Should be about 1 cup. 
Add in your maple syrup sea salt and turmeric. Blend on high until the pudding is a creamy consistency. No clumps. 
In a separate bowl add 1/4 cup of the leftover liquid from your coconut milk can ( you can use any nut milk here ) with your arrowroot powder. Whisk until It has all dissolved into your liquid. 
Pour the contents from your blender into a small pot on the stove. Warm over low-medium heat. Stirring frequently. 
When It is warmed through, continue to stir as you pour in your arrowroot powder liquid. 
Continue to whisk your pudding until It thickens up. 
Turn off heat and stir in your vanilla. 
Allow pudding to cool and then add to the fridge. The pudding will continue to thicken in the fridge. 
Layer the pudding in small glasses or mason jars with coconut yogurt or coconut whipped and your cookies of choice!