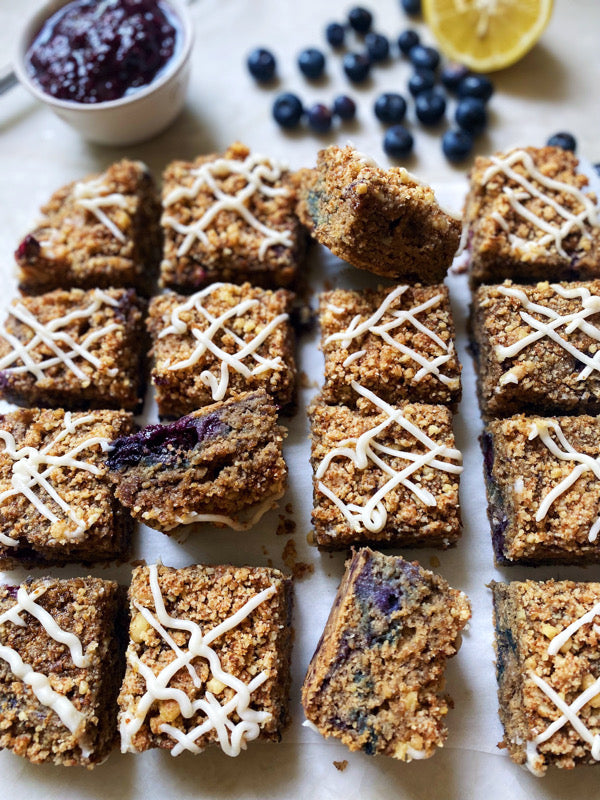 Blueberry Jam Coffee Cake
Y'all wanted a summer coffee cake, so I took this one up a notch with fresh blueberries, a berry jam swirl, AND a walnut crumble.
She's perfectly moist, sweet, and bursting with blueberry flavor ( and color). Warm-up a piece for breakfast, brunch, or dessert, trust me, this one pairs with all.
Pro tip: these work great as muffins too! 
WET
2 flax eggs (2 tbsp flax meal + ¼ cup water )
1 cup cashew yogurt 
5 tbsp maple syrup
3 tbsp coconut sugar
3 tbsp coconut oil, melted
1 tsp vanilla extract
1 tbsp lemon juice
1/2 cup blueberries
1/4 cup blueberry jam of choice 
DRY
2 cups GF oat flour
1/2 cup almond flour
2 tsp cinnamon 
1 tsp baking soda
1 tsp baking powder
1/2 tsp sea salt
STREUSEL
1/4 cup oat flour
1/2 cup walnuts, finely chopped
3 tbsp coconut sugar
3 tbsp coconut oil, melted
Pinch sea salt
ICING ( optional ) 
¼ cup coconut butter
¼ cup almond milk
Optional: dash maple syrup
Preheat your oven to 375F. Line a 9x9 with parchment paper.
Mix your flax eggs in the bottom of a large mixing bowl that you will use for your wet ingredients. Set aside.
In a separate mixing bowl, add all your dry ingredients and whisk to combine.
Now that your flax eggs have most likely coagulated, add the rest of your wet ingredients into your large bowl, EXCEPT your lemon and jam. 
Add your dry mix to your wet ingredients bowl and mix well. 
In the same bowl you had your dry ingredients in, begin to prepare your streusel topping. Mix your oat flour, finely chopped walnuts, and coconut sugar together until all is coated. Add in your coconut oil and sea salt --  now with the back of a fork work the coconut oil into the streusel topping until all is mixed well. Set aside. 
Add your lemon to your batter ( NOT your streusel ) and mix. Now fold in your blueberries and jam. You want to achieve a swirl look, not completely mixed in. 
Pour your batter into your lined cake pan and spread evenly. Now add your streusel topping and lightly press it into your batter with your fingers.
Bake for 35-45 minutes or until a toothpick comes out clean. Allow the coffee cake to sit until COMPLETELY cool before trying to slice, at least an hour.
To prepare your icing, add your coconut butter and almond milk to a small saucepan. Turn heat to low and begin to melt the coconut butter. Stir constantly with a spatula or whisk until one cohesive icing forms. Add your maple syrup if using and stir. Move off the burner when desired consistency.
Icing will thicken as it cools and harden in the fridge. Drizzle over the coffee cake and serve!