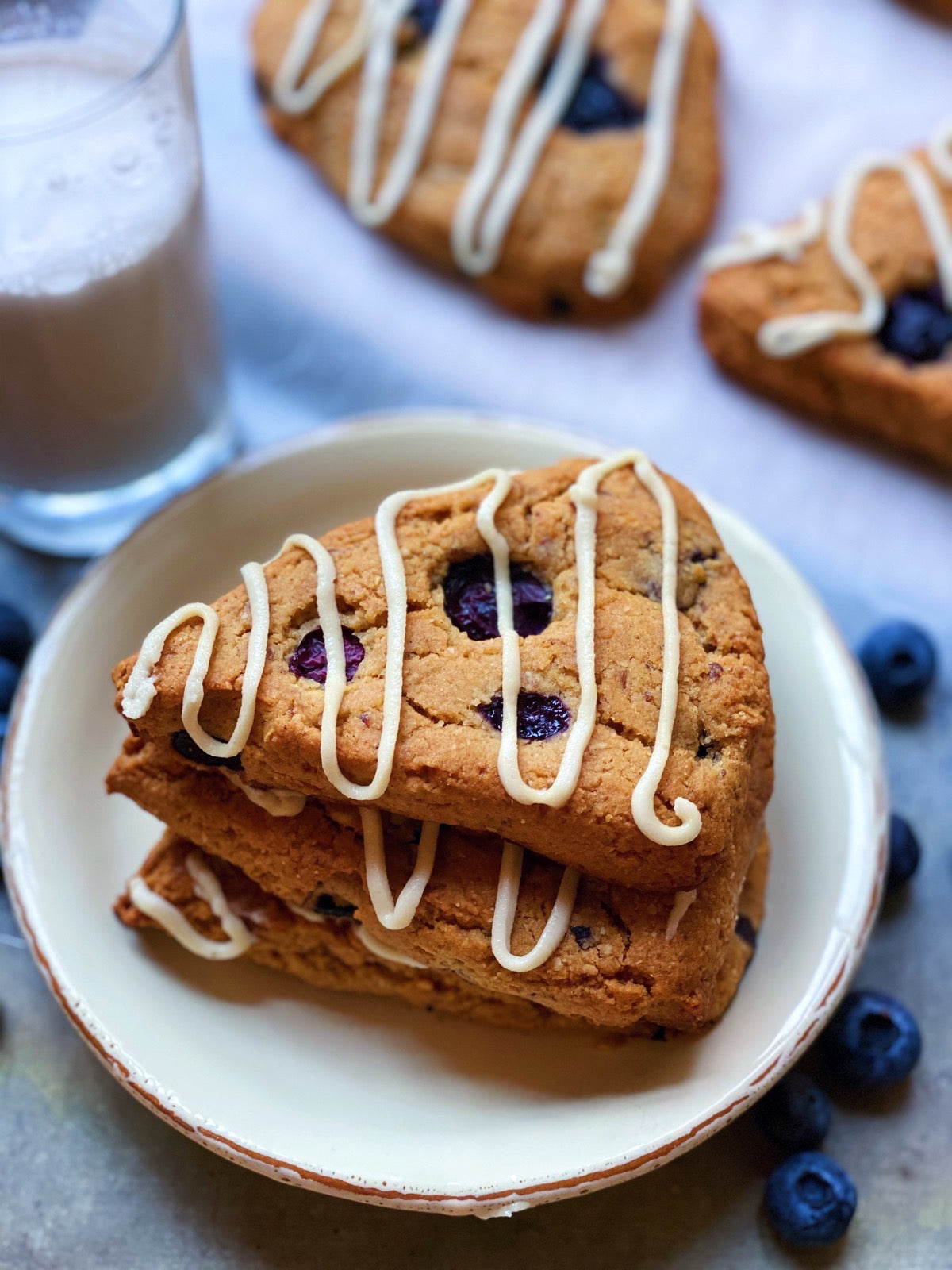 These flaky scones are bursting with fresh blueberries and a buttery middle!
In my opinion, scones are a delicious mix between a muffin and biscuit, making them the perfect addition to your weekend brunch spread. Slather on some jam , nut butter, or this easy coconut butter drizzle for an extra flavor factor. 
But let's be honest, you don't need to wait until the weekend. I bet you have some leftover blueberries in the fridge right now!  
D R Y
1 tbsp flax meal + 2 tbsp water ( mixed in a small mixing bowl) )
1/4 cup raw cashews
1 cup almond flour
3/4 cup arrowroot flour
1/2 cup gluten free oat flour
1/4 cup coconut sugar
2.5 tsp baking powder
1 tsp cinnamon
1/2 tsp Himalayan sea salt
W E T
3 tbsp cup room temperature ghee /vegan butter/ coconut oil ( you can sub coconut oil for a less flaky result, but still delicious )
1/4 cup almond milk
2 tbsp honey
O T H E R
1/3 cup fresh blueberries
COCONUT BUTTER DRIZZLE
1/3 cup coconut butter 
1-2 tbsp maple syrup 
3-4 tbsp almond milk  
Directions 
NOTE: Plan to make these within an hour or so of serving! These are definitely best when fresh as the consistency changes when saving overnight. 
Prepare your flax egg in a small mixing bowl.  You will eventually add your wet ingredients into this bowl so make sure large enough.
Add your cashews into a large food processor. Process until you have a flour consistency.
Add all other dry ingredients into food processor, and process until all combined. Pour your dry ingredients into a large bowl.
Add your ghee or coconut oil ( room temp , not melted ) to your dry ingredients. Using the back of a large fork work/ mash the ghee into your flour. You will achieve a crumbly consistency.
Add your almond milk and honey into flax egg bowl and whisk.
Slowly pour into dry ingredients, mixing with a wooden spoon as you slowly pour.
Once mixed well, fold in your blueberries.
Now refrigerate  mixture for at least 45 minutes. This will help with consistency and slicing!
When ready preheat your oven to 375 F.
Line a baking sheet with parchment paper.
Transfer your dough to a floured surface ( I used my wooden cutting board ). I recommend using almond flour or arrowroot flour.
Using your hands, mold dough into an 8 inch circle, about 1 inch in height.
Cut the circle into 6 wedges. Using a spatula place each wedge onto parchment paper. Once transferred you can reshape them with your fingers if any lost shape. 
Bake for 15-18 minutes or until golden brown on the outside. 
Remove from oven and allow to cool. 
Once cooled drizzle on your coconut drizzle! ( recipe below ) 
COCONUT BUTTER DRIZZLE 
Add your coconut butter to a small sauce pan. Turn burner to low heat. Once coconut butter begins to appear soft and melty add the maple syrup and one tablespoon of almond milk. Stir/ whisk the mix very well.
Keep adding almond milk one tablespoon at a time until you reach a drizzle consistency.