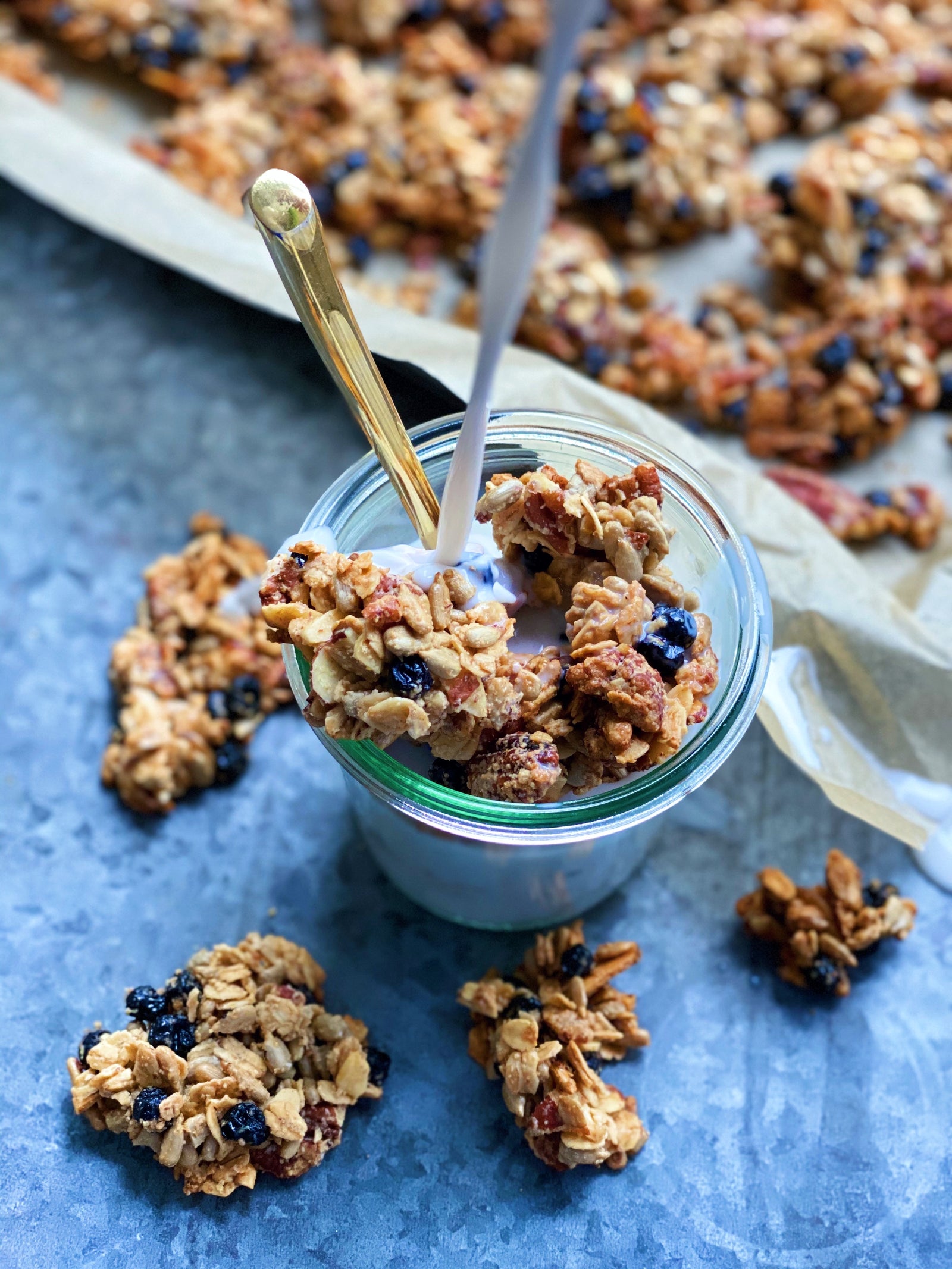 Blueberry Vanilla Cluster Granola
Where we can't control much right now, what we can control is doing the little things to bring peace into our homes. Baking is something that is always instantaneously therapeutic to me and I have a feeling It will be the same for you.
Perfectly golden, crunchy clusters , blueberry vanilla granola to the rescue.
One bowl, eight ingredients, and thirty minutes is all you need.
Whether you make this a family activity or use It for some alone time, I promise you ( and your kiddos) will be proud of the end result!
I n g r e d i e n t s
1 cup gluten free oats
1 cup pecans, rough chopped
1 cup raw sunflower seeds
1/2 cup slivered almonds
1/2 cup gluten free oat flour
1/2 cup dried blueberries (sub cherries, cranberries, etc)
1/3 cup maple syrup
3 tbsp coconut oil melted
2 tsp vanilla extract
1/2 tsp Himalayan sea salt
D i r e c t i o n s
Preheat your oven to 325 F and line your baking sheet with parchment paper.
In a large mixing bowl, add all of your granola ingredients and mix extremely well. Stir until your granola is evenly coated and all is one cohesive mix.
Pour mix onto your baking sheet and spread out evenly, ensuring no area is overcrowded but still touching— this will help your clusters form!
Bake on 325 for 32-35 minutes, rotating baking sheet halfway through. Bake until golden brown and super fragrant!
Allow to COMPLETELY cool so the granola can harden and clusters form.