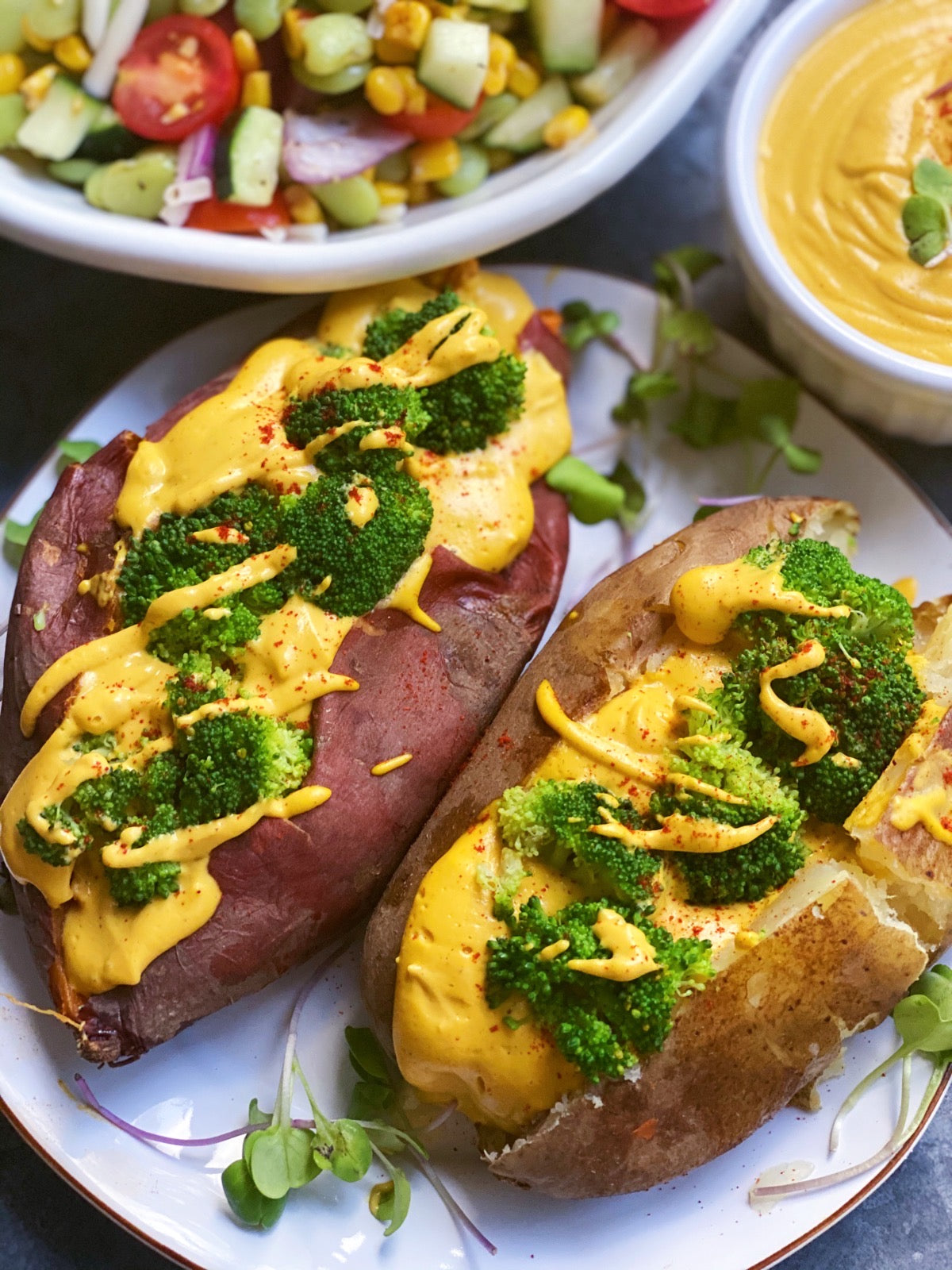 Broccoli "Cheddar" Baked Potatoes
It might be a short week, but these 'Broccoli Cheddar Stuffed Potatoes' need to make It onto your dinner rotation asap! They are every bit of nostalgic as they are delicious. This cheesy combo is one hard to beat and could shine bright as your main course or as a side. I have done this with sweet potatoes and white potatoes, and honestly you cannot go wrong!
Cant wait for you to try! 
Equipment Needed:
High Speed Blender 
Steamer / Steam Pot  
Oven
Servings: 4, varies depending on your personal portion size 
I n g r e d i e n t s 
2 – 3 Sweet or White Potatoes
3 cups broccoli florets
S a u c e
1.5 cup cashews ( soaked for 4-6 hours) 
1 large carrot 
1/2 large sweet onion or 1 small 
2 cloves garlic ( 3 if like super garlicky) 
3/4 cup unsweetened cashew yogurt ( I used Forager Project, any unsweetened non-dairy yogurt should work) 
3 tbsp water
1 tsp dijon mustard
2 tsp lemon juice 
1 tbsp ghee or vegan butter (do not sub this, enhances cheesy flavor ) 
½ tsp smoked paprika or regular will do  (extra for sprinkling on top) 
1/2 tsp chili powder (optional) 
3/4 tsp sea salt 
D i r e c t i o n s 
Preheat your oven to 400 F. Wrap your potatoes in aluminum foil and poke a few holes with a fork. Lay potatoes on a baking sheet and place in oven. Allow them to cook for 45 minutes to 1 hour or until cooked through. While your potatoes cook prepare your cheese sauce.
Drain your soaked cashews and add them into a high speed blender.
Into your steam pot, add your carrot, onion, and garlic and steam until carrot and onion are fork tender.

Once steamed through add the steamed mix to blender with cashews. Add your cashew yogurt, water, lemon, ghee/ vegan butter and all spices into blender. Blend until smooth and creamy! Taste and adjust your seasonings...more salt, paprika, chili powder, etc.
Once your potatoes are done, take them out and carefully remove foil.
Place your chopped broccoli into your steamer and steam a few minutes until bright green.
Open your potatoes and lightly mash the flesh, add your broccoli and cheddar sauce as desired. Sprinkle a little sea salt, pepper, and more smoked paprika!

Save any leftover sauce in the fridge. You can re-warm sauce on the stove ( adding a little water if need be)