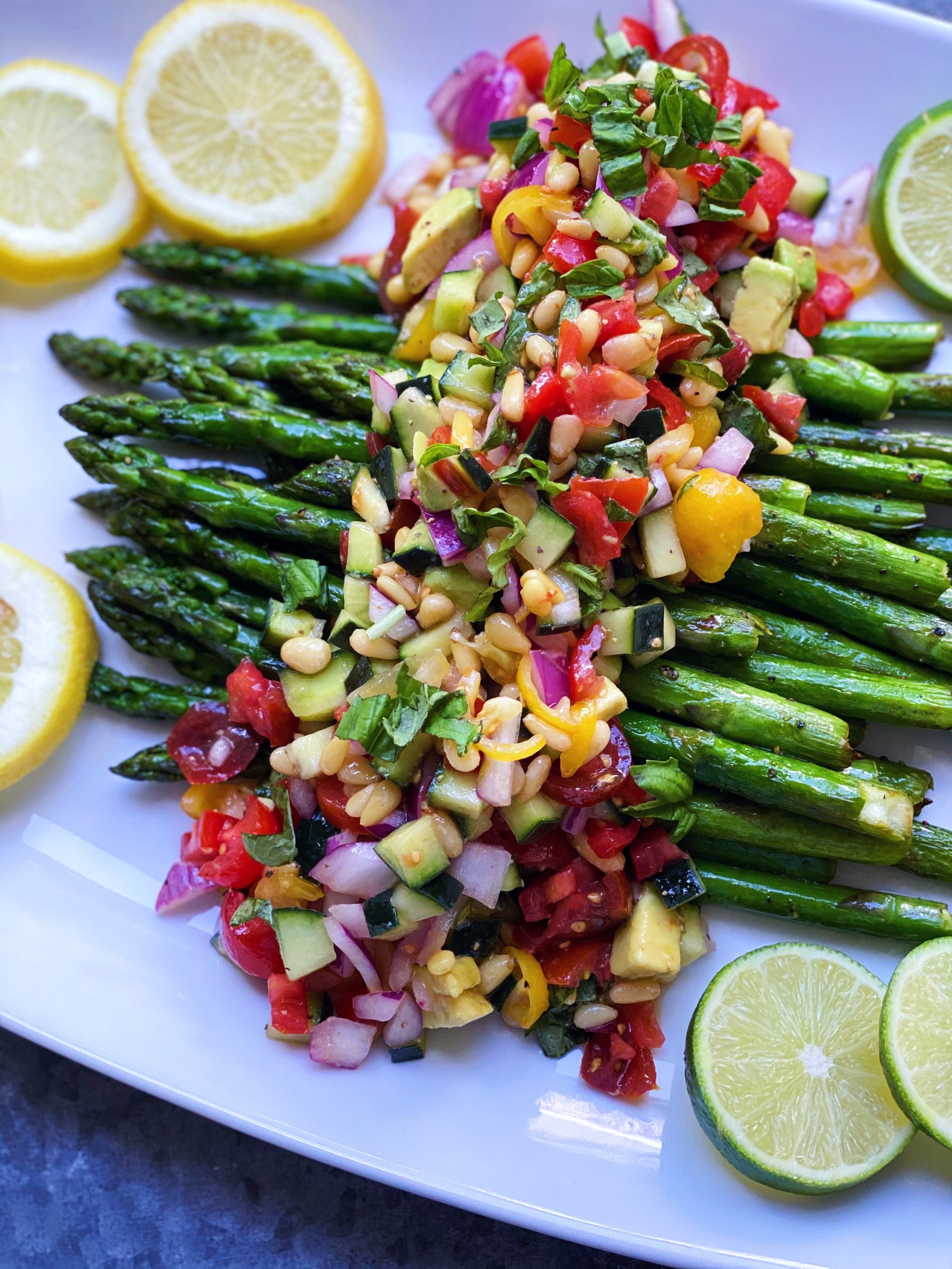 Bruschetta over Sauteed Asparagus
Fresh bruschetta marinated in a citrus dressing, laid over warm sauteed asparagus. Let me tell you ....its a match made in heaven! 
Want to be like really loved? Just show up at your next dinner party carrying this veggie superstar. Im telling ya, this dish will steal the show. Use It as a main or a side! It has enough flavor ( and colors ) to hold its on any delicious table. 
Bruschetta
 I n g r e d i e n t s 
1 cup, finely diced tomatoes
1 cucumber, finely diced (seeds shaved off)
½ red onion, finely diced
½ large avocado, diced
3 tbsp fresh basil, diced
1/3 cup pine nuts
3 tbsp olive oil
2 tbsp lemon juice
1 tbsp lime juice
½ tsp sea salt
Few pinches pepper
Sautéed Asparagus
I n g r e d i e n t s
1 tbsp extra virgin olive oil
1 large bunch, asparagus, trimmed
Half large lemon
 D i r e c t i o n s 
In a large mixing bowl add your diced tomatoes, cucumber, red onion, basil , and pine nuts – I like to mix in my avocado last!
In a small bowl whisk your olive oil, lemon, and lime juice.
Pour over your bruschetta mix. Add your salt and pepper, and mix again. Now add your avocado and gently toss in.
Place bruschetta in fridge while you prep your asparagus.
Add olive oil into a large saute pan. Turn your burner to medium heat. When your olive oil begins to sizzle add your asparagus.
Immediately begin to stir with a spatula.
I like my asparagus to still have somewhat of a "bite" ( aka not mushy). I sautéed for a total of 10 minutes, continuously stirring.
Once cooked to your liking, turn off burner, and move saute pan to a cool burner. 
Add a pinch sea salt, pepper, and squeeze your half lemon over the top. Mix through and allow to slightly cool.
When ready, add your asparagus to a large serving platter, and plate your bruschetta over the top.
If making ahead of time, save bruschetta and asparagus separately, and plate together once ready to serve.