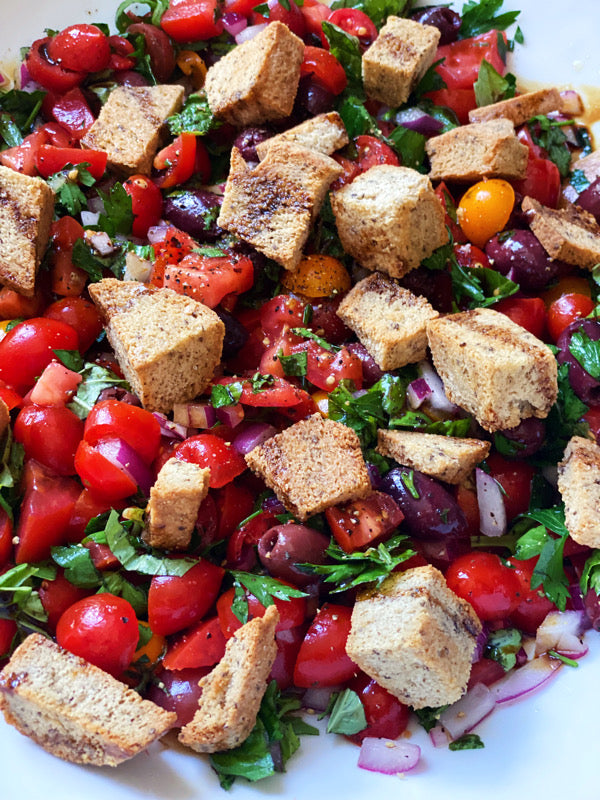 The only thing I regret about this salad is not eating It all summer. 
This deconstructed bruschetta salad will hit you with some flavor ( and crispy sourdough croutons! )
For those who like an easy recipe that "wows", this one is for you -- roast some day-old sourdough, slice up some juicy tomatoes, fresh basil, parsley, kalamata olives, and red onions and whisk together a simple dressing. Throw It all in a bowl, toss, and go to heaven! 
Bruschetta Salad 
2 large slices of crusty sourdough bread, torn or cut into even crouton shapes 
1-2 tbsp ghee or olive oil 
¼ teaspoon Himalayan sea salt
⅛ teaspoon garlic powder 
4 cups grape tomatoes, halved or quartered
1 cup pitted kalamata olives, whole or halved 
1 cup basil, finely chopped 
1 cup parsley, finely chopped 
1 small red onion, diced 
Dressing 
2 tbsp olive oil 
1.5 tbsp red wine vinegar 
2 tsp apple cider vinegar 
1/2 tsp sea salt to start 
1/4 tsp cracked pepper 
Optional: Balsamic vinegar or glaze 
Preheat the oven to 400 degrees. 
Place the croutons on a baking sheet. Drizzle with olive oil/ ghee and sprinkle on your seasonings. Toss the bread with your hands and then arrange the bread evenly across the baking sheet. 
Bake for 7 minutes and then toss the bread. Repeat a few times until your bread is nice and golden brown. 
Remove from the oven and set aside. 
Add your tomatoes, olives, basil, parsley, and onion into a large bowl.
Whisk your dressing ingredients together in a separate small bowl. Taste and adjust your flavors. 
Drizzle dressing on the salad and mix well. Gently fold your croutons in. 
Optional: Drizzle on a balsamic vinegar or glaze. 
Enjoy!