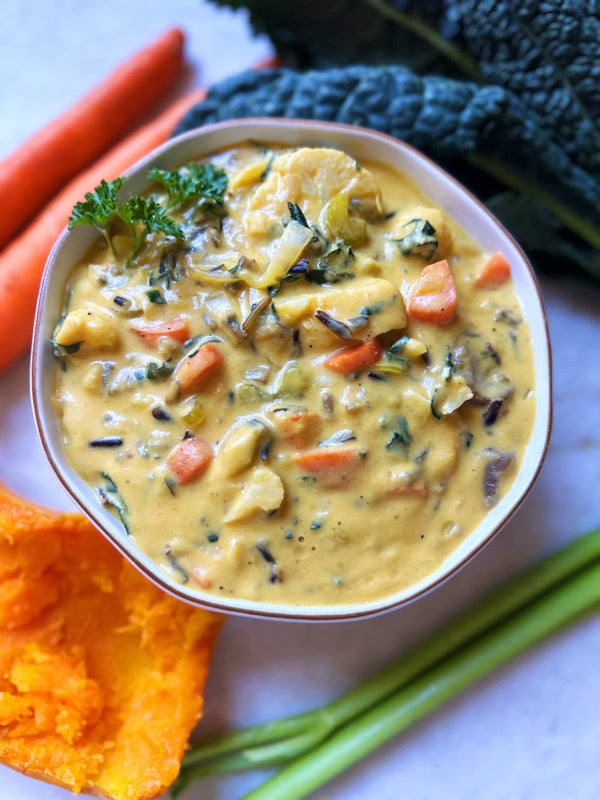 Butternut Squash Wild Rice Soup
Ohh how I love soup season. I have more soup recipes than I do anything else on my website and there is a very scientific reason for that. I love soup, you love soup, we all love soup. 
The base of this one is pure creamy and golden butternut squash goodness. When poured into a simmering soup of mushrooms, cauliflower , carrots, and kale the combo melds perfectly. 
She is filling, so nutritious, and incredibly satisfying. 
I recommend doing the "soup prep" section the morning of or the day before just to cut down on the soup time. 
Enjoy!
Soup Prep ( if you have time to do these steps ahead of time, it will streamline making your soup!) 
3/4 cup raw cashews, soaked overnight or a minimum of 4 hours
2 cups cooked butternut squash, yielded from 1/2 of 1 butternut squash ( directions below ) 
1 cup cooked wild rice, cooked according to package instruction
Soup 
3/4 cashews, soaked (measured then soaked) 
2 cups cooked butternut squash 
1 cup cooked wild rice ( more to taste ) 
2 tbsp ghee or vegan butter ( recommend over olive oil but can be substituted)
1/2 large sweet onion, diced
1 leek, sliced into half moons
2 large carrots, sliced into coins or diced 
2 stalk celery, diced  
2 garlic cloves , minced 
1 tbsp fresh thyme 
2 bay leaf ( highly recommend ) 
2 cups cauliflower florets
10 oz baby Bella mushrooms, rough chopped
6 cups vegetable broth 
1 tbsp tamari 
1 tbsp nutritional yeast 
1 tsp sea salt ( continue to add as you need ) 
1/2 tsp pepper 
1 cup almond milk 
2 cups chopped kale 
1 tbsp arrowroot starch 
1 tbsp white wine vinegar
Preheat oven to 400F and line a baking sheet with parchment paper.
Slice off each end of the butternut squash to give yourself a flat surface. Now, slice the butternut squash in half lengthwise and scoop out all of the seeds. Lightly brush with olive oil and season the flesh with salt and pepper. 
Place on the baking sheet cut side down and roast until very tender, about 45 minutes. 
When your butternut squash is cooked and cooling, prepare the rest of your soup. 
In a large soup pot heat ghee or vegan butter over medium heat. Add the chopped onion and leek and sauté for 3-4 minutes or until translucent. Add the celery, carrots, and garlic and sauté. Add in mushrooms and cauliflower and stir to combine. Sauté another 2-3 minutes. Add your thyme and bay leaf, continuing to sauté another 5-7 minutes.
Add vegetable broth, tamari, nutritional yeast, sea salt, and pepper. Allow the soup to come to a boil while you prepare your butternut squash sauce. When it reaches a boil reduce heat to medium. 
Drain and rinse your cashews and add them to a high speed blender. Scoop out 2 cups of your cooked butternut squash ( about 1/2 of a squash ) and add to the blender. Add in your almond milk and arrowroot starch and then blend on high for a minute or two or until completely smooth. Make sure there are no more clumps when you are done blending. 
Pour your mixture into the soup pot, stirring well to combine.  
Bring your soup to a bubbling simmer. Once It has reached high simmer, reduce heat to a low simmer and stir in your kale.  
Turn off the burner, and stir in your cooked wild rice and your white wine vinegar. 
Allow soup to cool and thicken for another 20 minutes or so! 
If your soup gets too thick just thin with more broth and adjust salt/vinegar for taste preferences.