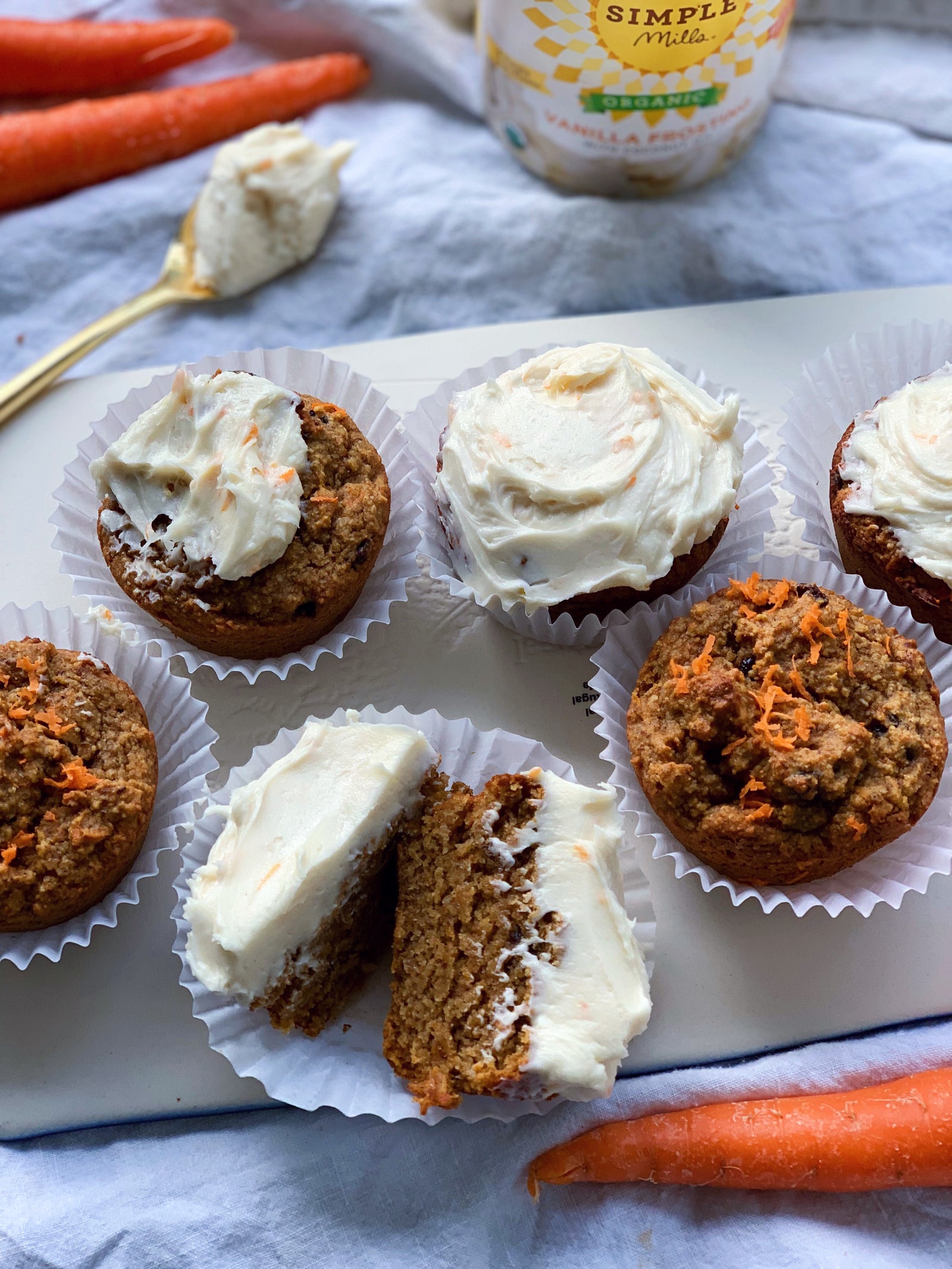 Golden. 
Fluffy.
Moist.
Carrot-packed.
Melt in your mouth.
CARROT CAKE MUFFINS!
Carrot cake is so nostalgic for me. Every Friday after preschool, my mom would take me to my favorite cafe called Lillians and let me pick out the BIGGEST piece of carrot cake… she still to this day reminds me that my siblings always wanted McDonalds and I would only accept Lillians. 
I must have been channeling my inner momma when creating this recipe because these muffins are just about as perfect and sweet as she is.
These muffins + the creamy, smooth addition of Simple Mills icing is almost too amazing for one mouthful… like I said, almost. 
The perfect summer muffin is awaiting. Bonus that you probably have all the ingredients just waiting in your pantry. 
I n g r e d i e n t s 
D r y
1 1/4 cup almond flour 
1 cup oat flour 
1 tbsp coconut sugar 
1 tsp cinnamon 
1/2 tsp ginger 
1/4 tsp all spice 
1/2 tsp baking powder
1/2 tsp baking soda 
1/2 tsp sea salt 
W e t
2 flax eggs ( 2 tbsp + 5 tbsp water & let sit 10 minutes ) 
1/4 cup applesauce
1/4 cup almond milk 
1/4 cup honey 
1.5 tsp vanilla extract 
3/4 cup shredded carrot 
1/3 cup currants or raisins 
1 tsp apple cider vinegar
Optional : Simple Mills Vanilla Frosting, or frosting of your choice ! 
D i r e c t i o n s
Preheat oven to 350F & "grease" your muffin pan with coconut oil or olive oil. 
Prepare your flax egg in a small bowl. Set aside
Add all dry ingredients into a mixing bowl. Whisk until well combined.
In a separate bowl, add your applesauce, almond milk, vanilla, and honey. Mix well. When ready, stir in your flax egg. 
Add your dry ingredients into your wet and stir to combine. 
Now mix in your carrots and currants. Stir until well combined. 
Lastly, stir in your apple cider vinegar and mix well. 
Immediately scoop into your muffin pan and bake for 22-23 minutes. Mine were perfect at 22.
Allow to cool completely before applying icing. Store in a sealed tight container for up to a week!