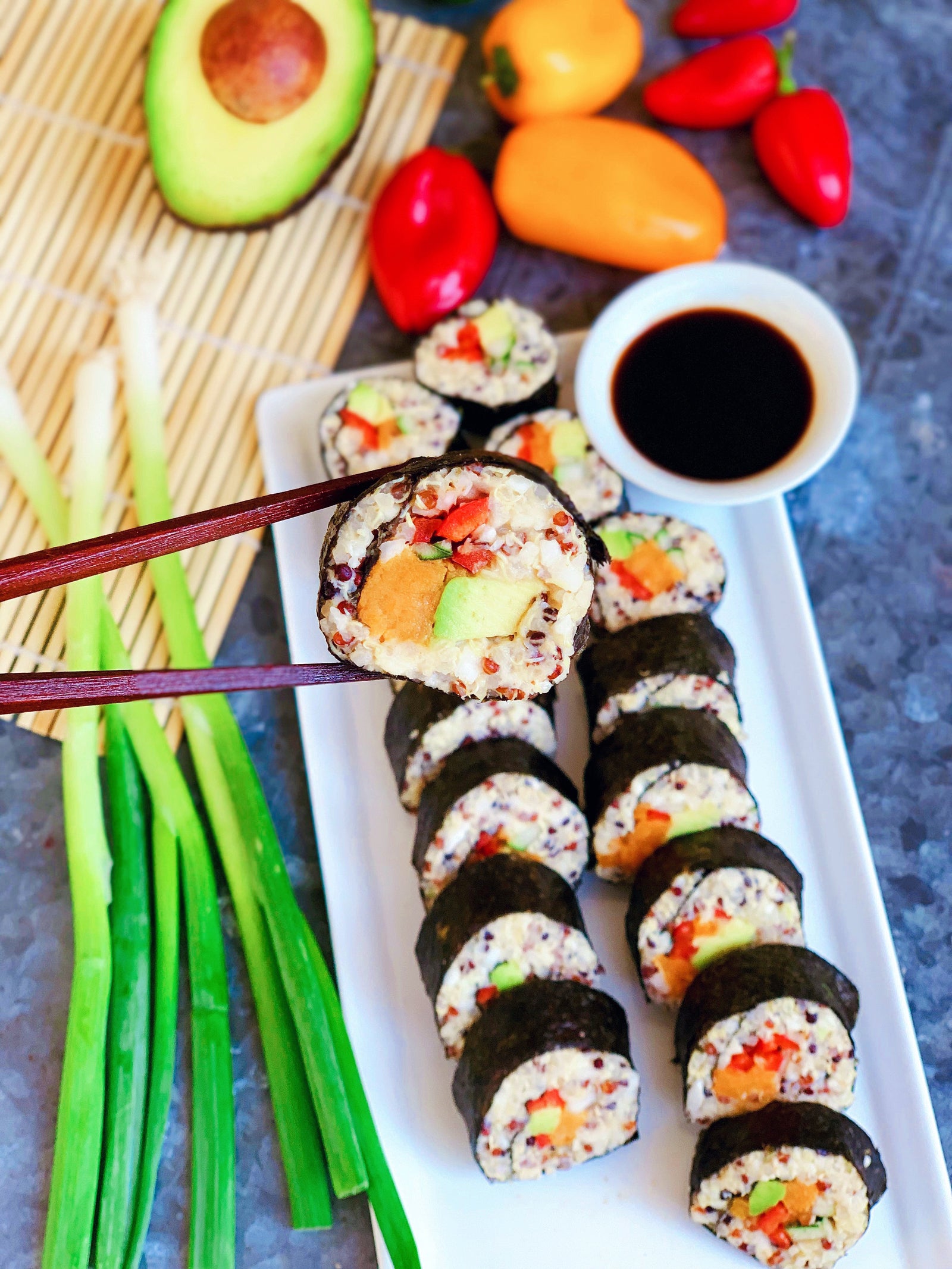 CAULIFLOWER RICE& QUINOA SUSHI
I love sushi. Correction, *we love sushi. The flavors, the crunch, the sweet, the savory, the creativity...plain and simple, its one thing my husband and I can always agree on. I would and could eat It everyday! But mastering the sticky rice everyday? I just aint got the time. But mastering the flavor, well you know I have the time for that. 
After a week of traveling, I also wanted to create something that was super light and a smooth transition back to my normal eating patterns.
Solution? Cauliflower rice, quinoa, and....hummus? YES HUMMUS. It helps bind the cauliflower rice and quinoa to the nori while letting the flavors of the sushi pop.
Im so pumped for yall to try this lightened up version of my all-time favorite! Feel free to get as creative as you please for the inside-- I see a new meal prep star in my future.
I n g r e d i e n t s
1.5 cup cooked quinoa, cooled in refrigerator ( yielded from 1 cup dry quinoa & 2 cups water, cook according to package instructions)
1 cup raw cauliflower rice ( I used Trader Joes)
½ cup original hummus
1 tbsp rice vinegar
Pinch sea salt
3 Nori Sheets
(water in a small bowl for dipping your hands)
Sushi Roll Mat ( like this one here ) If you do not have one, you can try this method from Minimalist Baker! 
Vegetables Of Your Choice – I used the below
1 small red bell pepper, very thinly sliced  
½ large avocado, thinly sliced ( brush each slice with fresh lemon juice if not serving right away )
½ large sweet potato, peeled, sliced, steamed, cooled, and very thinly sliced
1 small cucumber, very thinly sliced , discarding of the seeds ( skin on or off)
Green onion, sliced
D i r e c t i o n s
Cook your quinoa according to package instructions and allow to cool in refrigerator. While chilling your quinoa begin to slice your veggies. The thinner the better when it comes to rolling! Feel free to get as creative as you please with your combo!
Lay a nori sheet on your sushi mat, shiny smooth side down. The matte , rougher side should be facing up towards you.
Mix together your chilled quinoa and cauliflower rice in a large bowl with a fork. Stir and "fluff" in your rice vinegar and pinch sea salt. Now add in your hummus and stir until everything is fully combined.
 Add a heaping ½ cup quinoa/hummus mixture to your nori sheet like the below picture.
Now using your hands spread the mixture into a thin, even layer on the nori sheet, leaving about 1 inch space from the bottom and sides.  
Now begin to add in your veggies (Do not overload your roll, if so it makes it very difficult to roll!)
Arrange the veggies in a compact line, about a ½ inch from where the quinoa mixture starts from the bottom of your nori sheet.
Clean your hands. Now dip your finger tips into your water bowl and rub water along every edge of your sheet. This will help secure your roll. Wipe your hands.
Now slowly begin to roll your sushi. To roll, start with the end closest to you. Using the bamboo mat for help, bring the end up and tightly roll over the filling, pressing and securing with your fingers as you go.
If edges are not sealing well continue dipping your fingertips in your bowl of water and gently sealing every time your roll.  
Once complete, with a very sharp knife, cut the sushi into 6-8 slices.
Serve with coconut aminos, tamari, or my favorite spicy cashew dressing!
Best when fresh, but leftovers should save in a sealed tight container for up to 2 -3 days!