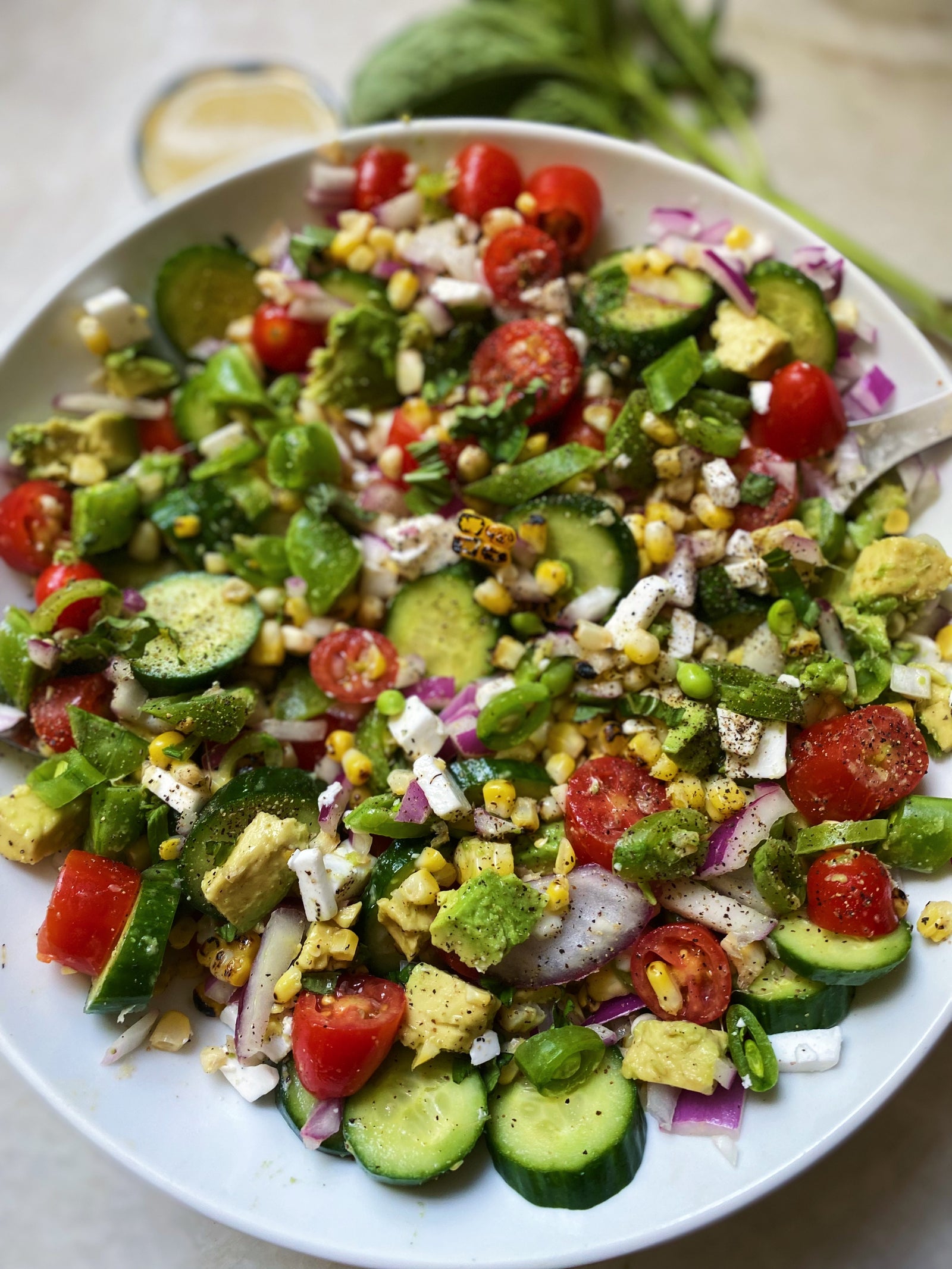 Charred Corn & Snap Pea Salad
I cannot explain how much goodness makes up this salad-- It is vibrant in color and texture and packs a serious flavor punch. 
The charred corn works with the crunchy cucumber, sweet snap peas, creamy avocado, and crumbled feta to bring a flavor profile you will never forget. 
Make this one asap! 
Lemon Vinaigrette
juice from one lemon, about 2 tbsp  
3 Tbsp olive oil
2 tsp spicy mustard
1.5 tsp honey 
2 tbsp shallot, finely chopped
1/2 tsp sea salt (plus more to taste)
1/4 tsp black pepper
Add all ingredients into a small food processor and process until mixed well ( or whisk into a large bowl ). Taste and adjust seasonings. 
Charred Corn & Snap Pea Salad 
2 heads of corn, shucked and cleaned 
2 small Persian cucumbers 
1 cup snap peas, ends trimmed and sliced on the diagonal 
1 cup cherry tomatoes, quartered 
1/2 large red onion, diced 
1/2 cup vegan feta, crumbled 
1 avocado, cubed 
1/2 cup basil leaves, rough chopped 
extra salt and pepper 
Make sure your ears of corn are shucked and completely clean. Place each ear of corn directly onto your gas burner over medium-high heat. Make sure you are using long tongs to stay back from the flames and the "pops" of the corn. Turn your corn occasionally until all sides are charred. Each ear will take 5-6 minutes. 
Once cool, shave your corn kernels off each ear of corn and place the kernels in your large salad bowl. 
Add your cucumbers, snap peas, tomatoes, onion, and feta into the bowl. 
Drizzle on your desired amount of dressing and mix well. 
Now lightly toss in your avocado and basil leaves and toss a few times more. 
Season with extra sea salt and pepper. 
Serve!