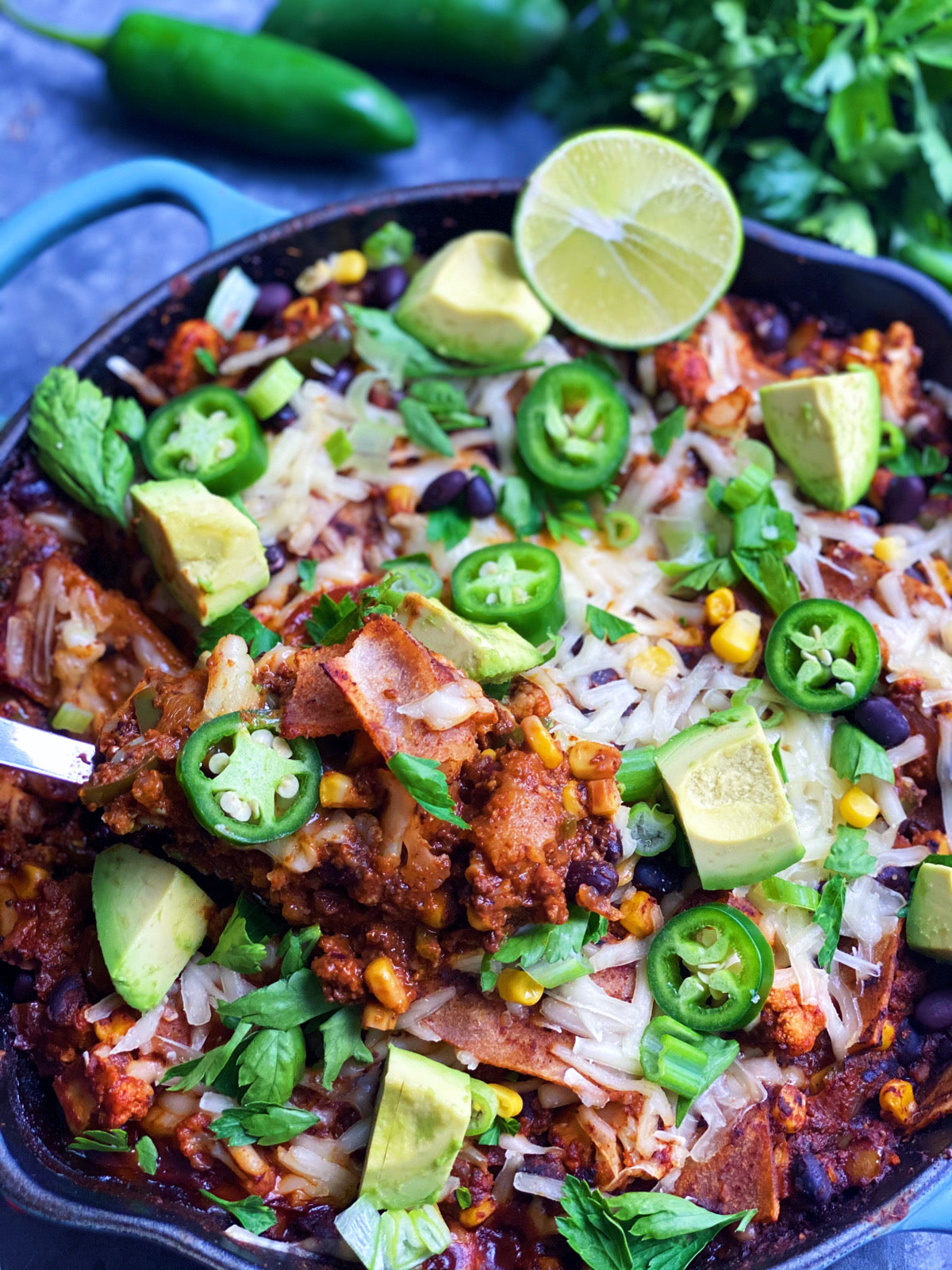 Cheesy Vegan Skillet Enchiladas

What if I told you, you could have all the goodness of a cheesy enchilada but without any of the rolling or mess? 
This vegan enchilada skillet is the answer to all your cravings.... with layers of "meat", cheese, summer corn, beans, and all the veggies! 
Serve this at your next dinner party alongside crowd favorites like guacamole, pico de gallo, and your favorite tortilla chip.
During the week, I need easy recipes that change the dinner game and this one does just that.

Serves: 4
Equipment Used:
Cast Iron Skillet
Food Processor
Oven
Ingredients:
2 large burrito tortillas ( 4 small tortillas)
Mushroom Meat
2 tbsp olive oil
½ cup walnuts
1 8 oz container baby bella mushrooms, rinsed, remove stems
½ cup almond flour
Vegetable Mix
1 onion, diced
2 jalapenos, seeds removed, sliced ( optional)
1 yellow pepper
1 green pepper, diced
½ head cauliflower, chopped into small florets
2 garlic cloves, minced
1 tbsp chili powder
1.5 tsp cumin
1 tsp smoked paprika
1 tsp sea salt
1 cup black beans, rinsed, pat dry
1 cup sweet corn, rinsed, pat dry
1 15oz jar red enchilada sauce
1.5 cups shredded mozzarella cheese
Garnish:
Chopped Parsley
Fresh Jalapenos
Chopped Avocado
Green Onions

Directions
Preheat oven to 450F.
Fold your burritos in half, and then fold in half again (into quarters). Using a kitchen knife, cut into thick strips about 2 " wide and 3" long ( rectangle shape).
Add a dash of olive oil into your cast iron skillet. Warm to medium heat. Toast your burrito pieces for 4-5 minutes. When done, lay on a paper towel and set aside. 
Quarter your mushrooms, and make sure they are dry. Add your walnuts into your food processor and pulse until large crumbles. Add in your quartered mushrooms and almond flour. Pulse for 30 -45 seconds. Do not overpulse – you want large mushroom crumbles.
In your cast iron skillet, warm your olive oil over medium heat. When sizzling add in your mushroom walnut meat. Spread out evenly into cast iron, coating all in olive oil. Occasionally stir/flip your "meat" until browned through. This should take about 12-15 minutes. Once browned through, pour "meat" into a kitchen bowl and allow to cool.
Add your onion into your cast iron skillet, if you need a dash more oil, feel free to add. 
Sauté your onion until translucent. Add in your chopped peppers and jalapenos, and sauté a few minutes. Add in your cauliflower and sauté all together another 5 minutes. Add in your garlic, sauté through.
Add in your chili powder, cumin, smoked paprika, and sea salt. Stir to coat the vegetables in the spices. 
Once your cauliflower is fork tender, add in your beans, corn, and HALF of your enchilada sauce. Stir until all evenly mixed. 
Now stir in HALF of your burrito slices. Mix until they are coated in the sauce.
Add in the rest of the jar of enchilada sauce and stir into the mix. Now mix in the remainder of the tortilla strips, ensure they are coated in sauce. Cook for 3-4 minutes to give the sauce a chance to thicken up.
Fold in your cheese.
Bake for 10-12 minutes or until the cheese is melted.
Remove from oven and allow to slightly cool before serving.
Top with green onions, jalapenos, and chopped avocado.