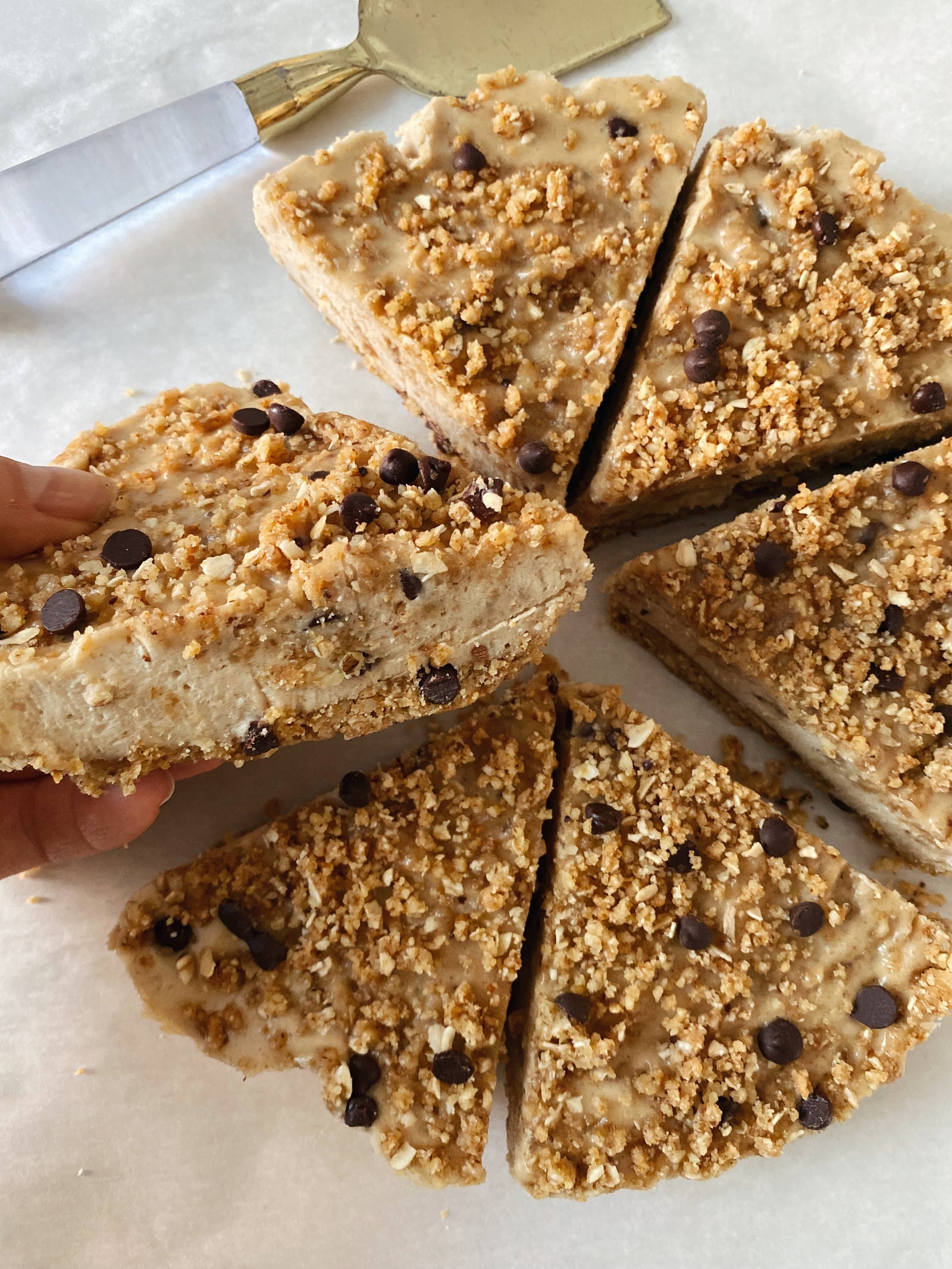 Chocolate Chip Cookie Dough Cheesecake
With Valentines Day around the corner, my mind has been on decadent sweets. More specifically, decadent sweets that will make you look like you spent hours in the kitchen. Spoiler alert: this cheesecake will take you twenty minutes to make. 
Want to impress your person? Pull this cookie dough cheesecake out of the freezer after dinner and watch them swoon! 
Crust
1 cup walnuts 
1/2 cup gluten-free oats
1/2 cup almond flour 
1/4 cup coconut flour
2 tbsp coconut sugar 
2 tbsp maple syrup 
3 tbsp coconut oil, melted 
1/4 cup peanut butter 
1.5 tsp vanilla extract 
1 tsp sea salt 
1/3 cup chocolate chips 
Filling
1.5 cup cashews, soaked overnight in cool water 
1 can full-fat coconut milk, refrigerated overnight 
2 tbsp maple syrup 
3 tbsp coconut oil, melted 
3 dates 
2 tbsp fresh lemon juice
1.5 tsp vanilla 
1/4 tsp sea salt
1/2 cup crust to be pulsed in 
topping: the remainder of crust to top cheesecake 
Add your walnuts and oats to a food processor and process until in flour form. Now add in almond flour, coconut flour, and coconut sugar and process until all combined. 
Now add in maple syrup, coconut oil, peanut butter, vanilla, and sea salt. 
Pulse until large crumbles form. Scrape down the sides of your food processor. 
Add in your chocolate chips and pulse in. 
The crust should resemble a crumbly cookie dough consistency. 
Press about 1.5 cups of your dough into your parchment-lined cake pan forming a crust. Pinch the sides up the pan to form the edge of your crust. 
If the dough is too dry add a 1/2 tbsp more melted coconut oil and pulse a few more times.  
Place crust in the freezer while you prepare filling. 
For your filling, drain and rinse your cashews. Add into your high-speed blender. 
Turn your coconut milk can upside down and open the bottom ( now facing up) with a can opener. Discard of the liquid. Now scoop out all of the hardened cream and add It into the blender. 
Add the ingredient maple syrup - sea salt to your blender. Process on high until smooth and creamy. 
Now pulse in 1/2 cup of your crust dough. 
Pour the batter over your crust. Smooth out into an even cheesecake layer. 
Now top with the desired amount of leftover crust and chocolate chips. 
Allow to set in the freezer for a minimum of 3 hours. 
When ready to serve, allow for a thaw time of about 10 minutes. Then slice and serve!