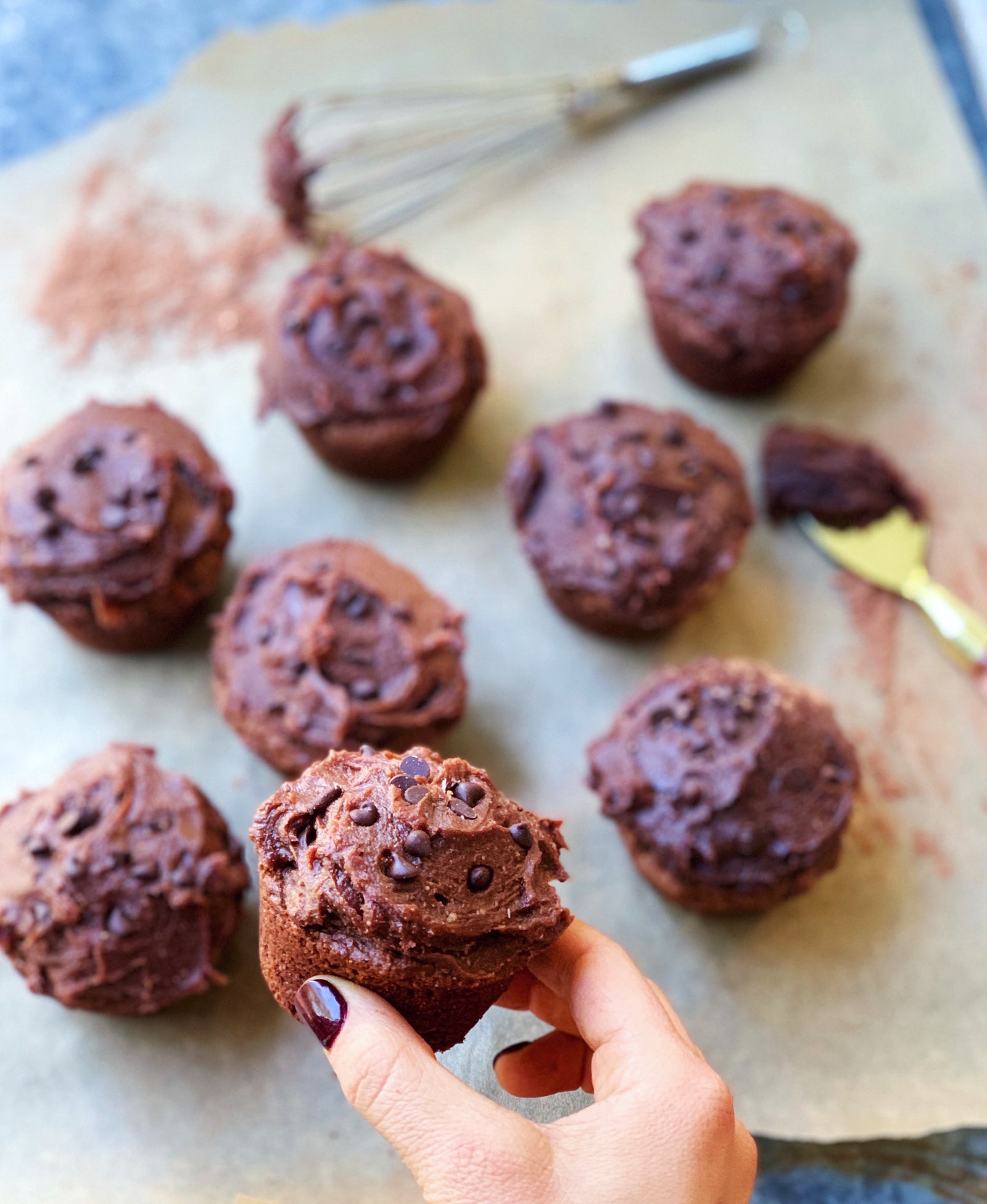 CHOCOLATE MUFFINS + BROWNIE BATTER ICING
One bowl.
Less than 10 main ingredients.
Melt in your mouth CHOCOLATE muffins.
Smothered in a BROWNIE BATTER FROSTING that takes less than 60 seconds to whip up.
All you need is 30 minutes and some major willpower to not eat all the batter!
So what are you waiting on? 
I n g r e d i e n t s
2 flax eggs ( 2 tbsp flax meal + 4 tbsp water)
2 cups blanched almond flour
1/2 cup almond meal
1/2 cup arrowroot powder
1/3 cup cacao powder
1/2 cup coconut sugar
1/2 tsp baking powder
1/2 tsp baking soda
1/2 tsp sea salt 
1/2 cup tahini (make sure your tahini is runny)  
½ cup almond milk  
1/2 cup pure maple syrup
1.5 tsp vanilla extract
OTHER: ¼ cup chocolate chips + more for topping
BROWNIE BATTER CHOCOLATE FROSTING  
**( double recipe if like a lot of icing on each cupcake)**
I n g r e d i e n t s
½ cup cashew/or almond butter ( preferably runny and not super thick)
2 tbsp almond milk
2 tbsp maple syrup
2 tbsp cacao powder
½ tsp vanilla extract
Pinch sea salt
D i r e c t i o n s 
Preheat your oven to 350F and grease your muffin pan with coconut oil or olive oil.
In a small bowl mix your flax meal and water ( flax egg) , stir, and let "set" for 10 minutes. In one large mixing bowl add all of your dry ingredients ( almond flour – sea salt) and whisk until all combined.
Add in all your wet ingredients ( tahini – vanilla extract) + your flax egg. Stir until a thick batter forms. Then fold in your chocolate chips.
Scoop batter into each muffin mold until none is left. I got 9 muffins out of mine. Bake for 25-28 minutes or until a toothpick comes out clean!
While baking prepare your icing.
In a small bowl vigorously mix all of your icing ingredients together until one thick chocolate frosting is formed. Taste and adjust sweetness to your liking!
Allow muffins to cool completely before frosting them! Top with chocolate chips or any other favorite topping!