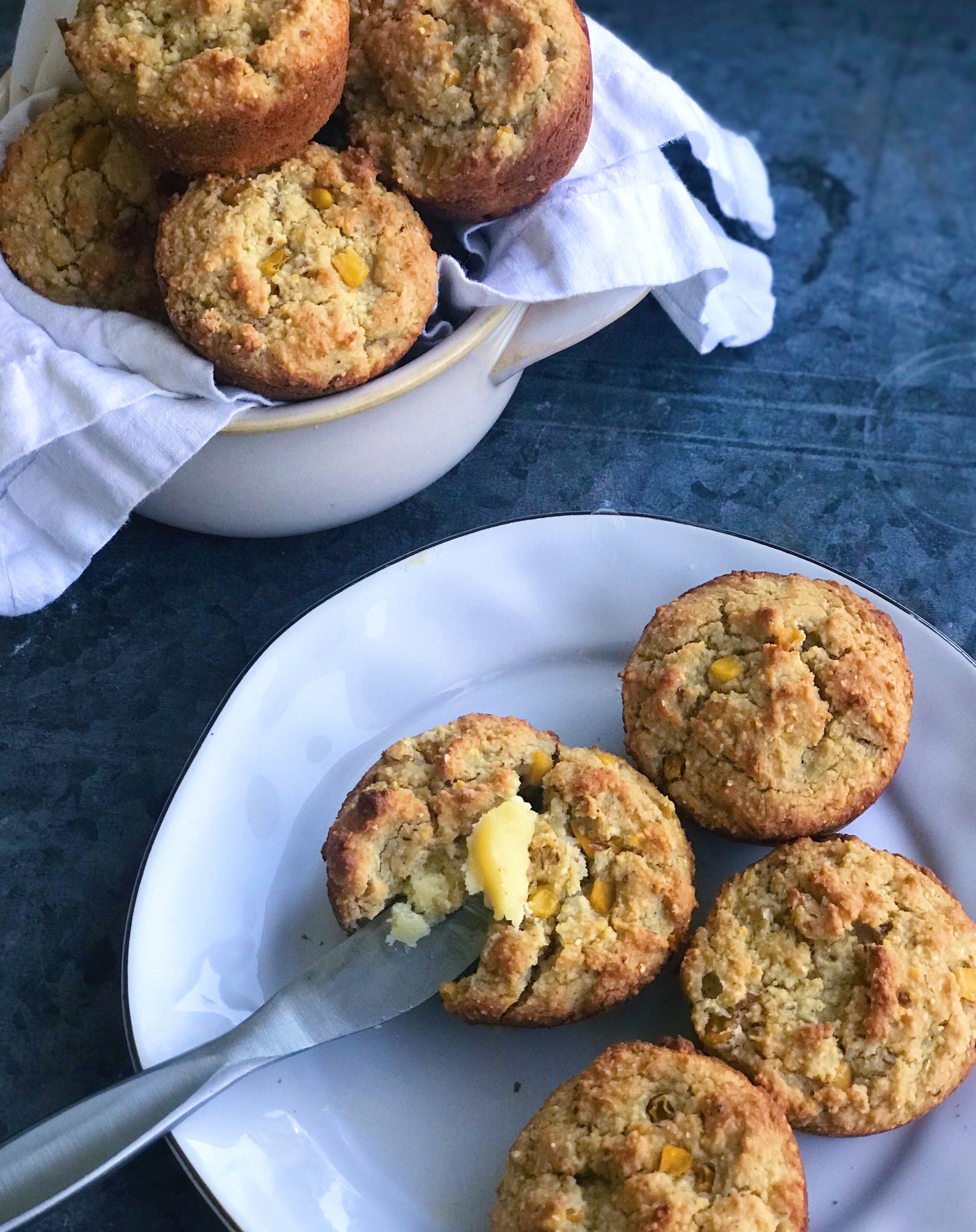 Golden. 
Buttery. 
Moist. 
VEGAN + GLUTEN FREE. 
Cornbread Muffins, yall. 
I should just stop right there, but I'll give you a little backstory. 
You know those moments where you haven't had something in a really long time and then the second you take a bite you're like...."wow, what have I been missing?" That's exactly how I felt once these golden bites of heaven came out of the oven.
I fell in love with cornbread in muffin form, because (besides being super cute) they are guest-friendly and easy to serve or grab. Add them to your fancy holiday spread or your next casual soup night. 
In my mind I'll be by a log fire, a big bowl of chili, and this cornbread. Though eating It in my pajamas in my kitchen isn't half bad either. 
Ingredients
Prep:
1 cup sweet corn (drain and rinsed)
WET
1/4 cup almond milk + 
1 tsp apple cider vinegar
1/3 cup Foragers Unsweetened Cashew Yogurt (any plain dairy-free yogurt should work) 
1/4 cup unsweetened applesauce
1/4 cup honey or maple syrup 
2 tbsp ghee or coconut oil, melted 
Dry
1.5 cups almond flour 
1/2 cup almond meal
3/4 cup fine cornmeal 
1/2 cup tapioca flour
1
 tsp sea salt
1 tsp baking powder
1/2 tsp baking soda
Drain and rinse a can of sweet corn. Set aside for now. 
Preheat oven to 350F. Spray a muffin pan with olive oil/ coconut oil spray. 
Mix your almond milk and apple cider vinegar in a small bowl. Allow to sit for ten minutes. 
In a separate large bowl, add all other wet ingredients. Whisk well. After your almond milk/acv mixture has had 10 minutes to sit, whisk It into your wet ingredients. 
.
In another bowl add all your dry ingredients. Whisk until evenly incorporated. 
.
Pour your dry mix into your wet, and stir until all combined. 
Now add in your corn and stir. 
Add your batter to each muffin mold.  Bake for 32-35 minutes or until a toothpick comes out clean. 
Allow to cool *completely* before removing from the muffin pan!
Store leftovers in a sealed tight container in the refrigerator.