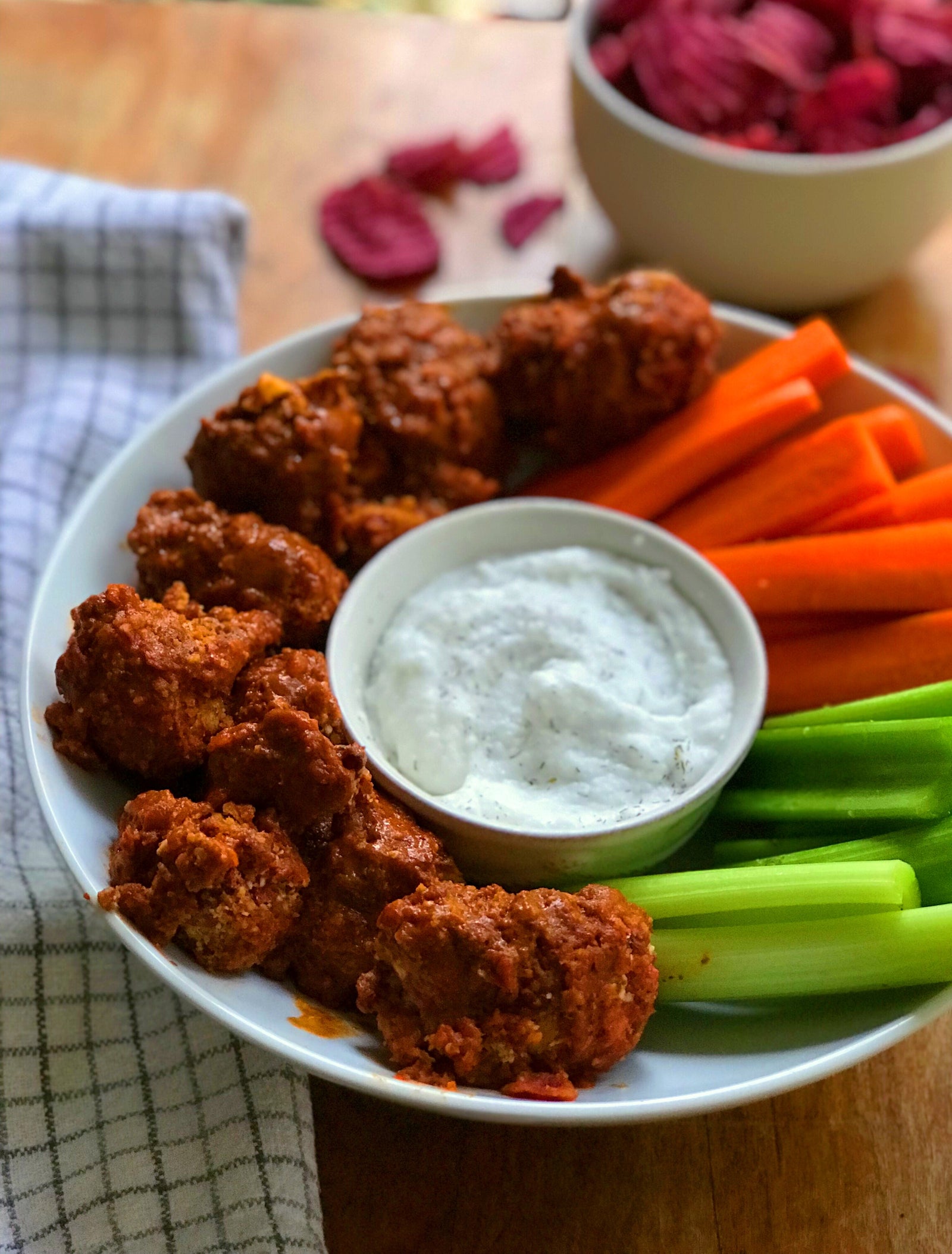 CRISPY BUFFALO CAULIFLOWER WINGS
Fall=Football=Wings. Am I right?

Well, thats pretty much how my hubs sums it up.

I have forever tried to perfect cauliflower wings (that actually get crispy) and I have failed more times than Id like to admit. But FINALLY the tailgating gods aligned and I nailed It.

When your husband (a wing lover) asks you to make this two nights in a row....you know you've done something right. 
I n g r e d i e n t s 
BOWL 1
1.5 cups crushed 'Jacksons Honest' Red or white Heirloom Potato Chips (size of large bread crumbs)
1 1/4 cup almond meal 
1/2 teaspoon garlic powder
1/2 teaspoon smoked paprika
1/2 teaspoon salt
1/4 teaspoon pepper

BOWL 2
3 tbsp flax meal
1 cup water

BOWL 3
1 cup chickpea flour 

Other ingredients.
1 small head cauliflower, cut into same size florets.
3/4 cup ( +) Siete Foods hot sauce (any hot sauce will do) 
2 tbsp ghee
D i r e c t i o n s 
Preheat oven to 400F. Line a baking sheet with parchment paper. .
Get out your three large bowls.

Bowl 1: crush your chips so that It resembles panko bread crumbs. Add your almond meal + spices and mix well.
Bowl 2: Add your flax + water and stir well. Bowl 3: add your chickpea flour.

Line up your bowls in this order: chickpea flour, flax meal water, crushed chips+ almond meal.

Rinse your florets so that they are damp. Take a few florets at a time and coat them in the chickpea flour. Stir the flax meal water & then drop the florets in the flax water and coat well. Finally toss them in the chip mixture— making sure each floret is covered in the mix and It is sticking nicely! 

Lay those florets on the parchment paper (make sure aren't touching). Repeat process for rest of cauliflower.

Bake your cauliflower for a total of 28-32 minutes total, flipping each floret to the other side about 15 minutes in. You can test by piercing a floret with a knife to see if it's tender all the way through, crust should be golden and crisp.

Remove your cauliflower when done. In a large bowl mix your hot sauce with melted ghee. If you want the "wings" to remain crispy (which is how I prefer them),  as you eat each wing dip It in the hot sauce!  If you don't mind them losing their crispness you can pour sauce all over and mix!   

*This recipe inspired by@itdoesnttastelikechicken*