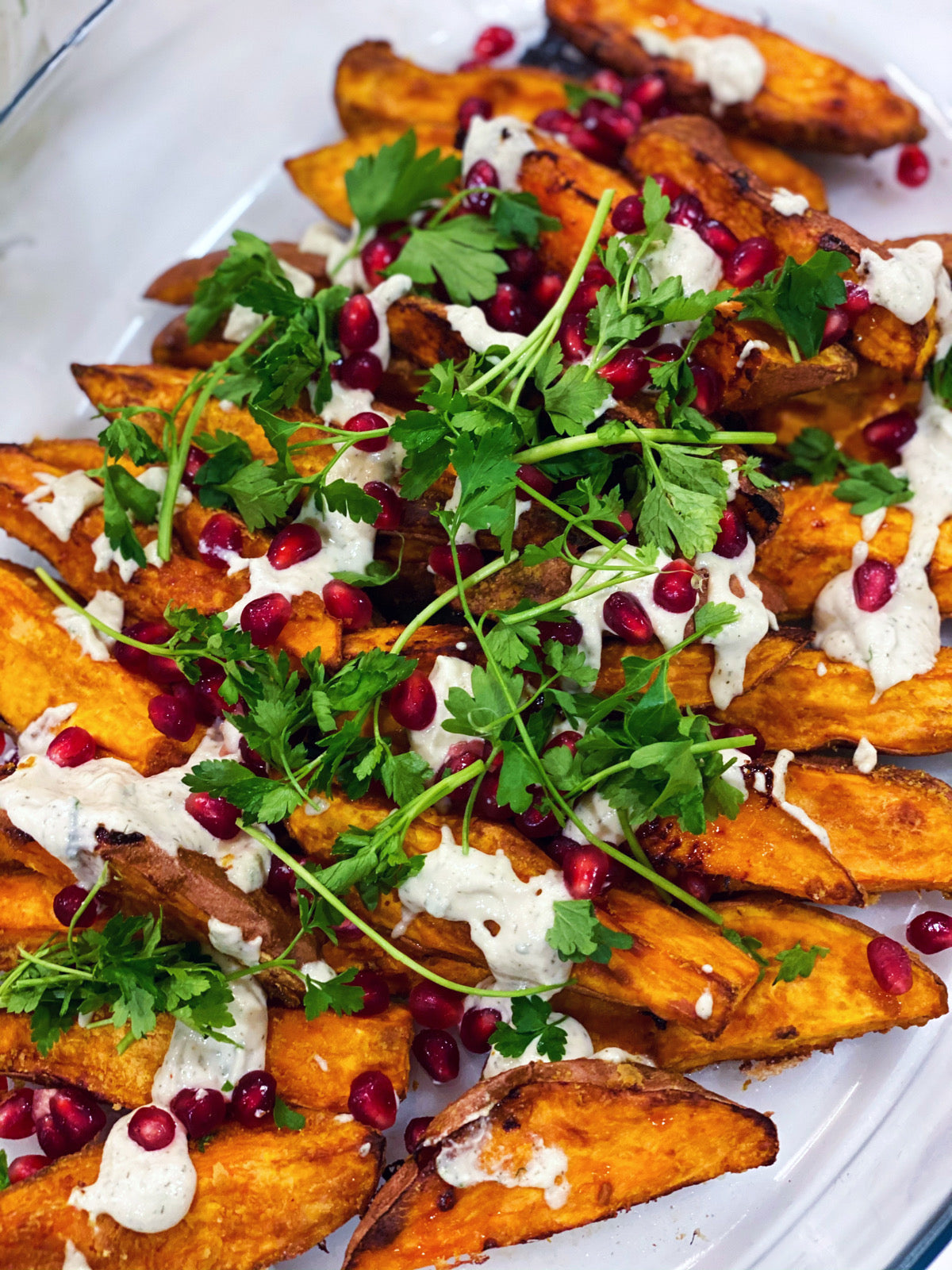 Crispy Sweet Potato Wedges with Chive Sour Cream Drizzle
What's one thing I always have in my pantry? You guessed it … SWEET POTATOES. And if I had to bet, yours too.
For that reason exactly this "fancy" dish came to life. Luckily all it takes is a few more ingredients to whip up this mountain of golden crispy sweet potatoes with a creamy chive drizzle, pops of pomegranate parsels, and fresh parsley. No judgement here if you prefer to add a ketchup drizzle on their as well.
This dish will most definitely brighten up my New Years Eve dinner spread! Might I suggest you add it to yours? 
Ingredients
6 medium sweet potatoes, quartered into wedges
3 tbsp coconut oil or grapeseed oil , melted
¼ cup nutritional yeast
½ tsp garlic powder
½ tsp sea salt
Few shakes pepper
Toppers:
½ cup pomegranate seeds
½ cup fresh parsley, chopped
Chive "Sour Cream" Drizzle
1 cup cashews , soaked for 6 hours in cool water
1.5 tbsp grapeseed oil
1/3 cup almond milk
2 tbsp rice vinegar
½ tsp garlic powder
½ tsp onion powder
½ tsp sea salt, more to taste
2 tsp dried dill  
2 tbsp fresh chives, chopped
Directions
Place your wedged sweet potatoes in a large bowl of ice water. Allow to soak for 30 minutes – one hour in the fridge.
Preheat your oven to 425 F.
When your sweet potatoes have soaked, remove from water and pat dry, and dry the bowl as well. Add your wedges back into the bowl. Add oil, nutritional yeast, garlic powder, sea salt, and pepper.  
Line your sweet potatoes on a parchment lined large baking sheet. You want these spread out and not touching – you might have to do in two batches depending on baking sheet.
Bake for 35- 40 minutes, flipping wedges at the halfway point.
While your sweet potatoes cook prepare your sour cream drizzle:
Drain and rinse your soaked raw cashews. Add into a high-speed blender. Add grapeseed oil, almond milk, rice vinegar, garlic powder, onion powder, and dried dill. Blend on high until smooth and creamy, no clumps. Now pulse in your chives. Taste and adjust your salt!
To assemble lay your sweet potatoes on a large serving platter. Drizzle on desired amount of sour cream drizzle. Top with pomegranate seeds and parsley!