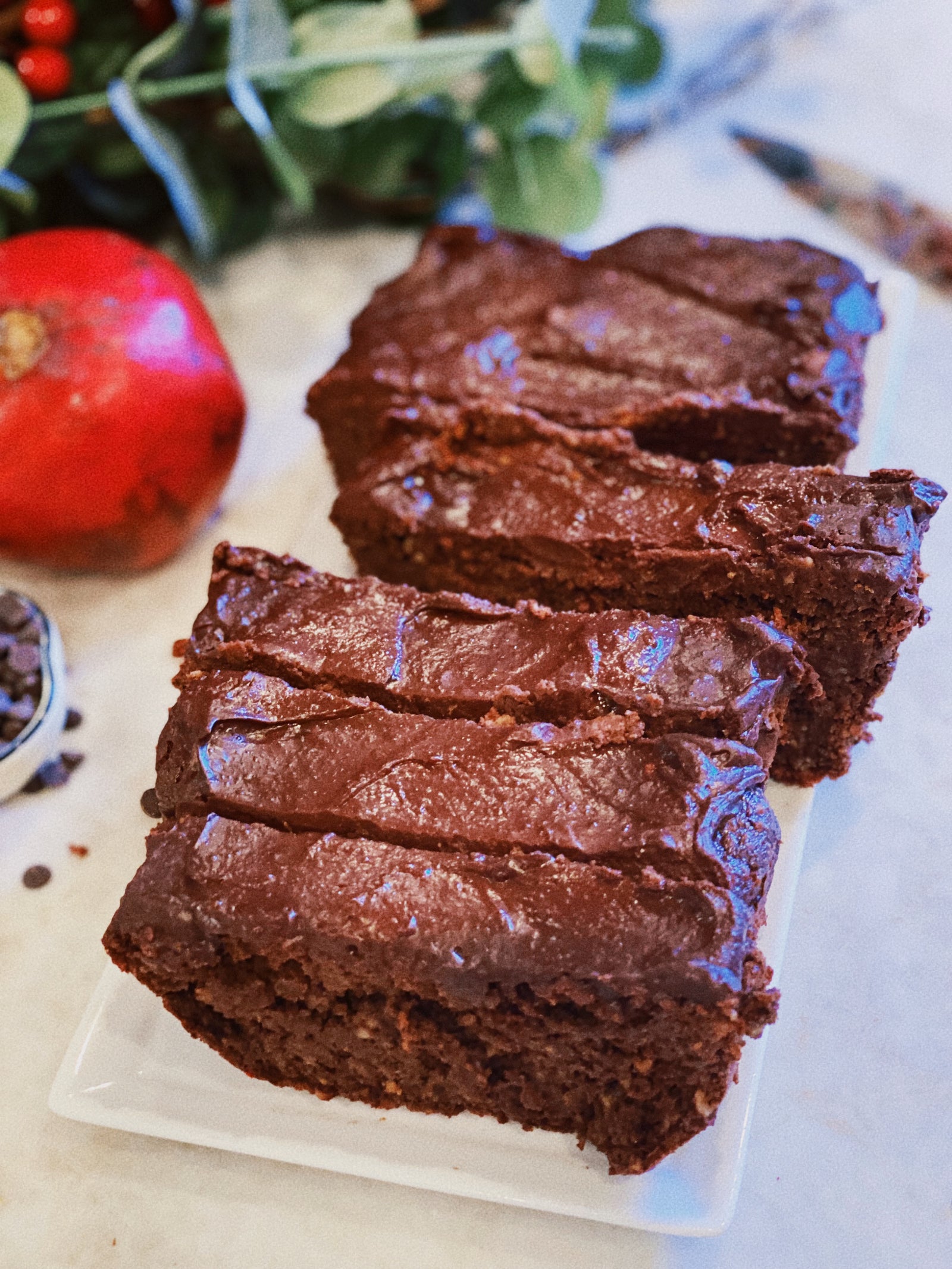 Double Chocolate Pumpkin Cake Loaf
In what season is chocolate cake not appropriate? I think we can all agree, chocolate is a year round craving BUT I decided to get festive with this one and sprinkle in some seasonal cheer, just in case you needed more convincing. 
I am obsessed with loaf for a lot of reasons but the main being THE 5-MINUTE CHOCOLATE FROSTING that, mark my words, you will be eating like pudding. 
This loaf just gets It -- she is thick, moist, chocolatey, sweet and layered up with some velvety chocolate frosting! Not to mention I snuck in some pumpkin puree for a nutrient boost ( or sweet potato if that is more your preference).
Hope you enjoy! 
Wet
1.5 tbsp flax meal
3 tbsp water
1/2 cup maple syrup
1/4 cup applesauce
3/4 cup sweet potato puree or pumpkin puree
2 tbsp coconut oil, melted
1.5 tsp vanilla extract
1/3 cup almond milk
1/2 cup chocolate chips
2 tsp coconut oil
Dry
1 cup gluten free oat flour ( note** measure once in flour form)
1/2 cup cacao powder
1/2 cup coconut sugar
1/2 cup almond meal
1/4 cup white rice flour  
2 tbsp arrowroot flour / powder
2 tsp baking soda
1/2 tsp sea salt
Frosting
¼ cup almond butter
¼ cup cashew butter
1/2 cup cacao powder 
5 tbsp almond milk
1/4 cup maple syrup
1 tsp vanilla extract
¼ tsp sea salt
Preheat your oven to 375 F and press parchment paper into your bread pan.
Add your flax meal + 3 tbsp water into the bowl you will be using for your wet ingredients. Stir and set aside, allowing time for your flax egg to coagulate.
In a separate bowl whisk all of your dry ingredients. Set aside.
Once your flax egg has solidified, add in ingredients 'maple syrup – almond milk.' Whisk.
In a small microwaveable bowl add your chocolate chips and 2 tsp coconut oil. Microwave the bowl in increments of 30 seconds, stirring in between each time, to ensure the chocolate does not burn.
Repeat until completely melted.
Add your dry mix into your wet and stir well. Pour in your chocolate and whisk until your batter is cohesive, no clumps.
Pour batter into your loaf pan and spread evenly with a spatula.
Bake for 35-40 minutes or until a toothpick comes out clean – you MUST let this loaf cool completely before slicing.
While your loaf is baking, prepare your icing.
In a microwave-safe bowl add your cashew butter and almond butter. Microwave for 20 seconds to help loosen your nut butter. Whisk in the rest of the icing ingredients.  Whisk vigorously until no more clumps remain.
**Note: Doubling the icing recipe and adding it to a food processor produces an even smoother consistency!
Icing will thicken in the fridge!
Once your loaf has cooled, spread on the desired amount to your loaf with a spatula.
Slice and enjoy!