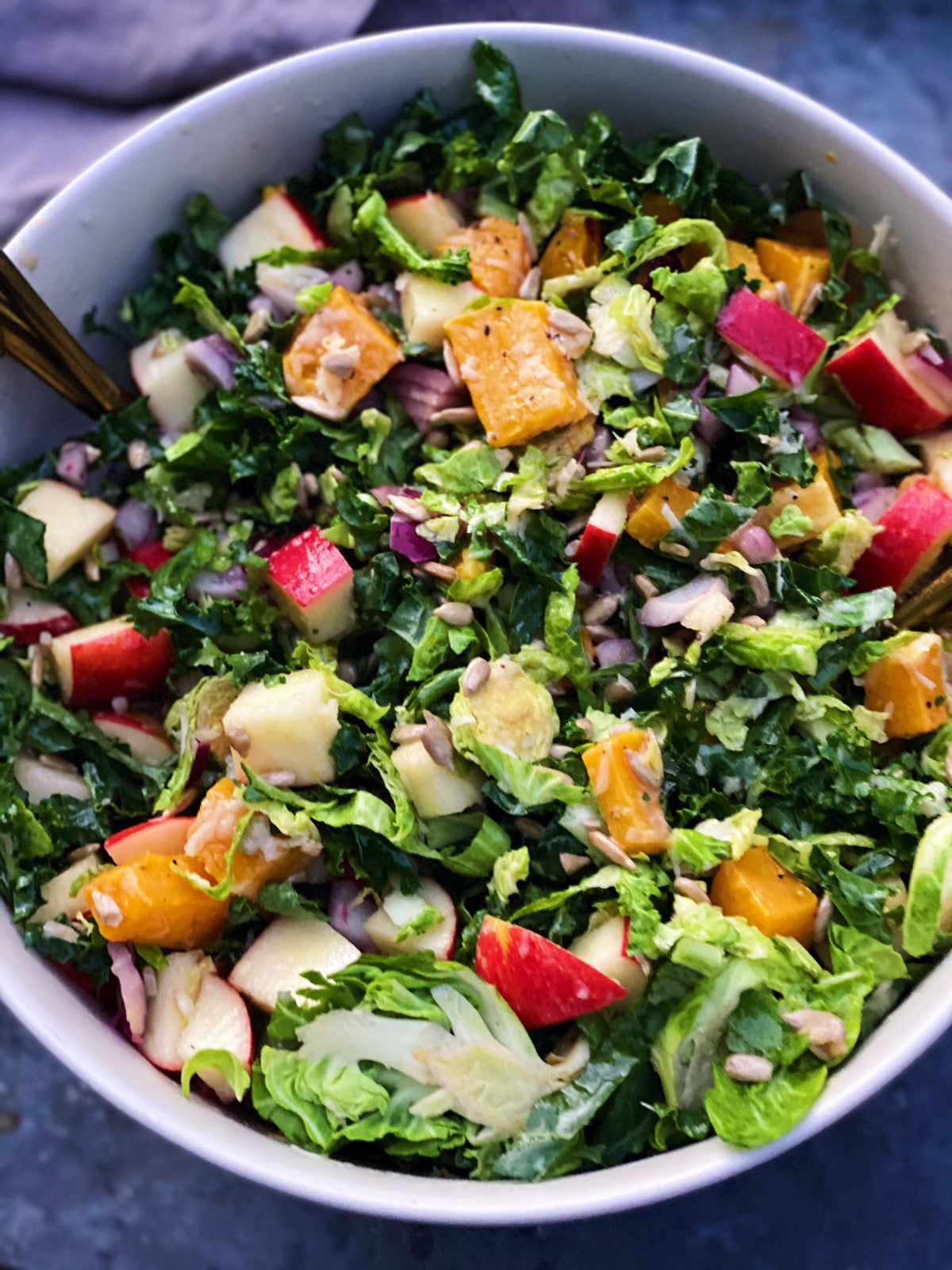 All you will ever need in a "salad" , right here , right now. The only sure way to know that you have the power to Fall in love with kale... is by making this salad bowl! 
In honor of it reaching true fall temps this weekend, I couldn't wait a day longer to get this recipe to you. 
Roasted butternut squash, crisp apples , shaved brussels, shredded kale , quinoa, red onion, sunflower seeds and vegan parm .... all marinated together in a maple dijon vinaigrette.
I promise you have the power to change the minds of the most avid kale hater with this one!
Salad Ingredients
4 cups shredded kale
3 cups shaved brussel sprouts
2.5 cups cubed butternut squash ( how to roast in directions)
1 cup cooked quinoa, (any grain will do )   
1 large Honeycrisp apple, diced (peel on)
½ large or 1 small red onion, diced
½ cup sunflower seeds or pumpkin seeds
½ cup shaved vegan parmesan ( my favorite linked here)
Dressing Ingredients
1/3 cup grapeseed oil ( olive oil is fine too! )
2.5 tbsp white wine vinegar
2 tbsp dijon mustard
1 tbsp maple syrup (more to taste)
Dash water
½ tsp himayalan pink sea salt ( more to taste)
Few pinches black pepper
Directions 
In a dressing container or mixing bowl, whisk in all dressing ingredients. Once thoroughly mixed, taste and adjust salt/pepper amount & sweetness with maple syrup. Set aside . 
Preheat oven to 375F. Line a baking sheet with aluminum foil or parchment paper. In a mixing bowl add your cubed butternut squash. Drizzle on ½ tbsp olive oil, few pinches sea salt and pepper. Mix well. Spread out butternut squash cubes onto baking sheet so that none are touching. Roast for 28-30 minutes, or until fork tender. I prefer less "mushy" so total preference here! Remove from oven when ready and allow to cool.
In a large mixing bowl add remaining salad ingredients, except for apple and butternut squash. Add desired amount of dressing and massage into salad with salad tongs or your ( clean) hands.  Gently mix in your butternut squash and chopped apple. Allow 15-30 minutes before serving so salad has time to marinate flavors!
Store in a sealed container in the refrigerator!