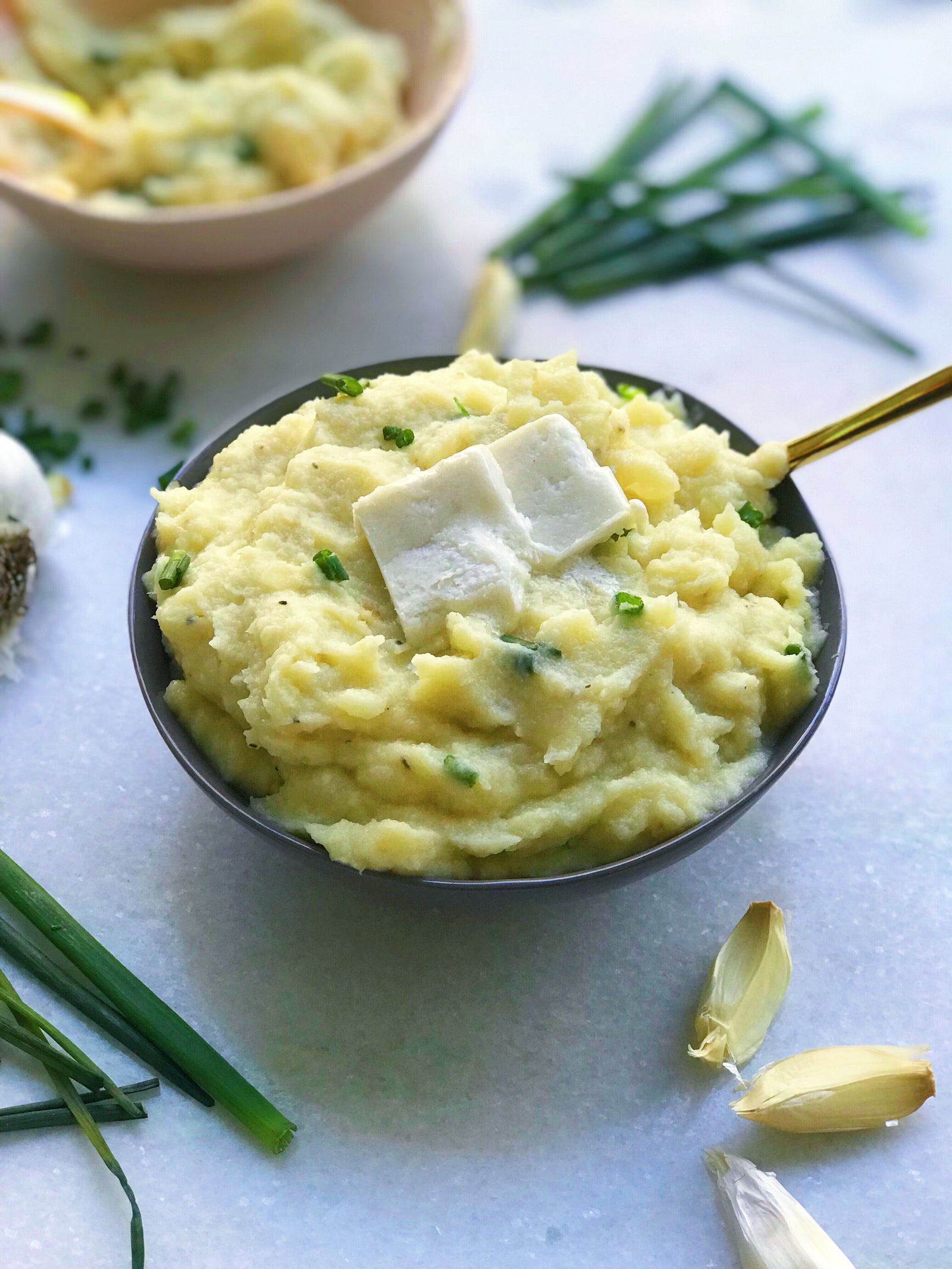 GARLIC MASHED (NON) POTATOES
I n g r e d i e n t s 
1 head cauliflower, cut into florets
2 parsnips, peeled and rough chopped (or use another 3-4 cups cauliflower florets)
3 tbsp ghee or vegan butter
½ large yellow or sweet onion
3-4 cloves garlic
2 tbsp almond milk ( to start)
2 tbsp @kitehillfoods Ricotta Cheese ( optional)
1/2 tsp sea salt ( to start)
Few shakes pepper
Topped with chives / extra butter


Add your peeled & diced parsnips to a large steam pot (covered) and begin to steam. After about 5 minutes, add your cauliflower florets. Steam until all is super tender and easily pierced with a fork. About 20 minutes.

While steaming dice your onion and mince your garlic. In a small saute pan, melt your ghee/vegan butterover medium heat. Add your onion and saute about 5-7 minutes or until transluscent. Add your garlic, and saute about 5 minutes more, continuously stirring so that the garlic does not burn. Turn off burner, and slide pan off heat.

*Note: If you do not have a large food processor, do the below in 2 batches, using half the cauliflower/parsnips, garlic/onion butter, almond milk , etc at a time*

Once your cauliflower + parsnips are steamed remove lid and allow to cool 5 minutes. In a large food processor add the cauliflower + parsnips, onion/garlic butter, and almond milk.

Begin to process and blend, scraping down the sides as needed. Add your ricotta and blend in. If you need more liquid add in another tbsp almond milk at a time, but you want them to stay thick and creamy.
Taste and adjust! I added a little more salt and pepper! Top with chopped chives or more butter.