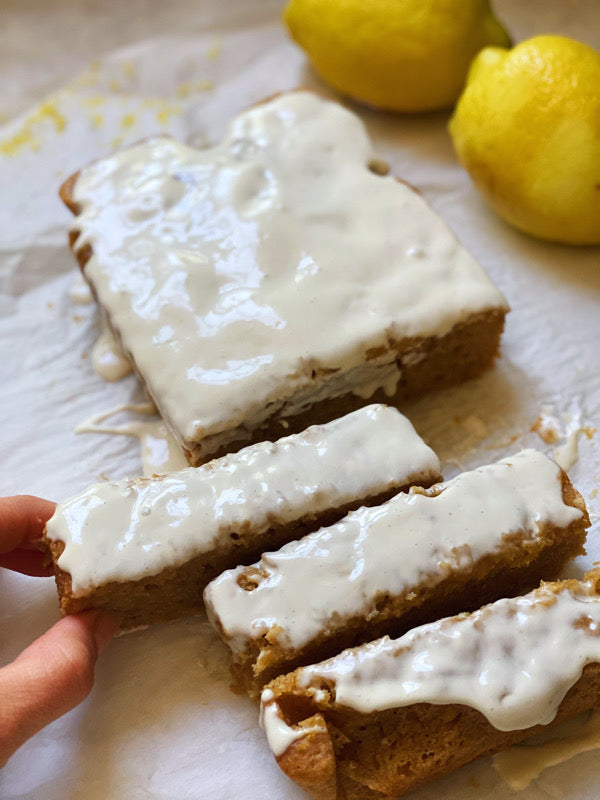 Lemon lovers rejoice, there's a new loaf on the block. She's light, fluffy, tangy, sweet, and coated in a lemon glaze that will have you humming with each bite. 
Honestly, this loaf pairs just as well with a glass of champagne as she would a cup of coffee and deserves a spot on your summer dessert rotation. 
Get you a slice! 
Equipment 
Mixing bowls 
oven 
loaf pan 
parchment paper 
high-speed blender ( icing ) 

Lemon Glaze  

1 cup raw cashews, soaked in water minimum of 4 hours (once soaked will measure 1.5 cups) 
1 can full-fat coconut milk, a refrigerated minimum of 12 hours ( don't skip ) 
3 tbsp maple syrup 
2 tbsp lemon juice 
1 tsp vanilla extract 
pinch sea salt 

Lemon Cake Loaf 

Dry 
1.5 cup oat flour 
1/2 cup almond flour 
1 1/2 tsp baking powder
1/2 tsp baking soda 
3/4 tsp salt


Wet 

1/2 cup maple syrup 
1/4 cup plain cashew yogurt 
1/4 cup olive oil
1/4 cup unsweetened applesauce 
1/4 cup lemon juice, fresh squeezed 
1/4 cup coconut sugar 
1.5 tsp pure vanilla extract
zest of 1 large or 2 small lemons (don't skip) 



Glaze Directions

Drain your cashews and rinse well. Add to your blender. 

Flip over your coconut milk can and open the bottom with a can opener. Pour out all the liquid ( feel free to save for smoothies! ) and then scoop the remaining "cream" that is left in the can. The cream should be hardened and measure about one cup. Add all cream into your blender with the cashews. 

Add all other icing ingredients and blend on high for 4-5 minutes, pausing the blender to scrape down the sides if needed. 

Store in a container and refrigerate for a minimum of four hours before adding to your loaf. 

Lemon Loaf 
Preheat your oven to 350F. Line a loaf pan with parchment paper. 

Add all dry ingredients into a mixing bowl and whisk well. 
Add all wet ingredients into a separate mixing bowl and whisk well. 

Begin to fold dry ingredients into your wet until all mixed. 
Pour batter into loaf pan and bake for 38-42 minutes. Loaf is done when top is golden brown and the sides begin to pull away from pan. 
Allow to completely cool before adding glaze. 
Store in refrigerator until ready to slice and serve!