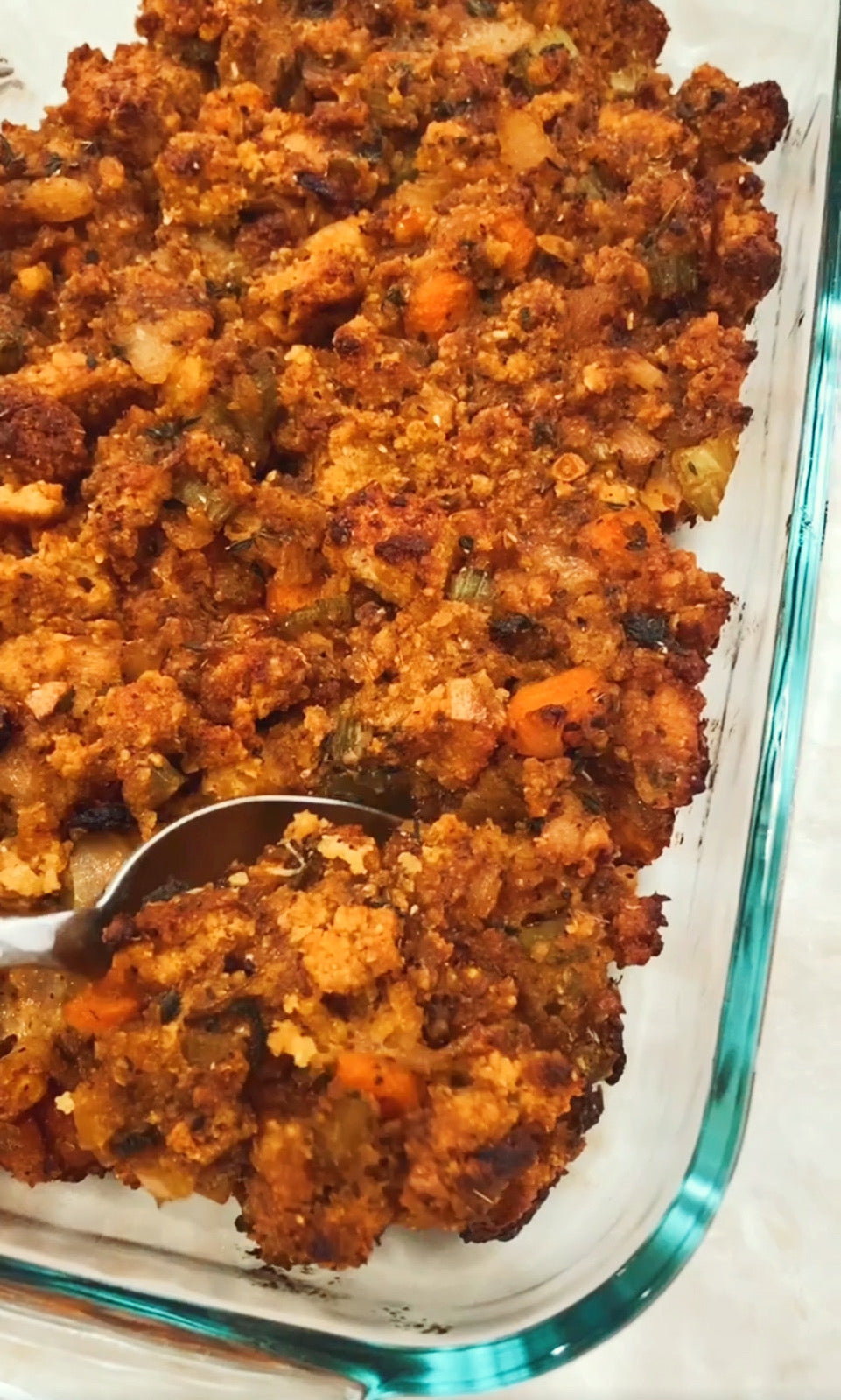 Gluten-Free Cornbread Stuffing
Excuse the poor lighting, but I took this picture at 9pm to get this recipe out to you before Thanksgiving! Yes, a day before, but before nonetheless. I'll always sacrifice photography to elevate your dinner table! 
Let's skip the small talk and get to the good stuff. 
NOTE: I used ghee in this recipe, as I think It provides the best flavor, however if you have a favorite vegan butter , feel free to use that instead!
Ingredients
8 large cornbread muffins, cubed  ( about 6 cups once cubed ) Check out my recipe here!
3 tbsp ghee
2 tbsp olive oil
1 onion, diced
2 large carrots, diced
4 celery stalks, diced
3 garlic cloves, minced
5 sage leaves, diced
2 tbsp fresh thyme leaves
1 tsp dried oregano
1 tsp dried basil
3/4 tsp sea salt
1/2 tsp pepper
¾ cup vegetable broth.
Equipment
Large Baking Sheet
Parchment Paper
Dutch Oven or Deep Sauté Pan
2 QT Pyrex Dish
Preheat the oven to 350F, and spread your cornbread muffin cubes onto a parchment lined baking sheet. Bake until toasted up and dried out, about 20 minutes. Remove from oven and set aside.
In a dutch oven or deep skillet, warm your ghee and olive oil over medium heat. Sauté your onion, carrots, and celery until fragrant and onions become translucent. About 3-4 minutes.
Add in your garlic, fresh sage and thyme. Sauté another two minutes. Add in the rest of your dried seasonings and sauté another minute.
Stir in your toasted cornbread.
Slowly pour in your broth and stir. Turn off your burner—allow cornbread mix to soak up the broth, about 10 minutes.
Grease your pyrex with more ghee or olive oil. Add your stuffing mix into the pyrex and spread with a spatula.
Cover with foil and bake for 25 minutes. Remove foil, up the oven heat to 400F and continue baking for 20-25 minutes, until the top is browned and toasted.
Remove from oven and allow to slightly cool before serving!