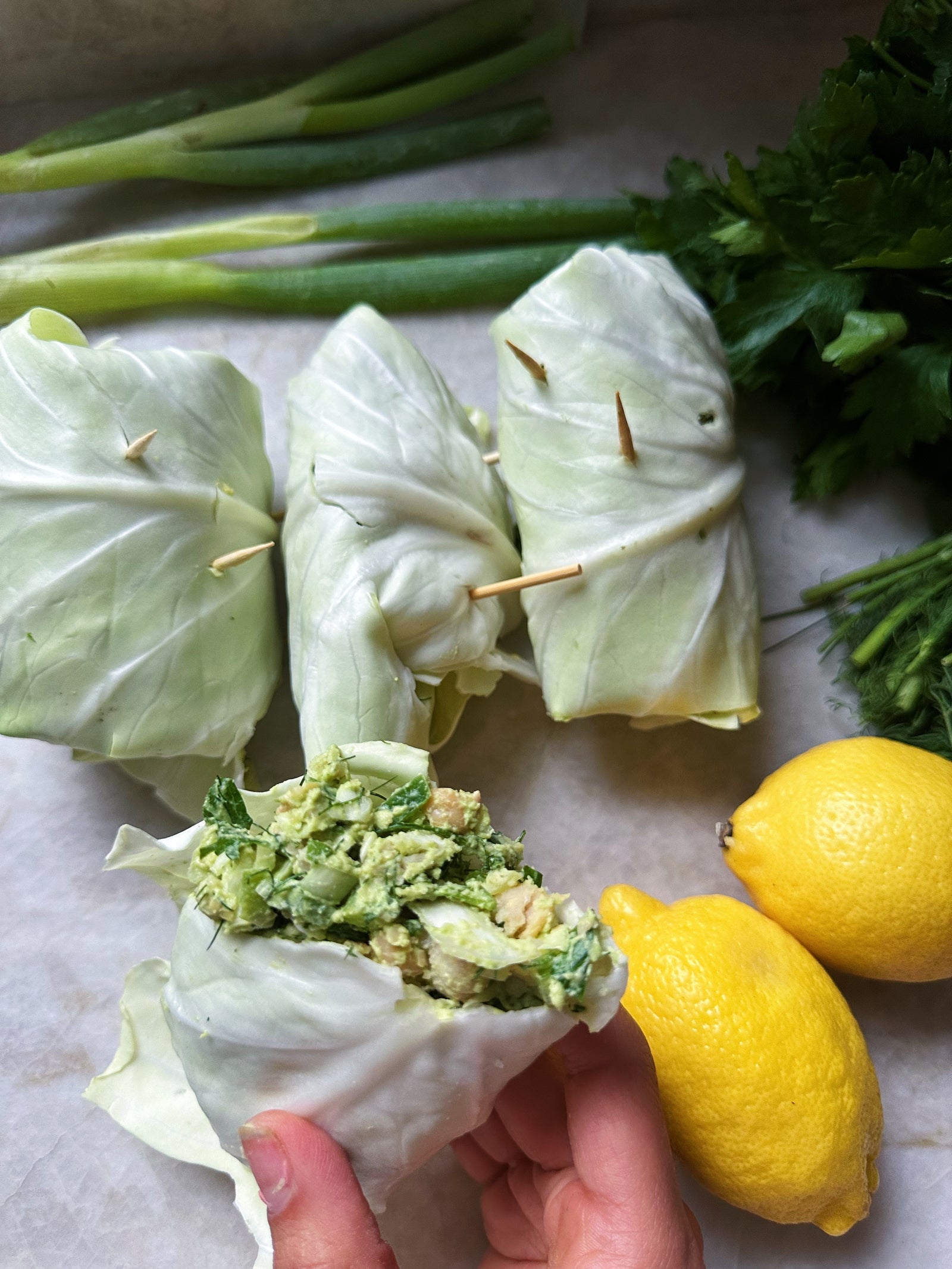 Green Goddess Cabbage Wraps
When you are craving a palate reset but also something crunchy, satisfying, and extremely flavorful, reach for one of these wraps! 
These are incredibly delicious after an indulgent week or weekend because they are packed with fresh herbs, greens, and the creamiest green goddess dressing! 
If you are not a fan of raw cabbage, you can roll these with collard greens or slather the chickpea salad between two pieces of sourdough. Anything goes here and all options are a win for your tastebuds. 
One bite and you will be making these on repeat! 
Equipment:
High Speed Blender 
Mixing Bowl 
Green Goddess Dressing 
1/2 cup cashews, soaked overnight or minimum 4 hours in cold water 
1/3 cup cashew yogurt ( Foragers is my favorite !) 
1/3 cup fresh dill, loosely packed
1/2 cup curly parsley, loosely packed
1 cup fresh spinach 
3 tbsp chopped chives
3 tbsp nutritional yeast 
1 garlic clove 
1/2 cup olive oil 
3 tbsp fresh lemon juice  
1 tbsp white wine vinegar 
½ tbsp raw honey or maple syrup 
½ tsp sea salt ( + more to taste ) 
Rinse your soaked cashews and add to the blender. Add all other dressing ingredients to the blender and blend until smooth and creamy. This may take a few minutes. Scrape down the sides of the blender as needed! Taste and adjust your salt and lemon! 
Chickpea Salad + Cabbage Wraps 
Optional: toothpicks for securing your wraps 
1 large cabbage head ( you will need whole leaves and 1 cup finely chopped -- see directions below) 
2 cans chickpeas, drained/ rinsed/ pat dry 
1 cup cucumber, finely diced 
1 cup celery, finely diced 
1/2 cup green onions, sliced 
1/2 cup fresh dill, finely chopped
1/2 cup fresh parsley, finely chopped 
1 jalapeno , diced 
1 tbsp fresh lemon juice 
Start by rinsing the whole head of cabbage under cold water. Peel off the wilted outer leaves and either save or discard them. Start by coring the cabbage at the stem end by cutting a square with a sharp knife all around the stem and insert a knife about 1/3 of the way into the cabbage. This should help loosen the core enough so that you can work out the core with your hands. Once removed, discard the core.
Carefully peel the cabbage leaves off the cabbage starting with the outside ones and working your way in. Try to get 6-8 good leaves for wrapping, it is ok if they aren't perfect.
Set the leaves you are using aside and then finely dice the rest of your cabbage, saving a heaping cup for this salad.
Add the chickpeas to a large mixing bowl. Using a potato masher or your hands, start to mash about half of them. 
Now add in your chopped cabbage and all other salad ingredients. You can add the lemon juice now or at the end! 
Add 1 cup of the dressing into the salad and mix really well with either your hands or salad tongs. Add more as needed. 
Add any extra lemon juice and salt/pepper that you prefer! 
Line up your cabbage leaves and scoop about 3/4 cup of mixture into each of them.  
When ready, try to roll your wraps like you would a burrito. Fold one side over your ingredients, pull and tuck your sides in, and then continue to roll. To keep them closed, simply insert one or two toothpicks into the wrap on either side, ensuring they go all the way through.
Save your wraps or filling in a sealed container in the refrigerator.