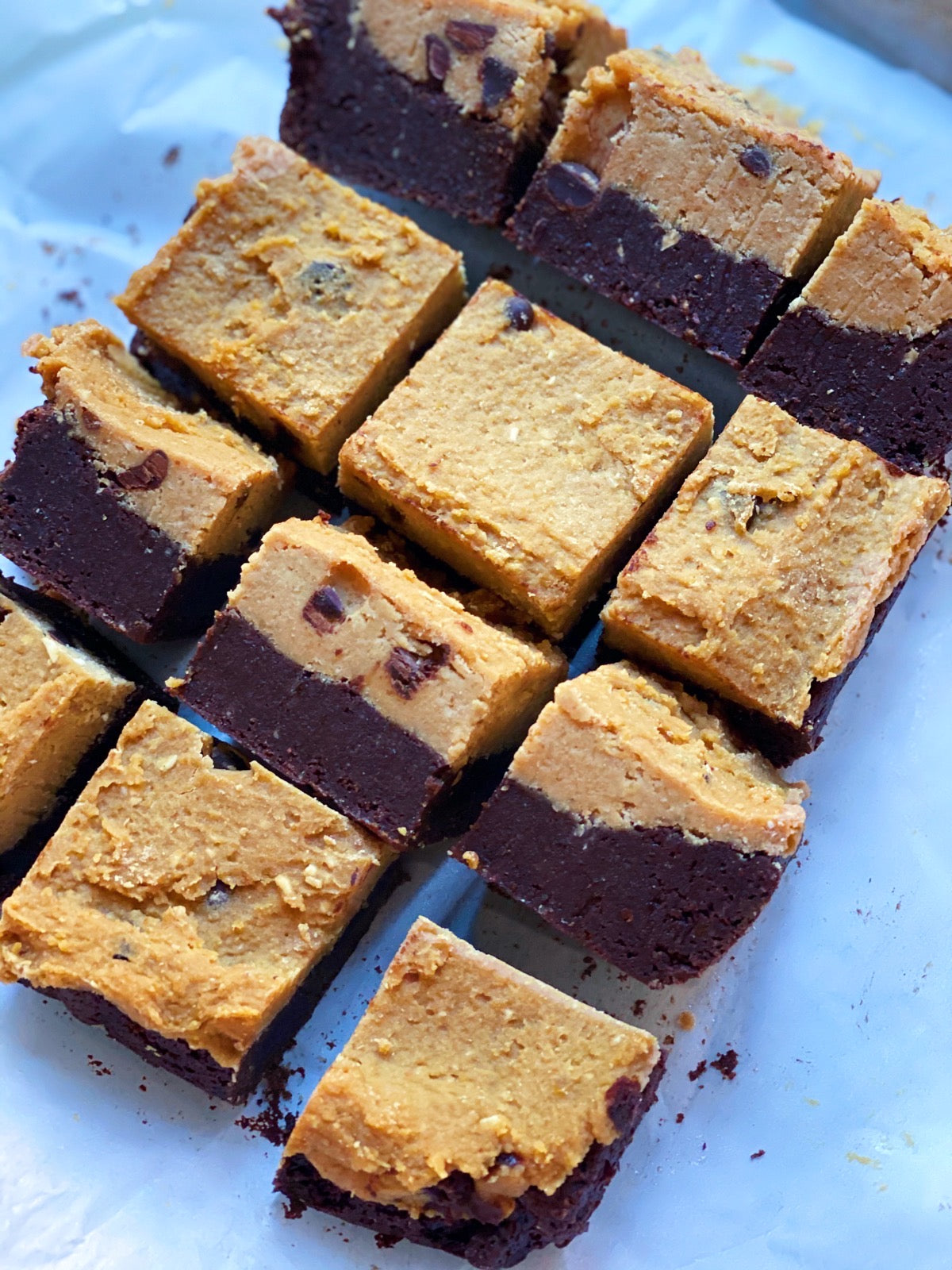 "Half Baked" Cookie Dough Brownies
When your two favorite desserts collide.... you get THESE incredibly addicting, perfectly layered, fudgy, doughy, cookie dough brownies.... "half baked" style. 
I didn't think I could love brownies any more until I brought these into my life ( and into my mouth.)  
I'm going to go ahead and warn ya, these will blow your mind. Like big time. 
Perfect your kids, birthdays, girls nights, monday nights, tuesday nights.... well you get the picture. 
I cannot wait for you to take your first bite. 


Equipment: 
Mixing Bowls 
Food Processor ( cookie dough) 
Oven 
8x6 Baking dish
BROWNIE LAYER
DRY
1/2 cup almond flour
1/2 cup almond meal
1/2 cup cacao powder
1/2 cup coconut sugar
2 tbsp arrowroot powder
1/2 tsp baking powder 
1/2 tsp bakind soda 
1/4 tsp sea salt
WET
2 flax eggs ( 2 tbsp flax meal + 1/4 cup water mixed ) 
3 tbsp coconut oil, scooped out at room temperature
1/4 cup creamy cashew butter
1/4 cup chocolate chips ( + more for topping) 
3 tbsp maple syrup
1 tsp vanilla
2 tbsp warm water
D i r e c t i o n s
Preheat your oven to 375F. Line an 8x6 pan with parchment paper. 
Prepare your flax egg in a small bowl and set aside. 
In a large mixing bowl, add all your dry ingredients and whisk until all combined. 
In a small sauce pot, add your coconut oil over low heat. Once melted add your cashew butter and whisk into the coconut oil until one thin mixture remains. Turn off burner and add your chocolate, maple syrup, and vanilla. Whisk until chocolate is all melted and everything is one uniform mixture. 
Add your wet mixture into your dry, along with your flax eggs, and 2 tbsp warm water. Now mix everything well until your brownie batter has formed. 
Lay your batter into your pan and spread evenly. Bake for 22-24 minutes -- you want them ever so  *slightly* undercooked -- when they cool and sit in fridge they will solidify like fudge. 
Allow to cool completely,while cooling make your cookie dough below! 
Once your brownies are cooled and cookie dough is complete, spread entire cookie dough batch onto your brownies. Allow brownies to refrigerate overnight or for a minimum of 4 hours -- they will really meld together! 
Store in a seal tight container and enjoy! 
Cookie Dough Layer 
Ingredients 
1 can chickpeas
1/2 cup gluten free oats
1/4 cup coconut sugar
2 tbsp coconut flour
2 tbsp cashew butter
3 tbsp maple syrup
1/2 tbsp Vanilla
1/2 tsp sea salt
3 tbsp almond milk
Stir In: 1/3 cup chocolate chips
Directions
Drain and rinse your chickpeas, pat dry. 
Add your oats into your food processor and process until a fine oat "flour" forms. Add in all other ingredients  ( except chocolate chips) and process until dough is nice and smooth. Scrape down the sides as needed and continue to process until you reach desired consistency. Taste and adjust sweetness! STIR in your chocolate chips. 
Follow steps to add to brownies in the brownie recipe directions above.