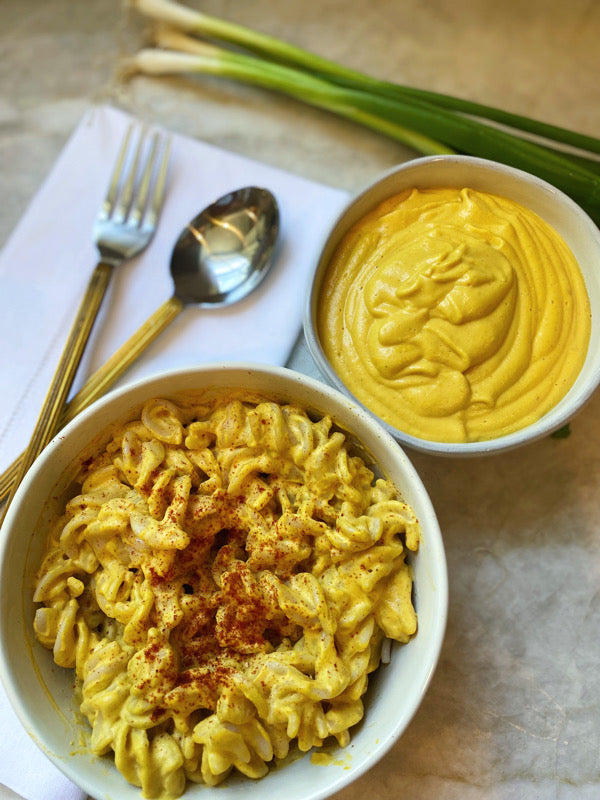 Hide The Veggies "Mac N Cheese" Sauce
Why is It so hard to plan a delicious meal AND make sure your family is getting enough veggies? Being a parent is hard enough, so allow me to take the veggie worry off your plate ( or in this case, getting It on your plate.) 
This mac n cheese sauce has a full carrot, squash, onion, and even some cauliflower in there. But don't let that deter you, you and your kids will never know. It's creamy and cheesy and downright delicious.
Use this over pasta or roasted vegetables! Enjoy! 
Steamer Ingredients 
1 onion, peeled and quartered
1 cup raw cashews 
1 large carrot, peeled and halved
1/2 large yellow squash 
5 cauliflower florets ( can be subbed with 1/2 yellow squash ) 
2 garlic cloves 
Blender Ingredients 
3/4 cup cashew yogurt ( unflavored ) 
2 tbsp ghee ( or vegan butter ) 
2 tsp sriracha 
1 tbsp lemon juice 
1/2 tsp chili powder
1/4 tsp paprika 
1 tsp sea salt ( you will add more ) 
pepper to taste 
Add all ingredients to a steam pot. Steam over medium heat until your carrot is fork tender and cashews have softened— about 12 minutes. 
When finished, remove the lid and allow It to slightly cool. Add all ingredients into a high-speed blender. 
Now add all remaining "Blender Ingredients" to blender. Blend on high until a smooth and creamy orange mac n cheese sauce forms, and no clumps remain. 
Taste and adjust your salt, pepper, or lemon. 
Pour over your favorite noodles or roasted vegetables.