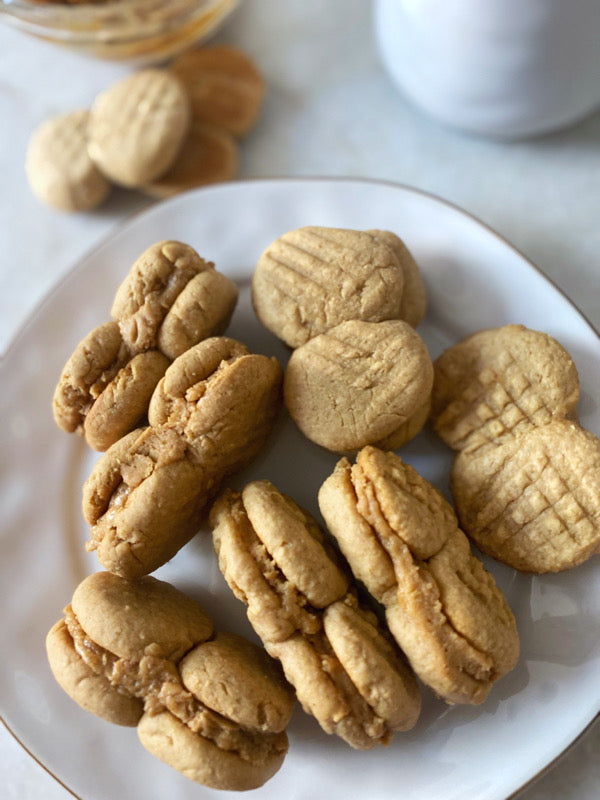 My tastebuds took a trip down memory lane while recipe testing these sweet and nutty homemade Nutter Nutters!
What was It about those peanut butter cookies and smooth pb filing that had us hooked? 
These are all the goodness you remember minus all the junk ingredients you don't remember. 
Five main ingredients in the entire recipe and less than 15 minutes away from being yours!
Nutter Butter Cookies 
3/4 cup GF oats
1 tbsp coconut flour 
1/4 tsp baking powder
1/2 tsp sea salt 
1/2 cup creamy peanut butter
1/3 cup maple syrup 
1.5 tsp vanilla extract 
PB Filling
1/3 cup creamy peanut butter
1/2 tbsp maple syrup
dash vanilla extract
pinch sea salt 
Preheat oven to 350 and line a baking sheet with parchment paper. 
In a high speed blender grind your oats until an oat flour forms ( this works better in a blender than food processor BUT you can certainly use a food processor). 
Now pulse in your coconut flour , baking powder and sea salt. Set aside. 
In a large food processor add your peanut butter, maple syrup and vanilla extract. Process until mixed. 
Now add your dry mix into your food processor and process until one uniform dough forms. A large ball of dough should form as It churns in the food processor. 
Grab about 1/2 tbsp dough and roll into a small ball, about the size of a quarter. Flatten with your fingers and smooth the edges. Place on your parchment paper.
Repeat and then add your next flattened ball underneath the first one to create your peanut. Smooth the middle line with your fingers. 
Repeat until no more dough remains. Bake your nutter butter cookies for 8-9 minutes. Remove from the oven and allow to cool. 
While baking and cooling prepare your filling, by stirring all ingredients together in a mixing bowl. Taste and adjust if you want sweeter or saltier. 
Once your cookies have cooled, spread your filling onto half and then place the remaining cookies on top of each layer of peanut butter filling. 
Store on counter or in refrigerator for longer shelf life.