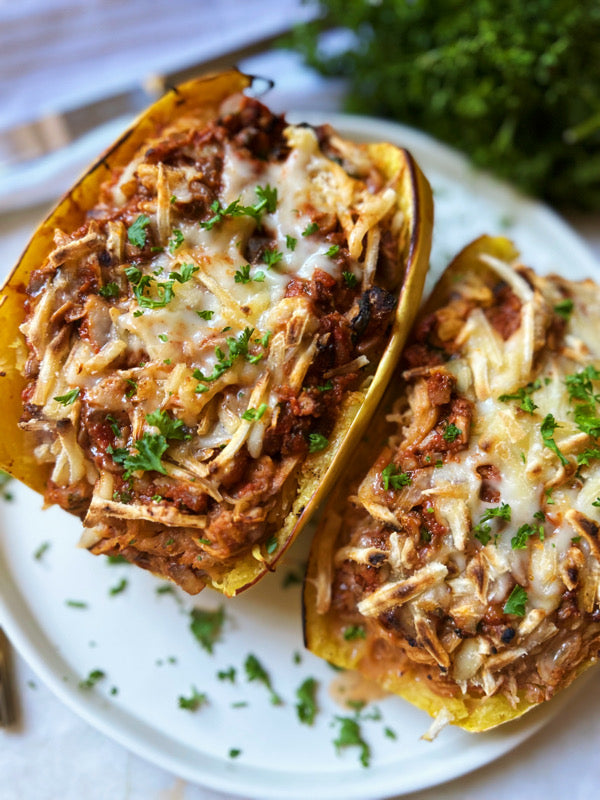 Lasagna Spaghetti Squash Boats
As soon as the temperatures begin to drop my comfort food cravings hit. My body goes from craving lighter foods, like fresh berries and salads, to things like warming soup and filling lasagna. 
My specialty is figuring out a way that comfort food and ultimate nourishment can co-exist and these lasagna boats are a prime example. 
They are incredibly satiating and packed with nutrients from the mushrooms, squash, walnuts, and spinach. And of course, melty cheese on top is just a given. 
If short on time you can sub the cashew ricotta for any store-bought creamy cheese! 
Serves: 
4 
Equipment: 
High-speed blender 
Oven 
Large baking sheet
Large saute pan 
Spaghetti Squash Boats 
2 small spaghetti squash 
Olive oil 
Salt 
Pepper 
Mushroom Meat Filling 
3 tbsp olive oil 
4 cups baby Bella mushrooms, de-stemmed and finely chopped 
3/4 cups raw walnuts, finely chopped 
1/4 cup almond flour 
1 32 oz jar tomato basil sauce/marinara/ or pizza sauce 
1 tbsp Italian seasoning 
2 cups chopped spinach 
Salt to taste
Cashew Ricotta Cheese
**You can always use a store-bought ricotta cheese if you are short on time**
1 cup raw cashews, soaked in water for a minimum of 4 hours 
2 tbsp fresh lemon juice 
2 tbsp nutritional yeast 
1 garlic clove, minced 
1/2 tsp onion powder 
1/4 tsp sea salt, to start 
Optional: dash water or unsweetened almond milk ( if your blender needs a little liquid ) 
Additional Topping
Shredded Vegan Mozzarella 
Chopped parsley or basil 
Preheat the oven to 400F and line a large baking sheet with parchment paper. 

Carefully slice spaghetti squash in half from stem to stem. Begin by slicing off each end so you have a flat base when beginning to cut. 

Scrape out the insides and seeds of each half. Drizzle olive oil on the inside of each spaghetti squash half and season with salt and pepper. 

Flip each half over so the cut side is face down on the parchment paper. Bake for 20-25 minutes or until a fork can easily pierce through the skin. You want to avoid overcooking as spaghetti squash can tend to get watery. 

While your squash bakes prepare your mushroom filling. 

You want your mushrooms and walnuts finely chopped so that they resemble large crumbles. You can also process these in a food processor if easier for you.

Add 3 tbsp olive oil to a large sauté pan over medium heat. When olive oil begins to sizzle add your mushrooms, walnuts, and almond flour. Stir to combine. 

Sauté your mix until the mushrooms begin to brown, and the mixture begins to thicken, stirring occasionally. 

When done, stir in your jar of marinara, Italian seasoning, salt, and pepper. 
Now stir in your spinach. 

Allow filling to simmer for a few minutes on low so that the flavors meld together. 
Prepare your cashew cheese.

In a high-speed blender add all ricotta cheese ingredients. Blend the cheese until smooth and creamy, scraping down the sides as needed. The goal is to not use much liquid, but if you need to add a dash of water or almond milk to help the blender, that is okay! Blending the cheese until there are zero clumps left is important. 

When your spaghetti squash is done allow each half to cool slightly until safe to handle. Scrape the squash strands out of each half into a large bowl, being careful to not break the skin. Save the boats as we will refill them with the new lasagna mixture. 

Add 1/2 or 3/4 of the mushroom meat ( preference ) and a few dollops of cashew cheese into the bowl with spaghetti squash noodles. Mix well and season with salt and pepper. 

Use the same parchment or line your baking sheet with new parchment paper. 
Fill each boat with the new noodle mixture. Top with any extra meat and vegan mozzarella. 

Add boats back into the oven until the cheese is nice and melted. Remove boats from the oven and garnish with fresh chopped herbs like basil or parsley. 

Save any leftover cashew ricotta in a sealed container in the refrigerator.