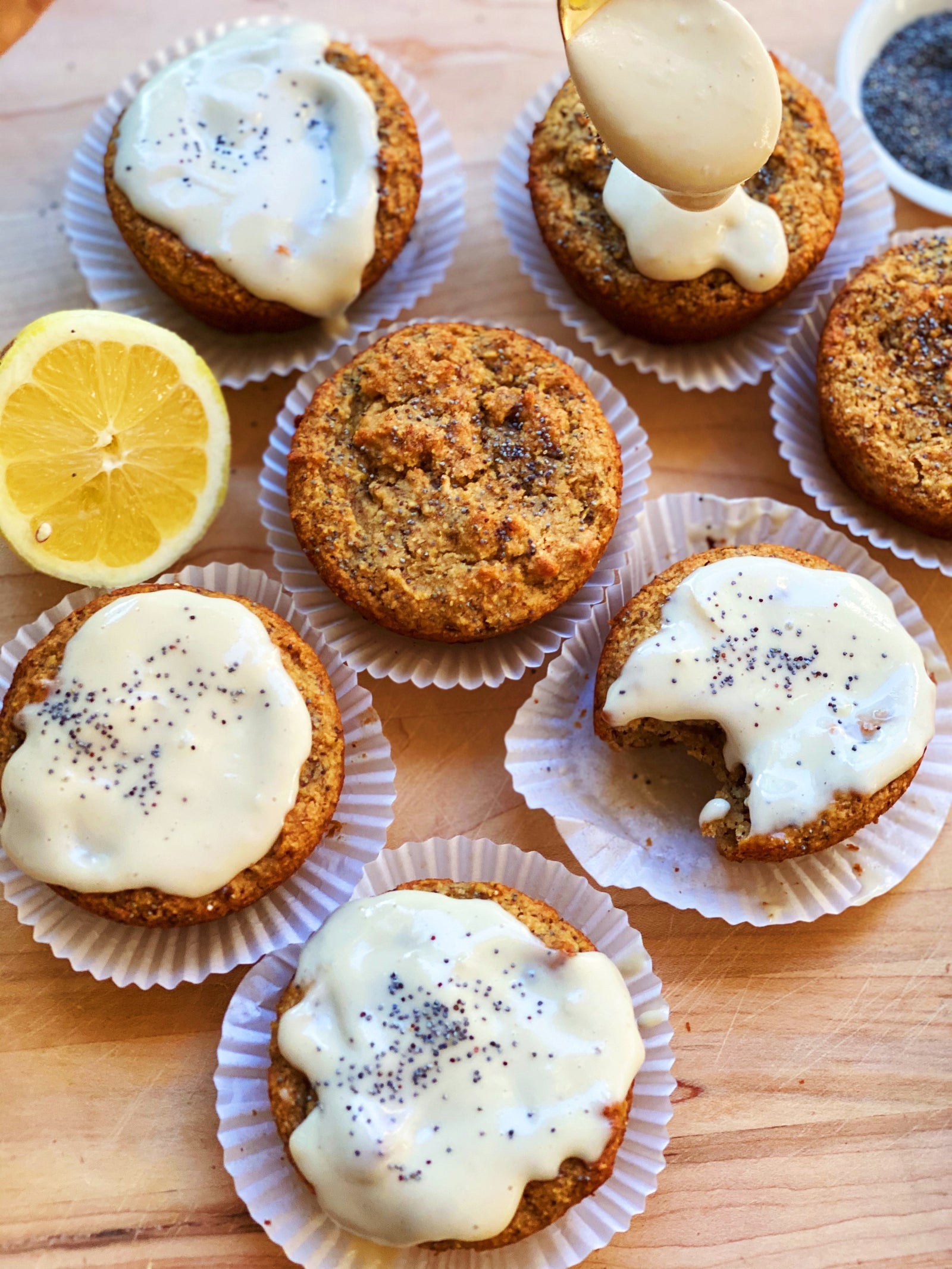 Lemon Poppy Seed Muffins + Cashew Lemon Glaze
STOP RIGHT THERE. You need these Lemon Poppy Seed Muffins in your Memorial Day Weekend lineup!
Light, fluffy, sweet, lemony muffins drizzled in a homemade icing! Poppy seeds really do add the perfect kick.
All my lemon lovers, this ones for you!
Ingredients
Dry
1 cup almond flour
3/4 cup oat flour
1/4 cup coconut flour
1/4 cup coconut sugar ( + extra to sprinkle on top )
2 tbsp arrowroot powder
1.5 tsp baking powder
1 tsp baking soda
1/2 tsp sea salt
Wet
2 flax eggs ( 2 tbsp flax seed meal + 4 tbsp water)
1/3 cup unsweetened applesauce
1/3 cup cashew yogurt
1/4 cup honey ( sub maple syrup for vegan option) 
3 tbsp maple syrup
2 tbsp lemon juice
2 tbsp lemon zest ( I needed two lemons for this )
1.5 tsp vanilla
2 tbsp poppy seeds
D i r e c t i o n s
Preheat your oven to 350 F and line a muffin pan with parchment paper, with muffin liners, or grease with coconut/avocado oil.
Prepare your flax eggs in a small bowl, mix, and set aside.
Add all of your dry ingredients into a mixing bowl. Whisk until all combined.
In a separate large bowl add all of your wet ( except poppy seeds) ingredients. Mix well. Fold your dry ingredients into your wet. Now fold in your poppy seeds. Don't overmix 
Fill each muffin mold. Drizzle a little more coconut sugar and poppy seeds on the top of each muffin, helps with the golden crust!
Bake for 24-26 minutes or until golden brown. Allow to cool completely!
LEMON ICING 
**Best to make ahead of time! Needs at least 3 hours to set!)
Ingredients
1 cup raw cashews, soaked for a minimum of 4 hours
½ cup coconut cream ( yielded from a full fat coconut milk can that has been refrigerated for 24 hours+)
3 tbsp coconut oil , melted
3 tbsp maple syrup
1 tbsp lemon juice
1.5 tsp vanilla
¼ tsp sea salt
Directions
Drain and rinse your cashews. Add to your blender. Flip over your coconut milk can, and open from upside down. Drain the liquid ( save for smoothies or discard). Use all of the coconut cream that is left in the can, should be at least ½ cup. Add to blender. Add the rest of your icing ingredients. Blend until smooth and creamy – a few minutes. Taste and adjust sweetness/lemon to your liking. Pour into a sealed container and refrigerate for at least 3 hours, it will thicken a good bit!