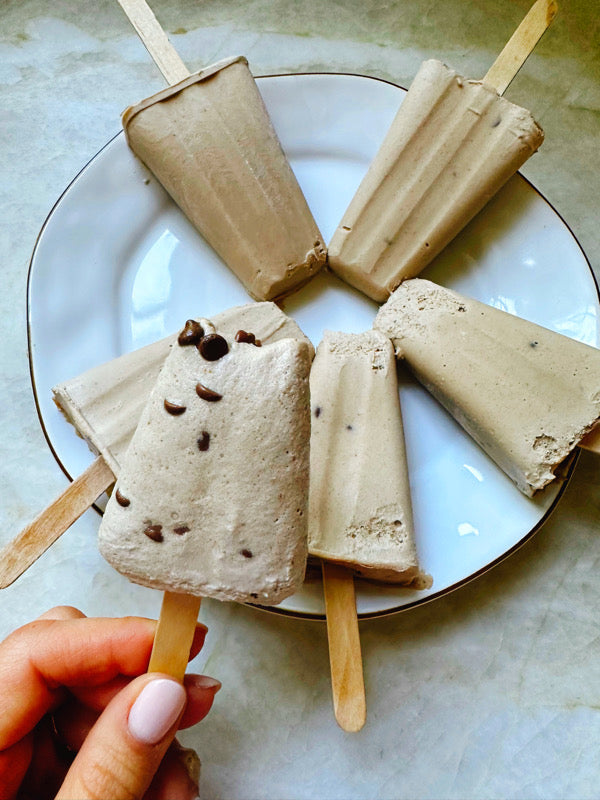 This is what summer dreams are made of. 'Mocha Ice Creamsicles' are here to stay and here to cure any hot summer night cravings! 
I recently tried Malk Organics Chocolate Almond milk and was blown away by how good it was, one sip and I knew I wanted to turn it into something delicious. 
These are totally customizable for your family's tastebuds -- add some peanut butter, take out the coffee for a kid's version, throw in some frozen raspberries...you see where I am going with this one, it cannot be messed up. 
The end result? Creamy mocha ice cream in popsicle form ! 
Serves:
10 popsicles ( depending on your mold) 
Equipment: 
Popsicle mold 
Popsicle stick for each popsicle mold
Ingredients
1 cup cashews, soaked in cool water for a minimum of 4 hours 
1/3 cup MALK Chocolate almond milk 
1/4 cup cold brew or chilled coffee 
1/4 cup maple syrup 
1/4 cup full-fat coconut milk/ or coconut cream 
5 large Medjool dates, pitt removed 
1.5 tsp vanilla extract
Pinch Himalayan pink sea salt 
Optional: 1/4 cup peanut butter, if you love chocolate/pb/coffee flavor! 
Optional: 1/3 cup dairy-free chocolate chips, stirred in 
Rinse your soaked cashews. Add to your high-speed blender. 
Add MALK chocolate almond milk, chilled coffee, maple syrup, coconut milk, dates, vanilla, sea salt (and peanut butter if using.) Blend on high until you get a smooth and creamy texture — no clumps! Taste and adjust any flavorings. 
Stir in chocolate chips, do not blend them in. 
Pour ice cream batter into each popsicle mold. Now place a popsicle stick into each mold. Allow to set in the freezer until completely frozen, about 4 hours. 
When ready to serve, remove popsicles from the freezer and allow to thaw on the counter for 8-10 minutes. This will allow time for them to slightly melt into an ice cream consistency!