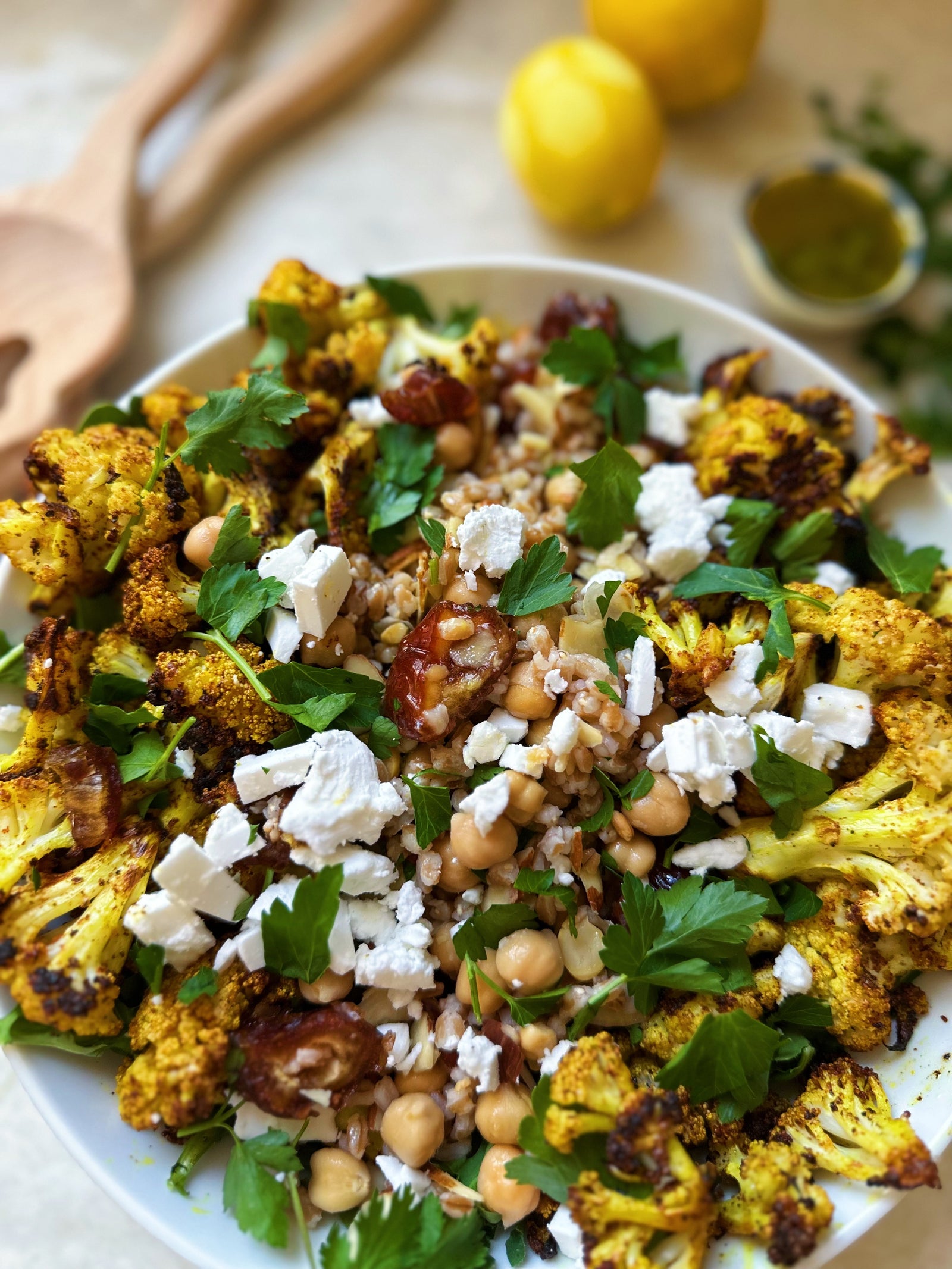 Moroccan (Inspired) Roasted Cauliflower & Farro Salad
Creating this salad brought me back to why Im so inspired by eating a plant forward diet. 
Simple vegetables can be entirely transformed by adding a few spices, good quality olive oil, fresh herbs and some time in the oven. 
I so enjoyed bringing this beautiful dish to life but I enjoyed eating it even more. 
She is just as pretty as she is delicious! 
Equipment 
Large Baking Sheet
Mixing Bowl 
Oven 
Serves
4+ 
Ingredients 
Cauliflower 
1 cauliflower head, cut into even florets 
3 tbsp olive oil 
1.5 tsp harissa 
1/2 tsp turmeric 
1/2 tsp coriander 
1/2 tsp Himalayan sea salt 
1/2 tsp pepper 
Salad 
4 cups arugula 
1 cup cooked farro or grain of choice 
1 can chickpeas, rinsed and pat dried 
6 Medjool dates , de-pitted and rough chopped 
1/2 cup slivered almonds 
Optional 
1/2 cup vegan feta , crumbled 
Extra chopped parsley for topping 
Extra Chopped mint leaves for topping 
Dressing 
1/4 cup olive oil 
2 tbsp fresh parsley , chopped 
4 mint leaves, chopped
2 tbsp fresh lemon juice
2 tsp apple cider vinegar  
1 tsp lemon or orange zest 
1-2 tsp maple syrup ( preference ) 
3/4 tsp ground cumin 
1/2 tsp sea salt 
Preheat oven to 425 F and place a large rimmed baking sheet directly into the oven to warm. 
In a large mixing bowl add your chopped cauliflower, olive oil, harissa, coriander, turmeric, garlic powder , salt, and pepper. Mix well. 
Carefully spread your cauliflower out evenly onto your hot baking sheet and return to the oven. 
Roast for 25-30 minutes flipping halfway through. Cauliflower is done when it has begun to crisp up around the edges.
While your cauliflower is roasting, prepare your salad and dressing. 
Add your arugula , farro, chickpeas, dates, and almonds into the large mixing bowl you prepared your cauliflower in. No need to rinse, but you can if you would like. 
Whisk all dressing ingredients into a small bowl and then drizzle desired amount of dressing onto salad mix. Mix well. 
When your cauliflower is finished, allow it to slightly cool and then add desired amount ( still warm) over your dressed salad. 
Sprinkle on your feta and lightly toss. 
Add any more desired herbs , dressing, or toppings of choice! 
Enjoy !