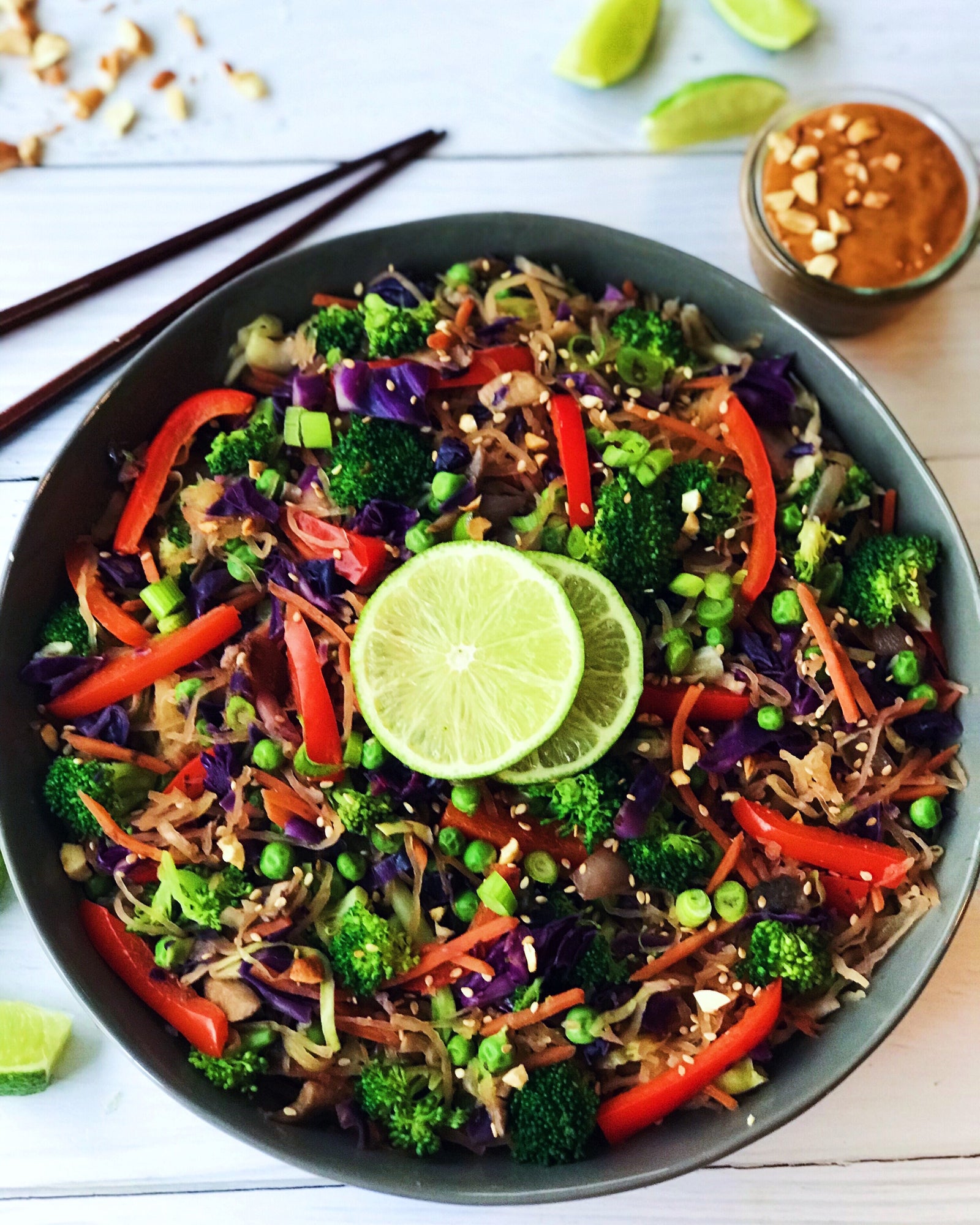 Mark my words, this is going to quickly become your new F A V O R I T E meal. How am I so sure? Because all it took was one bite for my carb loving, (self proclaimed) asian food connoisseur of a husband to fall in love. And I mean deep deep love...


P a d  T h a i  I n g r e d i e n t s 
1/2 large sweet onion ( about 1/3 cup chopped)
2 cloves garlic, pressed or minced
1 small spaghetti squash
1/3 cup shredded carrots
1 red pepper, sliced thin
2 cups cabbage, very thinly sliced ( I used green and red)
1 cup broccoli heads, chopped
1 cup mushrooms, thinly sliced
1/2 cup peas
To top: 1-2 green onions sliced ( to top dish), 1 tbsp sesame seeds,and crushed toasted cashews!
S a u c e  I n g r e d i e n t s 
3 tbsp creamy almond butter
1-1.5 tsp toasted sesame oil
1 tbsp siracha
2 tbsp tamari
1 tbsp raw honey or maple syrup
1 lime, fresh squeezed
1 tbsp avocado or olive oil
1 tbsp water ( room temp)
Salt to taste
D i r e c t i o n s 
Roast your spaghetti squash ( this step can be done prior to make easier)

Preheat your oven to 400 F. Pierce your squash a few times with a knife, place on baking sheet + place in oven. Let cook until can be easily pierced with a knife, 40-50 minutes. Remove from oven and let cool. Once cooled, slice lengthwise. Scrape out middle with seeds and discard. Using a fork scrape the flesh to create strands, and place into a small bowl.

Make your sauce:  Add all ingredients to a mini food processor or blender. Add more warm water to thin, or more almond butter if you need to thicken! Taste and adjust flavors. Keep close by. 

In your largest sauté pan, add a tbsp of toasted sesame oil or avocado oil. Add your onion and carrot and saute for 2 minutes. Add your garlic and red pepper, sautéing until all cooked through. 

Add in your mushrooms, cabbage, broccoli, and peas and continue to sauté for about 7-8 minutes or until 'almost' done.

Add in your spaghetti squash and mix until well combined! I continued to cook a few minutes more!

Turn off the burner. Add in your sauce, mixing until well combined! Top with green onions, sesame seeds, toasted cashews and lime wedge!