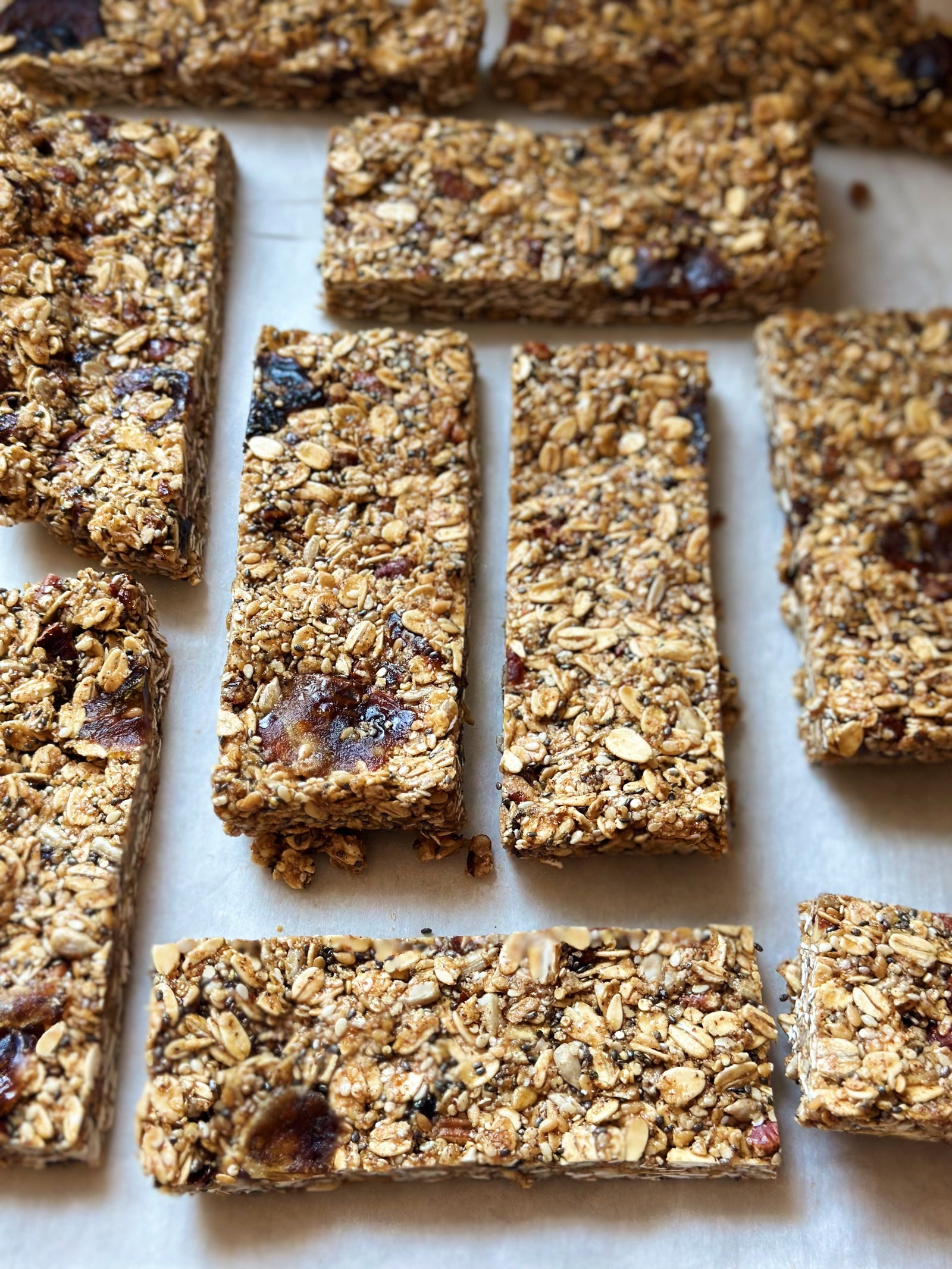 Nothing makes you appreciate a nourishing "on-the-go" meal more than trying to get out the door on time with babies (and your sanity) will. I have a newfound respect for recipes that can be thrown in your bag, made in under 30 minutes, provide minimal clean up, AND everyone can enjoy. 
These 'On-The-Go Glow Bars' solve a lot of our problems with just one bite. Not only are they packed with a variety of nuts and seeds with an incredible nutrition profile, they also have that salty-sweet-chewy-delicious-old school granola bar thing going for them. 
I am always swapping ingredients into my recipes, so feel free to do the same — use what you have on hand and what you know will lure your family in for a big bite. 
 **This recipe was inspired by one of the best in the game-- Angela Liddon// Oh She Glows Cookbook 
.
Equipment
Oven ( only if toasting your pecans ) 
Freezer 
9x9 pan 
Rolling Pin ( optional ) 
.
Serves: 12 bars 
.
Ingredients
1/2 cup pecans, roughly chopped  
1.5 cups gluten-free oats 
1 cup quinoa flakes 
5 Medjool dates, de-pitted and rough chopped ( sub 1/3 cup cranberries or chocolate chips ) 
1/4 cup sunflower seeds 
2 tbsp sesame seeds
2 tbsp golden flax seeds
2 tbsp chia seeds 
1 tsp cinnamon 
3/4 tsp Himalayan pink sea salt  
1/3 cup raw honey or maple syrup 
1/3 cup tbsp almond butter or peanut butter 
1.5 tsp vanilla extract 
Toast your pecans: preheat the oven to 300F. Spread pecans out onto a baking sheet. Toast them in the oven for 6-7 minutes or until fragrant and they deepen in color. Remove from the oven when ready and allow them to cool.
.
Line a 9x9 pan with parchment paper. 
.
In a large bowl add your cooled pecans, gluten-free oats, quinoa flakes, date pieces, sunflower seeds, sesame seeds, flax seeds, chia seeds, cinnamon and sea salt. Mix all until evenly combined. 
.
In a small saucepan, stir together your honey/maple syrup and nut butter and warm over low-medium heat. Continue to stir as the mix begins to soften and lightly bubble. 
.
Turn off the heat and move the pan off the hot burner. Stir in your vanilla extract.
. 
Pour the warm mixture into your bowl of ingredients, scraping out any last bits from the pan. 
.
Prepare to stir the oat mix extremely well and until all is coated with the wet mixture. 
.
Transfer all to your prepared pan and place another sheet of parchment paper over the top. This will help you spread the mix into a compact and even layer without getting your hands sticky. Feel free to use a rolling pin or rounded glass to help even all out. You want this to be as compact as possible so your bars don't crumble! 
.
When ready allow bars to set in the freezer for 30 minutes to an hour. When ready slice and enjoy! Store in a sealed container in the refrigerator or the freezer.