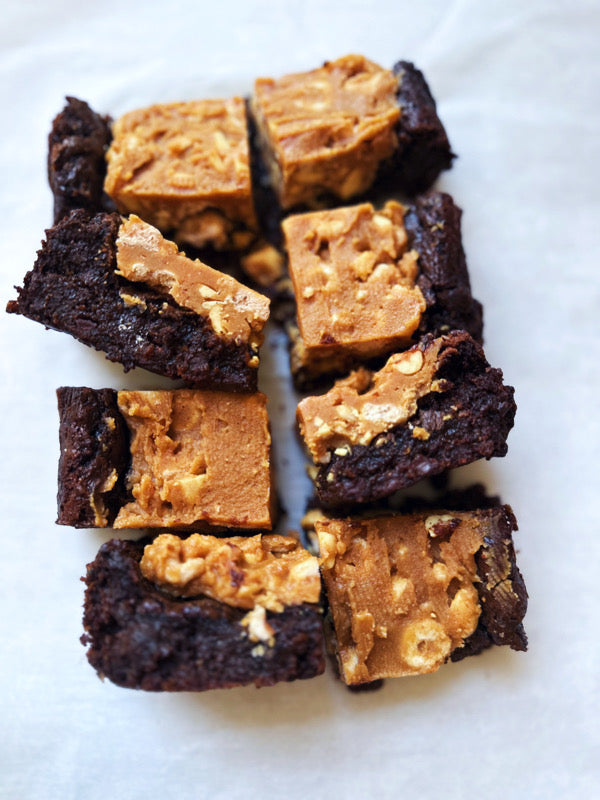 I must say, these brownies raise the bar.  When you combine chocolate and peanut butter, can you really go wrong? 
The brownie layer tastes like fudge due to slightly undercooking, and I added some crushed cereal and peanuts into the peanut layer giving major Payday candy bar vibes. 
When left to set in the freezer, the two layers become once and create a really perfect dessert. 
Oh and then there is the fact that a whole grated zucchini is hiding in there too, so we are just winning all around today. 
Enjoy! 
Brownies
1 flax egg ( 1 tbsp flax meal + 2 tbsp water) 
1 zucchini
1 cup almond butter
1/2 cup coconut sugar
1 tbsp maple syrup 
1.5 tsp vanilla extract 
1/4 cup cacao powder 
1.5 tsp baking powder
1/2 tsp sea salt 
1/2 cup chocolate chips
Payday Layer
3/4 cup peanut butter ( runny ) 
1 tbsp coconut oil 
3 tbsp maple syrup 
1 tsp vanilla extract 
Pinch sea salt 
3/4 cup chopped roasted peanuts ( or a combo of peanuts and your favorite cereal! 
Directions 
Preheat oven to 350 F and line an 8x8 baking pan with parchment paper.
Prepare your flax egg and set aside. 
Trim the ends off your zucchini and grate it directly into your mixing bowl. Add your almond butter, coconut sugar, maple syrup, vanilla and whisk well. 
Stir in your cacao powder, baking powder, and sea salt. 
Now fold in your chocolate chips. 
Pour batter into your pan and bake for 22-25 minutes. You want your brownies slightly undercooked. 
Allow to completely cool and then place your brownies in the refrigerator to firm up. 
While your brownies cool prepare your Payday layer.
Add your peanut butter, coconut oil, maple syrup, vanilla extract, and sesame salt into a mixing bowl. Stir until all combined. 
Fold in your cereal. 
Once your brownies have completely cooled, carefully spread on your peanut butter layer. 
Place your brownies in freezer for a minimum of 1 hour. 
Slice and enjoy!