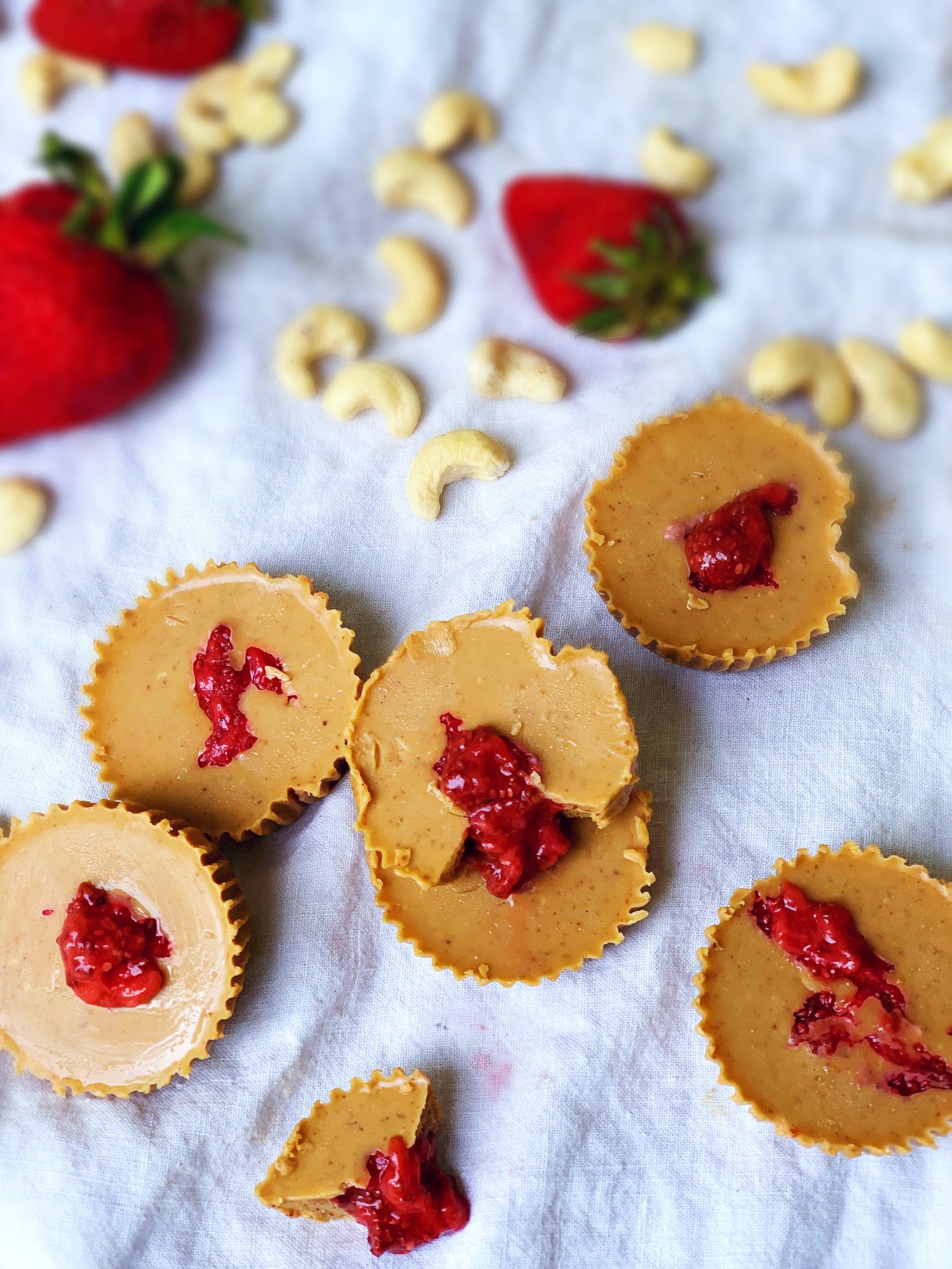 When Americas favorite combo meets Americas favorite candy...you get these beauties, Peanut Butter & Jelly REESES cups. 
Wholesome ingredients, simple, easy, and a treat you can whip up in under 15 minutes. 
Dessert? Nahh, with only a handful of ingredients, you can enjoy these bite sized bits of heaven whenever you please.   
Im thinking ill take my Pb&J's like this from now on! 
I n g r e d i e n t s
1/4 cup coconut oil/ or cacao butter , melted
3/4 cup runny peanut butter 
2 tbsp honey or maple syrup (omit if avoiding sugar )
1/4 tsp sea salt 
 OTHER: 1/2 cup homemade chia seed jam ( recipe below, you can also use a store bought jam ) 
D i r e c t i o n s
*Prepare your chia seed jam ahead of time and place in fridge to set* 
 Line your muffin tin with muffin liners. 
Add your melted coconut oil into a mixing bowl. Whisk in your honey or maple syrup. Add in your peanut butter and sea salt, stir/whisk until one uniform mixture.
Fill each mold about 3/4 full with the peanut butter mixture. Continue until all of your mixture is gone. 
Scoop 1 heaping teaspoon of the chia seed jam into the very middle of each peanut butter mold, allowing some to peek over the top. 
Place in freezer to set for about 1 hour, then move to refridgerator to store. Allow them to thaw before eating, you will know when the jam is gooey and no longer frozen. 
Enjoy!
Recipe for chia seed jam below! 
CHIA SEED JAM 
1 cup organic frozen berries ( I used a combo of raspberries, strawberries, and blueberries) 
2 tbsp raw honey 
1/2 tsp vanilla extract 
1/2 lemon 
1-2 bay leaves (optional but adds such an incredible flavor) 
1 tbsp chia seeds. 
Heat your berries in a small sauce pan over medium heat, stirring occasionally. When they start to melt down add your honey, vanilla, and bay leave(s), stir. When you start to see bubbles, continue to cook down for about 7-8 minutes. Mixture should gradually get thicker. 
Once It has simmered and has cooked down, remove from heat. Add your lemon and stir. Allow your mixture to completely cool. Remove your bay leaf! Lastly stir in your chia seeds. Scoop into a glass jar or sealed container and let thicken in the fridge for about an hour!