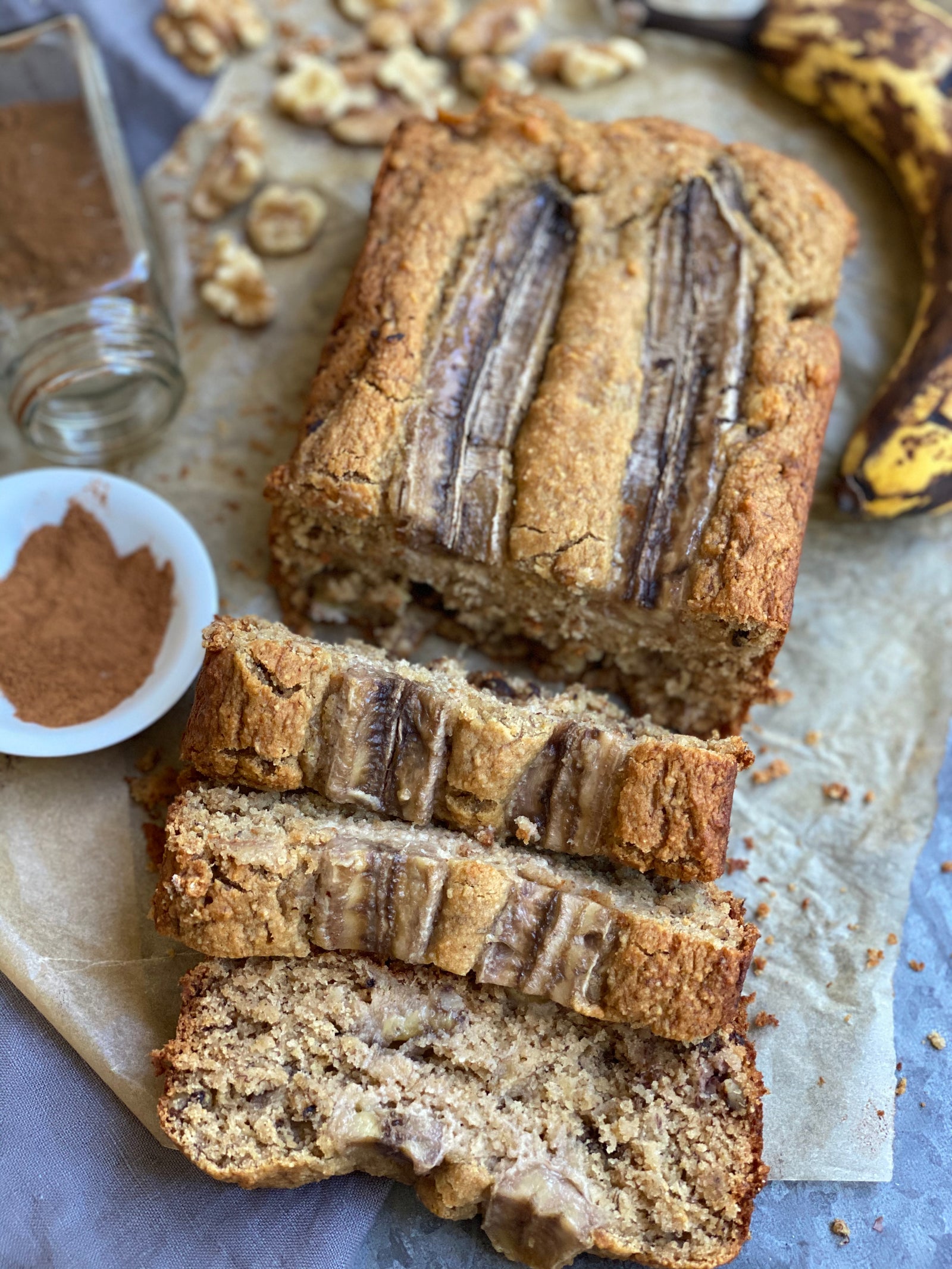 Perfect Vegan Banana Bread
Now I know that this is a bold statement.. the "perfect" banana bread... but yall know I would never let you down. This bread exceeded my banana bread dreams. 
It's incredibly moist and just the right amount of sweetness. You get a nutty flavor from the walnuts and a zesty bite from the cinnamon. 
Nothing worse than tossing old bananas, especially when they could be used to whip up my favorite banana bread recipe to date!! Family activity is calling! 
I n g r e d i e n t s 
Wet 
3 tbsp aquafaba  ( **Note this is the liquid in a chickpea/garbanzo bean can )
2 bananas ( spotty and browned)
1/4 cup maple syrup
1/4 cup applesauce
1/4 cup tahini
2 tbsp honey
2 tsp vanilla
Dry 
1 cup GF oat flour
3/4 cup almond flour
1/2 cup brown rice flour
1.5 tsp baking powder
1 tsp baking soda
1.5 tsp cinnamon
1/2 tsp sea salt
3/4 cup chopped walnuts 
OPTIONAL: 1 extra spotty banana for topping your bread
Preheat your oven to 350F and line a bread pan with parchment paper. Grease any exposed pan areas with avocado oil spray/ coconut oil spray.
You will need a hand mixer to whip your aquafaba. Pour your aquafaba in a bowl and using a hand mixer , beat for 2 minutes on high. Your aquafaba should have thickened and resemble egg whites. Set aside while you prepare the rest of your bread.
In a large mixing bowl mash your two spotty bananas using the back of a fork, mash until no clumps remain. Add the rest of your wet ingredients and whisk together. Add your aquafaba egg and mix well.
In a separate mixing bowl add all of your dry ingredients and mix well.
Add your dry ingredients into your wet, mix until just combined ( do not overmix ). Fold in your walnuts. 
Add your batter into your loaf pan and spread evenly.
Optional: Slice your third banana in half and press each half into the top of your bread batter, so It is flush with the rest of your bread.
Bake for 34-37 minutes or until top is hollow and golden on top. 
Allow to cool COMPLETELY so that the bread can set. When completely cool, slice and serve!