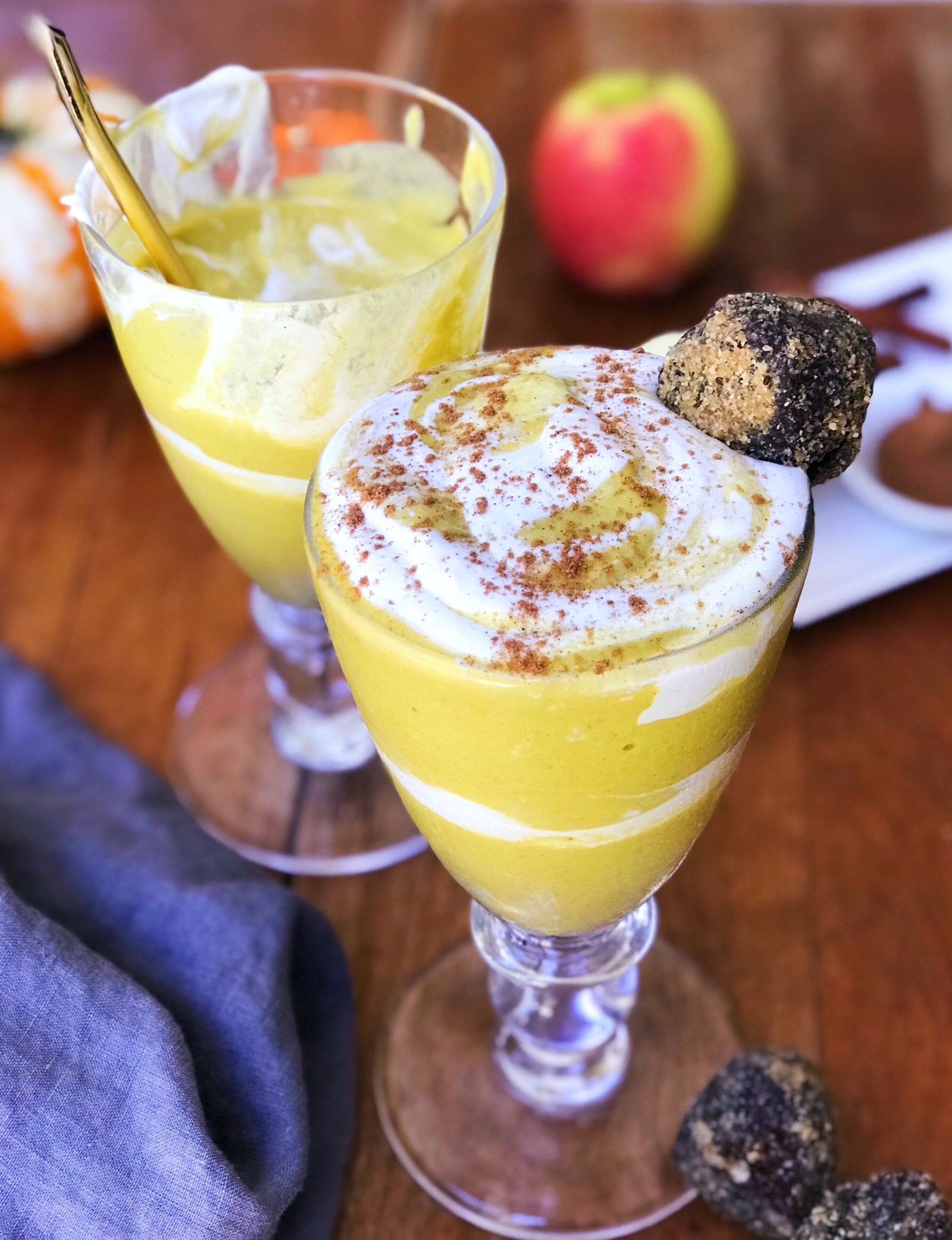 PUMPKIN APPLE PIE SMOOTHIE
It's HERE!! My new favorite fall smoothie + an exciting new announcement ... is it really a Monday?

I went through over 20 rounds of testing to FINALLY nail my version of the perfect fall smoothie which (no shock here) incorporates all of my favorite fall ingredients.

From the sweet pumpkin, to the crisp apple, to the creaminess of the cashew butter -- this smoothie is about to make you FALL in love. Sorry, I love an easy pun.

Ok, ok, now for the big news I keep teasing you with.

I am SO insanely excited to once again announce that a version of this smoothie will be launched at Hustle Smoothie Bar in Charleston, South Carolina on OCTOBER 15th!

The recipe will vary slightly from the one posted here, but the deliciousness will remain the same. Let the countdown begin! 

Between your blender and the convenience & skill of the Hustle Smoothie Bar I am hoping everyone gets a chance to try this smoothie! Now, here's to hoping we actually drop below 80 degrees in Columbia,SC this week. .


I n g r e d i e n t s 
3 frozen pumpkin puree ice cubes (how to: From an organic pumpkin puree can (not pumpkin pie mix) scoop the puree into an ice tray and freeze)
1/2 frozen banana
1/2 pink lade apple
1 small, sliced, steamed then frozen zucchini (frozen cauliflower subbed should work fine too)
1 heaping Tbsp cashew butter@artisanaorganics
1 tbsp coconut cream (optional)
1/2 tsp pumpkin pie spice + more to top (@traderjoes has this)
1/2 tsp vanilla
almond milk 

D i r e c t i o n s 
Blend all ingredients in your blender! Adding any extra spice or sweetener that you please!

Smoothie is pictured with a homemade dairy free WHIP CREAM. Details to come.