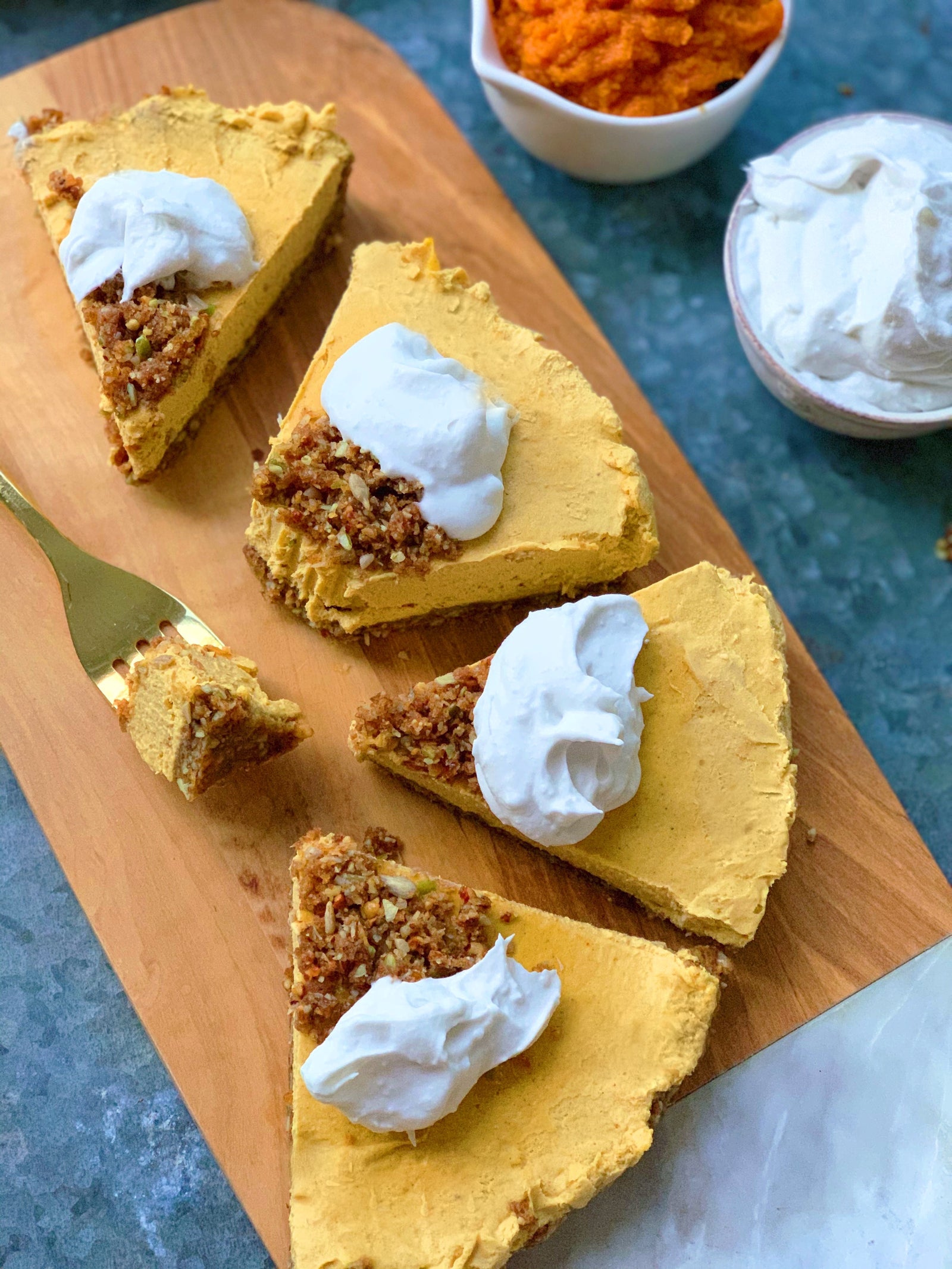 I can't decide which I swoon over more, how delicious this Pumpkin Cheesecake is or how ridiculously easy It is to make! Want to be the favorite relative at your Thanksgiving dinner? Well, might I suggest you bringing this to your dessert table!
And dont worry, I wont tell that its also gluten free and dairy free if you wont. Lets let the happy bellys do the talking! 
FILLING
1.5 cup raw cashews, soaked overnight
½ cup coconut milk ( full fat, from a can - if separated, blend first before measuring)
½ cup pure pumpkin puree
½ cup maple syrup
3 tbsp melted coconut oil
2.5 tbsp fresh lemon juice
1.5 tsp pumpkin pie spice
1 tsp vanilla
1/4 tsp cinnamon
1/4 tsp sea salt
CRUST
1.5 cup pecan pieces
½ cup pumpkin seeds
14-15 large medjool dates, de-pitted (make sure sticky, )
1 tsp vanilla
½ tsp sea salt
D i r e c t i o n s :
Line a cake pan with parchment paper. Preheat oven to 350F to lightly toast your pecans ( step is optional). Line a rimmed baking sheet with parchment paper or foil for easy cleanup. Arrange pecans in a single layer on prepared baking sheet. Toast until browned and fragrant, stirring occasionally, about 7 to 8 minutes. Remove and allow to cool for a few minutes. 
In a food processor add all of your crust ingredients. Process until a crust forms. Sticky enough to form into a crust, but not overly wet. I reserved about ¼ cup to use as a topping, but completely optional. 
Press your crust into parchment paper, pinching up the sides for the edges of the "crust." 
Place crust in freezer while you prepare the filling. 
Drain and rinse your cashews! Add all of your filling ingredients into a high-speed blender and blend until thick and creamy! Taste filling and adjust anything you need to suit your taste buds.   
Remove crust from freezer and pour filling over crust, smoothing with a spatula to create an even cheesecake. Sprinkle leftover crust over the top of the cheesecake. Seran wrap the cheesecake and allow to freeze for a minimum of 5 hours. 
Allow a good thirty minutes for the cheesecake to thaw before slicing and serving!