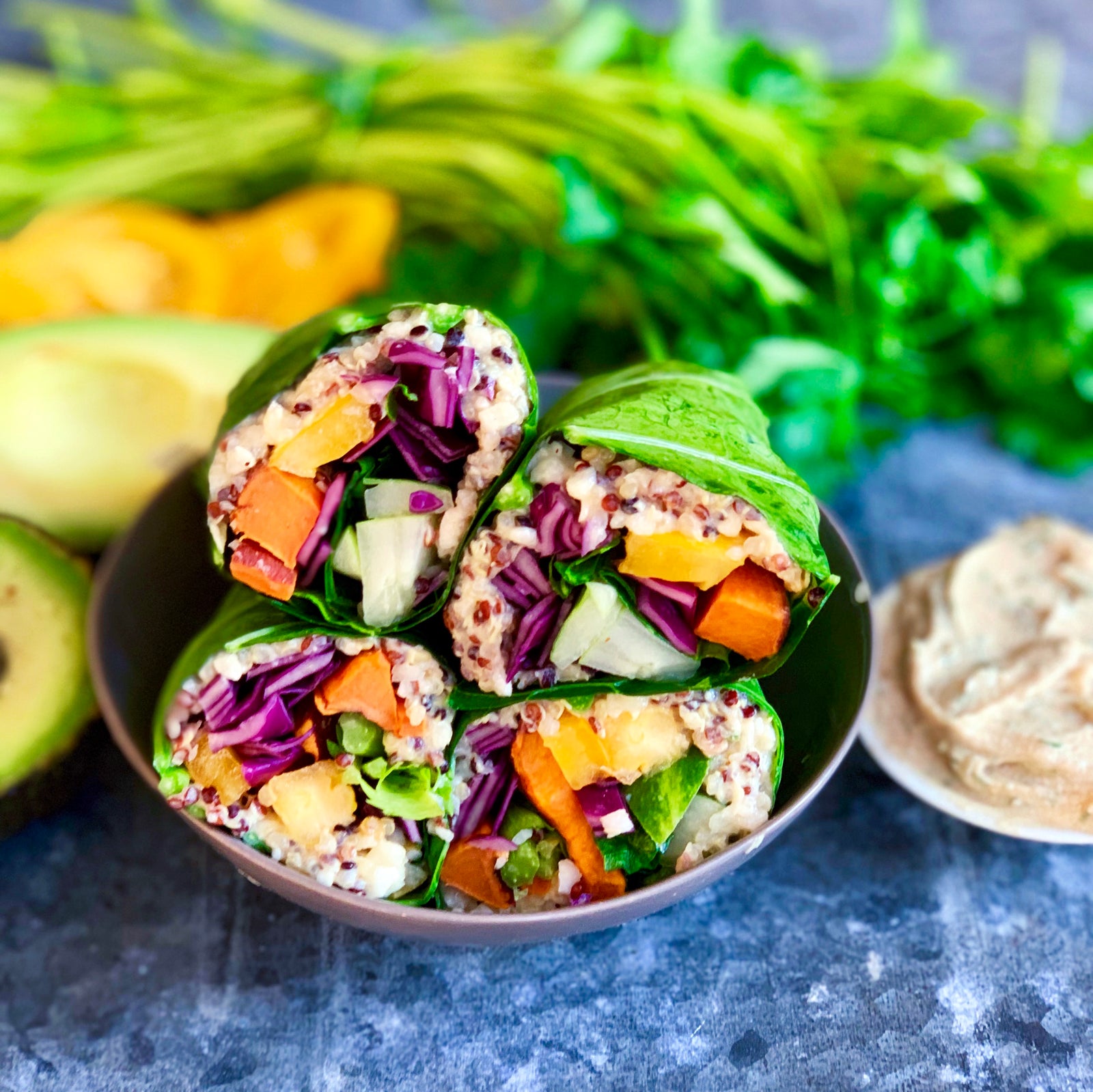 *aLmOsT* too pretty to eat. I love a crunch and I love a veggie loaded bite. So a crunchy, loaded bite doused in a creamy tahini dill sauce? Sign me up!
These beauties are filled with cauliflower rice, quinoa, hummus, sweet potatoes, carrots, cabbage, microgreens, cucumber and a whole lotta goodness ✌🏻.
These have been my go-to lunch, dinner AND snack since I got back from traveling. My body (and tastebuds) have been very thankful!
I n g r e d i e n t s 
2 large collard leaves
¾ cup cooked quinoa
¾ cup cauliflower rice
½ cup hummus
Vegetables of Choice: 
Red cabbage
Cooked sweet potato strips
Sliced cucumber
Shredded carrots
Microgreens
avocado
Tahini Dill Dipping Sauce
1/2 cup runny tahini
1/2 cup warm water
1 small garlic clove, minced
1 tbsp fresh lemon juice
1 tbsp apple cider vinegar  
2 tbsp fresh dill (more or less to taste)
1 tbsp raw honey
1/4 sea salt to start.
D i r e c t i o n s 
Blend all dressing ingredients in a food processor or vigorously whisk until all combined. Taste and adjust sea salt , dill, or lemon juice! Set dressing aside.
Take a look at this video before assembling so you can properly prep your collard wraps! Instead of putting them on the stove ( like the video shows) I steamed mine for 60 seconds! Either method works. Once collards are prepped get your fillings ready.
In a large bowl mix your cauliflower rice, quinoa, and hummus. Stir until fully incorporated and a sticky mixture has formed. This mix should stretch for at least two collard wraps!
Begin assembling your ingredients like the video shows. Where she puts hummus you will put your hummus/quinoa /cauliflower rice mixture! Layer the veggies on top. You do not want to overload each wrap and bust the collard! Practice makes perfect with these.
Once you have wrapped your collard and rolled up as the video shows, cut in half for serving! Use the tahini sauce as your dipping sauce and enjoy!