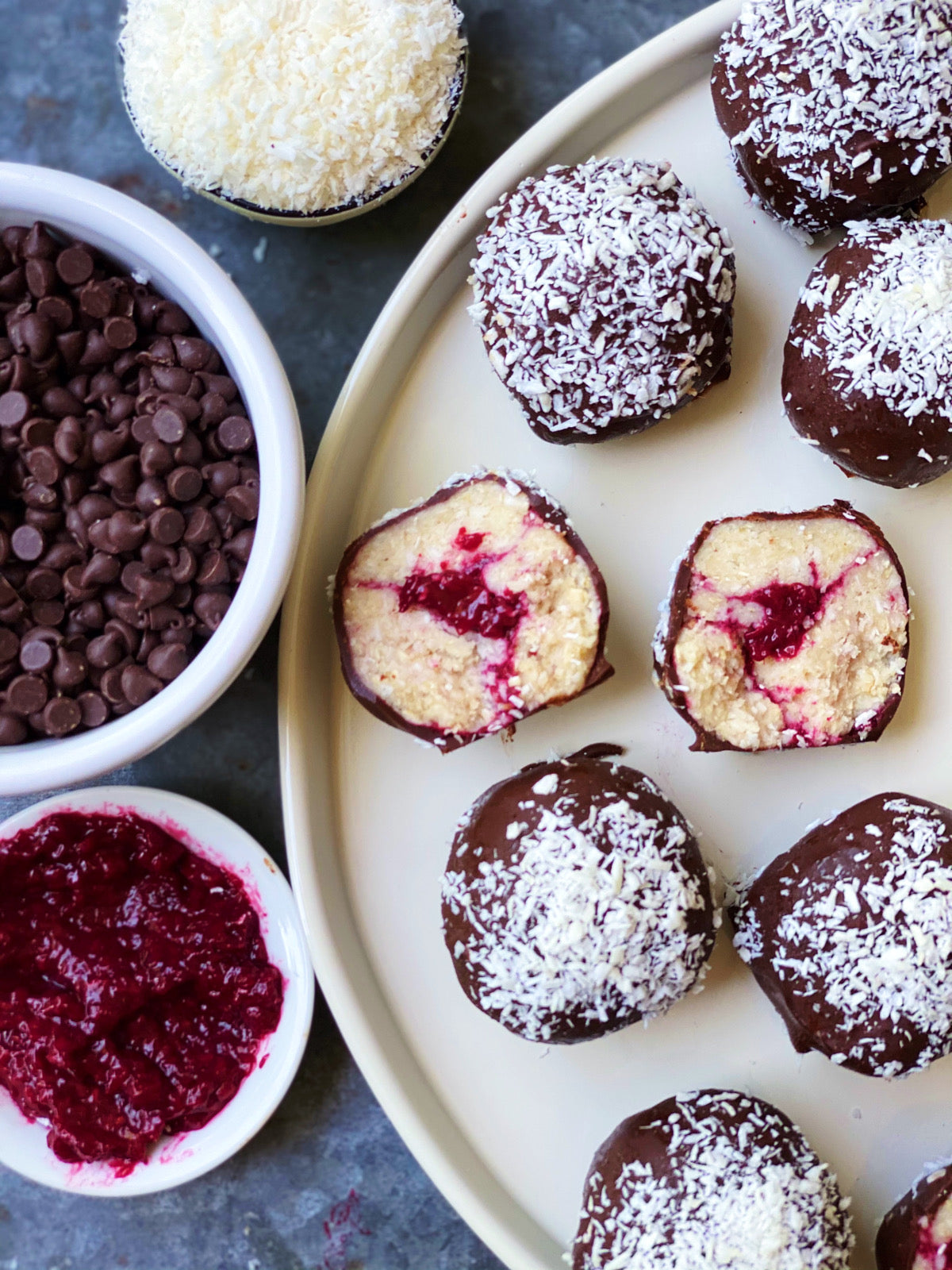 Chocolate Raspberry Cake Ball
You know those flavor combos that are hard to beat...peanut butter and jelly, brownies and ice cream, butter and popcorn... I'm going to go out on a limb and say raspberry and chocolate needs to be included in that category. Sprinkle in a little coconut and game over. 
My favorite part about these cake balls is that when you take a bite, you get a sample of each decadent layer, all in one -- the chocolate hardshell, vanilla coconut filling, and raspberry jam. 
These will be the most delicious decision you will make all week! Let me know what you think.  
NOTE** All recipes on Tasty As Fit's website are for personal use only. Any commercial or professional use of these recipes for profit will be subject to legal repercussions.  
Ingredients
Jam
1.5 cups frozen raspberries
1 tbsp honey ( or maple syrup )
1 tbsp water
1 tsp lemon juice
1 tsp vanilla
Pinch sea salt
3 tbsp chia seeds
Filling
2 cups shredded coconut
1/2 cup gluten-free oat flour
3 tbsp almond flour
1/4 tsp sea salt
1/3 cup coconut oil ( solid )
1/3 cup honey ( coconut nectar / brown rice syrup if vegan) 
1 tbsp nut milk
1/2 tsp vanilla extract 
Chocolate Shell
1 cup chocolate chips
12 tsp coconut oil
Extra coconut shreds for sprinkling
Directions
Begin by making your jam.
In a sauce pot add your frozen raspberries, honey, and water. Stir as you begin to melt them down over a low heat. Cook raspberries down until soft, mashing them with the back of your spatula or fork as they soften. Continue to simmer for five minutes longer, stirring often. Turn off burner and move off the heat. Add in your lemon juice, vanilla, and sea salt. Stir in. Stir in your chia seeds. Transfer to a bowl or jar and place in fridge to cool completely while you make your coconut balls.
In a large food processor combine your coconut, oat flour, almond flour and sea salt. Process a few times to combine. Add in your coconut oil, honey, and nut milk and process until until combined and sticky. Add to a bowl and place in fridge for 15- 30 minutes to harden. If you leave in longer and the dough gets "too" hard, let It sit at room temperature for a few minutes and It will soften again.
Line a baking sheet with parchment paper. Begin to scoop ping pong sized amounts of dough out. After each scoop , flatten the dough into your hand so It looks like a sand dollar shape.
Scoop a tsp of jam into the middle. Fold of the sides and gently roll into a ball. Its ok if not perfect!
Once finished rolling, prepare your chocolate. In a microwavable bowl add your chocolate chips and coconut oil. Microwave in 30 seconds increments, stirring in between each microwave segment to prevent burning. Repeat until all smooth and melted.
Dip each ball into the chocolate bowl with a large spoon, ensuring chocolate is covering the entire ball. Use the spoon to then place each ball on your parchment paper, shaking off any excess chocolate before placing.
Then sprinkle coconut shreds on top of each ball. Repeat until completed! If you have extra jam, save It for toast, yogurt, or for dipping!
These balls can be stored in the refrigerator or the freezer.