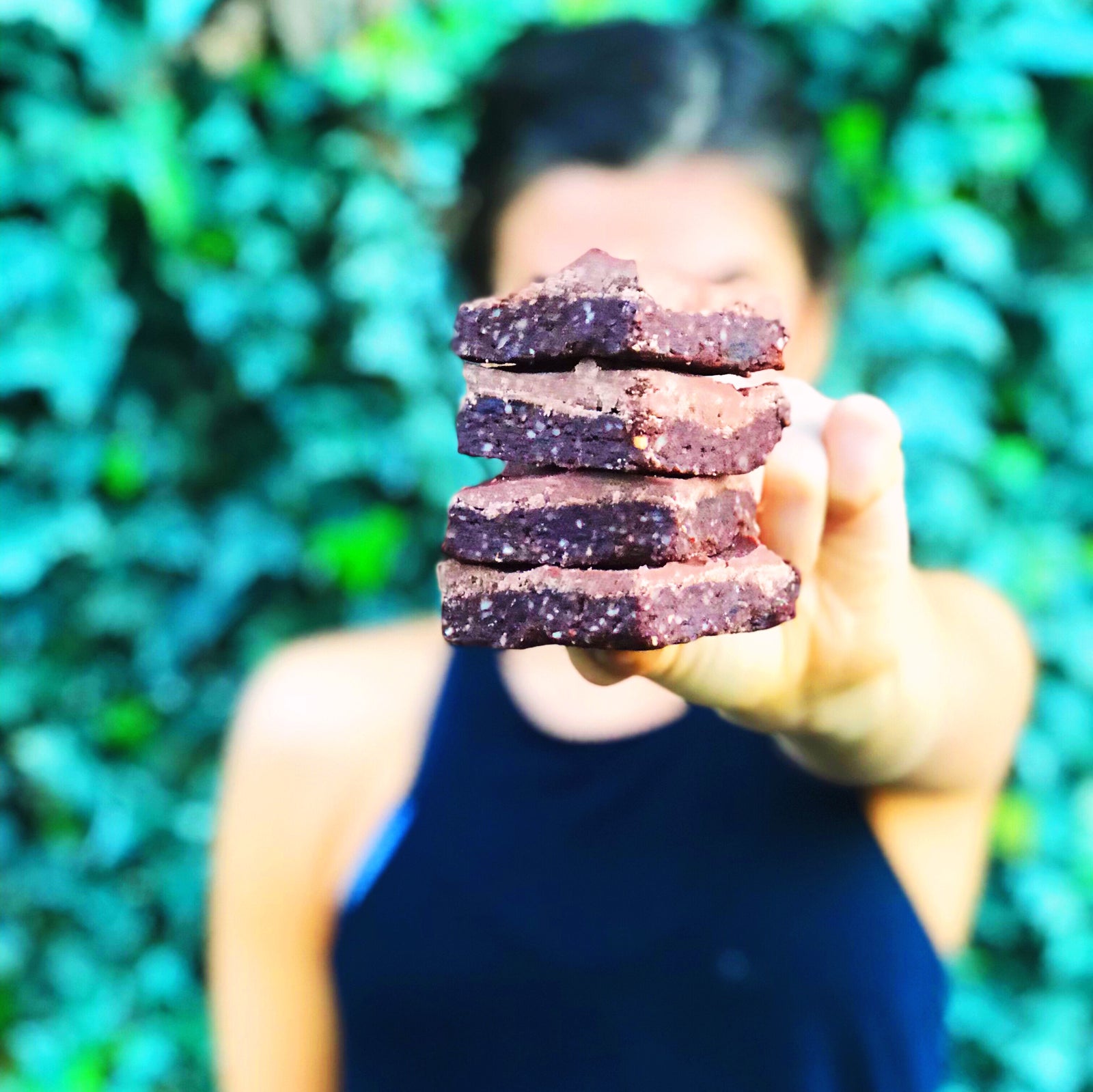 Hands down one of the easiest "desserts" to make out there. It's chocolatey, gooey, caramel-ey flavor will satisfy any sweet tooth!

I get so many questions about desserts that one can eat without "undoing" their day. We all have the same struggles . This is most definitely one of them. Comprised of only 3 ingredients & each one serves a major purpose. Did you know cacao has 40x the antioxidants of a blueberry & is the single highest iron source for a plant based diet?

No-bake, raw, vegan, gluten free, and filled with the good stuff. Get to work!.


I n g r e d i e n t s 
1/2 cup pecans 
1/2 cup walnuts (you can use 1 cup of just one!)
13-15 large medjool dates
2 tsp water 
1/2-1 tsp vanilla 
5-6 tablespoon cacao powder 
1/4 teaspoon sea salt .
Soak your dates in HOT water for 10 minutes. Remove the pits!
F R O S T I N G
1/2 cup coconut butter
1 tbsp cacao
1 tbsp maple syrup
1.5 tsp vanilla
Start with 2 tbsp almond milk, but have 1 more on hand
D i r e c t i o n s 
In a food processor add your pecans and walnuts, and process into a meal. Add all other ingredients and process on high. Scraping down sides as needed! Mine turned into a big ball eventually while processing. .
Lightly coconut oil a small brownie pan or line w/ parchment. Spread the mixture evenly into the pan pressing with your hands. Once all spread, cover loosely wih seran wrap and put in freezer. .

Frosting is totally optional! But here is how I did it below! .

In a small saucepan over medium heat add coconut butter, cacao, maple syrup, and vanilla. Allow to heat slightly and add your 2 tbsp almond milk. Start to work into the mixture. It will start to all melt and absorb the liquid. I added 1 more tablespoon of almond milk once other was absorbed. Once it looks like frosting let cool for a few minutes.

When ready take pan out of freezer and spread frosting. Put back in freezer for 2 hours to set. Store in fridge or freezer!