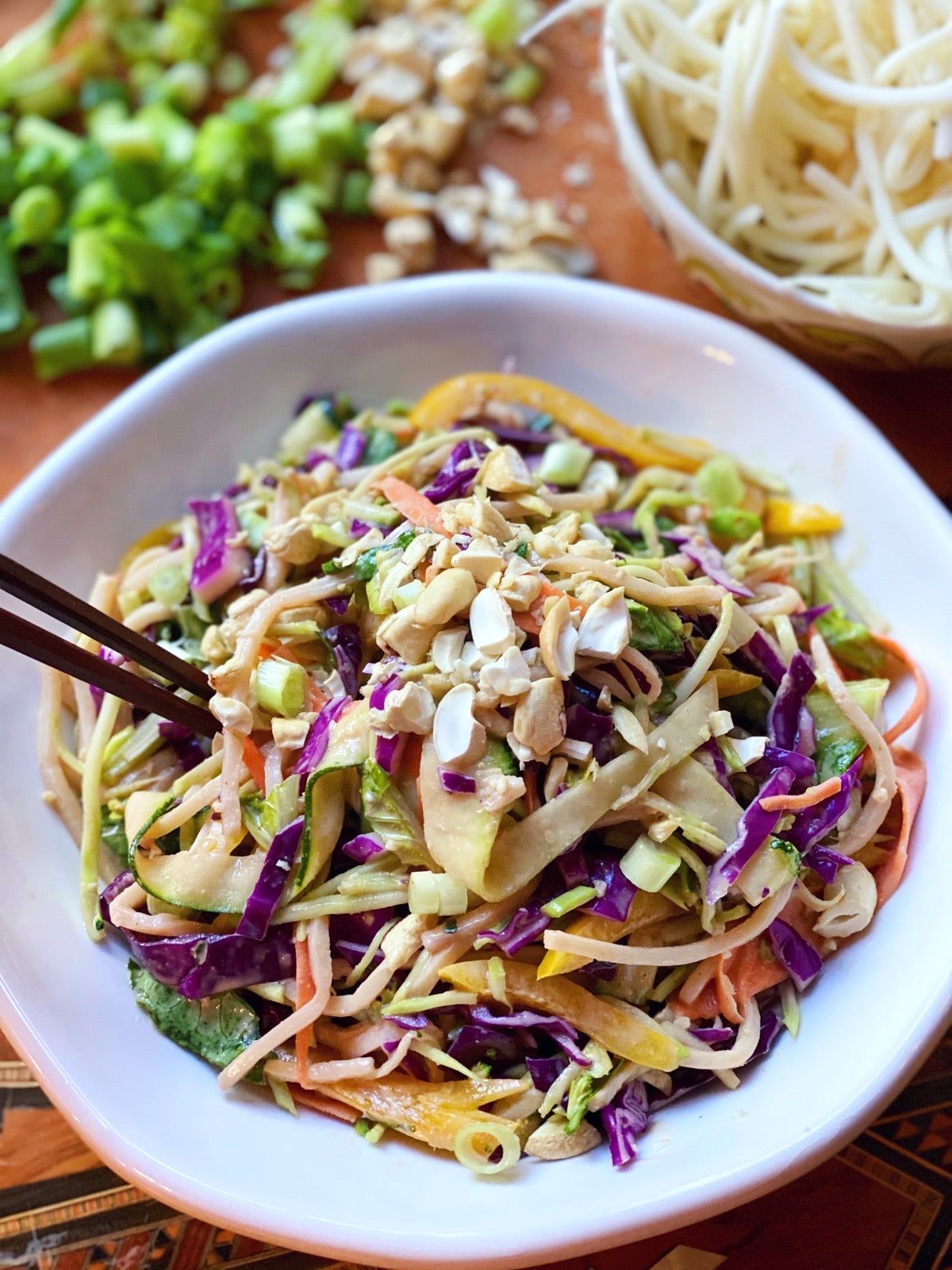 I am so excited to announce my partnership with Palmini Noodles, and I can not think of a better recipe to kick It off with! Fresh, bright, and done in under 15 minutes... this raw pad thai is the absolute perfect addition to your summer dinner table. 
Its nourishing, flavor packed, and marinated in the best asian dressing you will find. 
When something this healthy, is this good, it's a win-win for all. 
Serves: 4 large servings  
I n g r e d i e n t s
Palmini Pad Thai 
1 can palmini pasta (made from hearts of palm! ) Order Here 
2 cups slaw mix 
1.5 cups red cabbage, very thinly sliced
1 cup romaine or kale, very thinly sliced
1 carrot, thinly sliced / julienned/ spiralized 
1 zucchini, thinly sliced / julienned/ spiralized 
1 bell pepper, very thinly sliced 
1/2 cup green onions 
handful basil, minced 
Optional topper: toasted cashews, chopped 
Sauce  
( tip: double this sauce recipe and save in fridge for salads, pad thais, roasted veggies etc! ) 
1/4 cup cashew butter
2 tbsp toasted sesame oil
2 tbsp low sodium tamari
2 tbsp lime juice ( fresh ) 
2 tbsp water
1.5 tbsp rice wine vinegar (add more to taste)
1 tbsp maple syrup
3" ginger knob, peeled, finely grated 
1 clove garlic, minced 
1/4 tsp sea salt ( + more to taste ) 
D i r e c t i o n s 
Rinse your Palmini noodles in a colander. Pat dry.
Add all of your salad ingredients (including dried off Palmini noodles) into a large mixing bowl. Mix all ingredients with salad tongs.  
Add all of your sauce ingredients in a separate bowl, be sure and grate your ginger into the bowl instead of chopping . Whisk until a cohesive creamy sauce remains. Add more water as needed to achieve sauce thickness of preference. Taste and adjust any ingredient! 
Pour your dressing over salad and massage dressing into salad. Once thoroughly mixed through, taste and adjust salt and lime. 
Top with your toasted chopped cashews! 
Allow dressing to marinate for fifteen minutes before serving. Store in a sealed container!