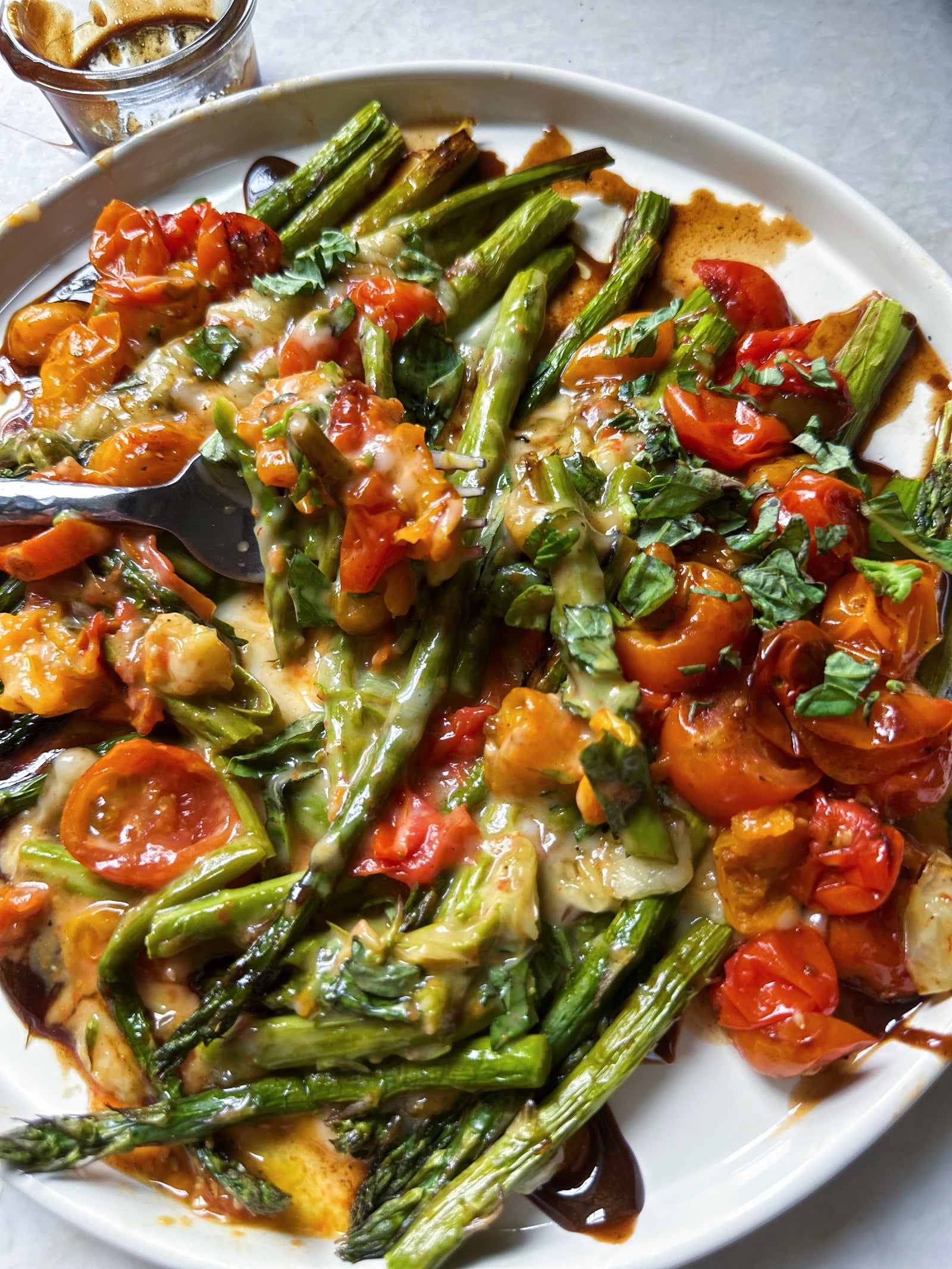 Roasted Asparagus & Tomato Caprese
Roasted asparagus, blistered tomatoes, melty cheese, and fresh basil... a combo you did not know you needed, until now!
I saw this recipe during one of my research days a while back and completely forgot about it until planning my week. I truly cannot say enough delicious things about this one. You get an earthiness from the asparagus, the satisfaction of melty gooey cheese, a burst from the roasted tomatoes, and a hint of sweetness from the glaze. The only bad thing I can say is that I wish I had thought of it!! 
This would be the perfect addition to your summer go-to recipes! 
This recipe was adapted from delish.com 
Ingredients 
1 lb asparagus, trimmed 
2 cups cherry tomatoes, halved 
2 tbsp extra virgin olive oil, divided for drizzling 
1/2 cup shredded Violife Mozzarella, chopped 
1/2 cup balsamic vinegar  
3 tbsp honey 
1/3 cup fresh basil, sliced for garnish 
Salt to taste 
Pepper to taste 
Preheat oven to 425F. 
Place your asparagus directly on a large baking sheet. Drizzle with olive oil and season with salt and pepper. Toss and push to one side of your baking sheet. 
Drizzle the remaining olive oil over your sliced cherry tomatoes and season with salt and pepper. Toss and arrange on the other side of your baking sheet. 
Bake for 10 minutes. 
Remove from the oven and carefully add your shredded mozzarella on top of your asparagus. Add back in the oven for another 10-12 minutes, or until the cheese has melted. 
Remove from the oven and place your cheesy asparagus on a serving platter. Top with tomatoes and drizzle with balsamic glaze. Season with salt and pepper and serve! 
While your vegetables roast, prepare your balsamic glaze. 
Add your balsamic vinegar and honey to a sauce pot. Simmer, stirring occasionally, until the glaze has thickened and the mix has reduced by half. As it cools glaze will continue to thicken, reheat to get your glaze to loosen. 
This meal is most definitely best served fresh! Store leftovers in a sealed container in the refrigerator. Reheat in the oven on 400F in a baking dish.