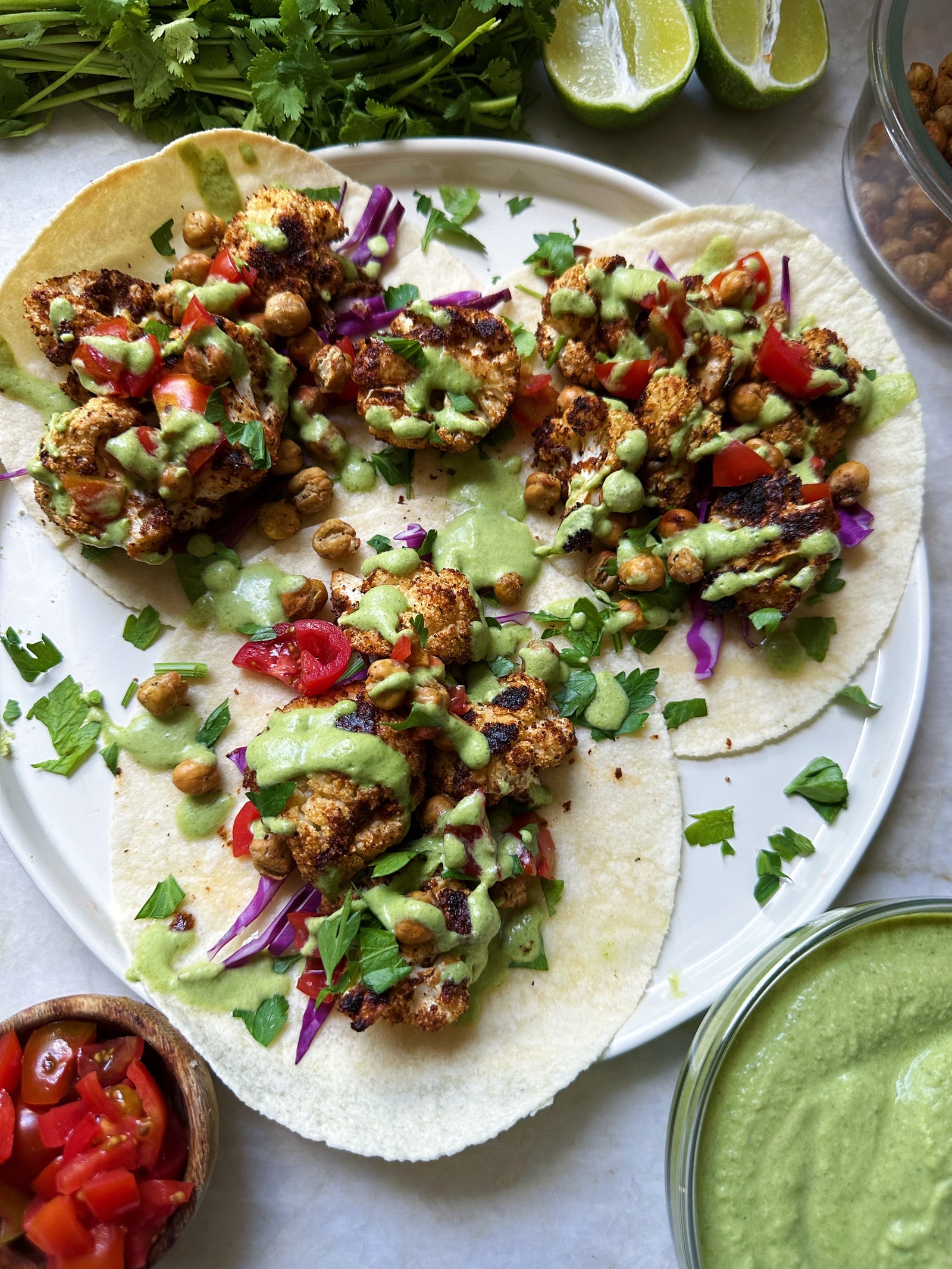 Roasted Cauliflower & Chickpea Tacos
These are the perfect weeknight taco! They are incredibly easy to whip together and the sauce and chickpeas can be prepped ahead of time. Cater the toppings to your family's favorites. 
Or just skip the tortillas if you like and make it a bowl — add in some pico de Gallo, shredded cabbage, green onion, avocado, and some greens! 
And most importantly … drown it all in the dressing. 
Crispy Chickpeas 
1 can chickpeas, rinsed and pat dry 
2 tsp avocado or olive oil 
1/4 tsp sea salt 
Pinch pepper 
Roasted Cauliflower 
1 large head cauliflower, about 6 cups 
3 tbsp avocado or olive oil 
2 tsp chili powder
1 tsp cumin 
1 tsp Himalayan sea salt 
1 tsp black pepper 
1/2 tsp paprika 
1/4 tsp garlic powder
1/4 tsp onion powder 
Cilantro Lime Cream Sauce 
1 full-fat can of coconut milk, refrigerated overnight ( or 1/2 cup hardened coconut cream ) 
3/4 cup cilantro, rough chopped 
1 jalapeño, deseeded, roughly chopped
1" raw ginger, peeled and finely chopped
2 cloves garlic 
2 tbsp lime juice 
2 tsp honey 
Salt to taste 
Other 
6 toasted tortillas 
Pico de Gallo 
Sliced red cabbage
Avocado 
Chopped cilantro parsley 
Preheat oven to 400F. Line two baking sheets with parchment paper, one for your chickpeas and one for your cauliflower. If your oven is not convection, just roast each separately. 
NOTE: Cook your chickpeas in the air fryer on 400F for about 15-18 minutes, shaking them halfway through, for a much quicker result. 
Drain, rinse, and pat dry chickpeas. Add chickpeas to a large mixing bowl. Drizzle with oil and spices. Toss well. 

Spread chickpeas out on one baking sheet, this will allow them to get crispy. Cook for 45 minutes, stirring about halfway through. Once they turn golden brown and have hardened, remove from the oven and allow them to cool. They will continue to crisp up as they cool. 
When your chickpeas are about halfway done, add your cauliflower to the oven. 
Chop your cauliflower into even-sized florets, about 1 inch. This will help ensure they cook evenly. 
Add cauliflower to a small mixing bowl and drizzle on your oil. Mix well. 
Mix your taco seasoning in a small separate bowl and then add to your cauliflower. If you prefer a light seasoning, do not add all the seasoning. Mix well 
Spread out your cauliflower onto one prepared baking sheet and roast for about 25-30 minutes, flipping at about the 12-minute mark. 
While your cauliflower roasts, prepare your dressing. 
Open your refrigerated coconut milk can upside down. Discard any liquid on top. Scoop and measure out 1/2 cup of only the hardened cream. Add to a high-speed blender along with the rest of your dressing ingredients. Blend on high until all is blended and super creamy. Taste and adjust any salt/lime/honey! 
Lay your tortillas out and layer with toppings, cauliflower, and chickpeas as you please. Drizzle with cilantro dressing!