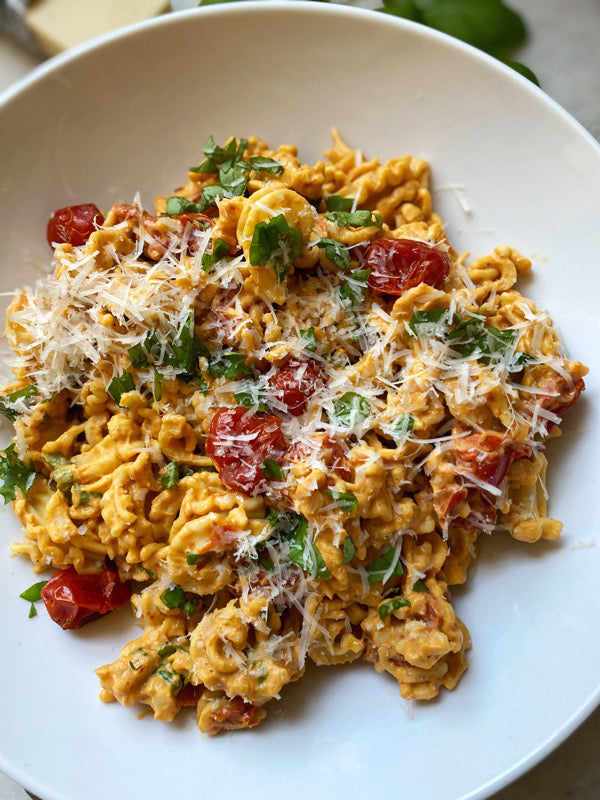 Roasted Red Pepper Cream Sauce
I get a lot of requests for my favorite homemade pasta sauces and this one ranks high on the list! I have been making this for years and using It on top of pasta or roasted veggies or both! 
Its incredibly flavorful ( thank your charred red peppers and jalapeño ) and packed full of vegetables. 
This was one of my first recipes ever created on my Tasty As Fit account but I tweaked a little this go round and It came out even more delicious , so had to re-share! 
Ingredients 
3/4 cup cashews, soaked in water for a minimum of 4 hours
2 large red bell peppers
1 large jalapeño
1 onion
1 tbsp olive oil 
2 cloves garlic , minced 
1/2 cup almond milk 
2 tbsp nutritional yeast
2 tsp sriracha or few pinches red pepper flakes 
5-6 basil leaves
3/4 tsp sea salt
pinch pepper 
Other: 
Pasta of Choice
Sautéed Mushrooms 
Roasted Tomatoes 
Basil for topping 
Vegan Parmesan Cheese
Directions
Soak your cashews in water for a minimum of 4 hours or overnight in the refrigerator. 
Preheat your oven to 450F and line a baking sheet with foil. 
Peel and quarter your onion and add into a large mixing bowl.
Remove the stem from each bell pepper by cutting a circle around the circumference of the stem. De-seed each pepper by scooping them out with a spoon. Now quarter your peppers and add them into the mixing bowl. 
Slice off the stem of your jalapeño and then cut in half. De-seed your jalapeño using the same spoon. Add into your mixing bowl. 
Drizzle all with a tbsp olive oil and a pinch salt and pepper. Mix well. 
Spread out evenly onto your large baking sheet and roast until charred, about 25-30 minutes. 
Once they are charred, remove them from the oven. When tolerable to touch ( you can use oven mitts here too! ) , pull the sides of the foil up and over the vegetables ( closing them in) so that they steam in the remaining heat. Steam about 10 minutes. 
Drain and rinse your cashews. Add them into the blender. Add all remaining ingredients into the blender , including all your roasted vegetables once slightly cooled. 
Blend on high until your sauce is smooth and creamy, this usually takes about 5 minutes total. 
Taste and adjust any seasonings! 
Add to your favorite pasta + toppings and dig in!