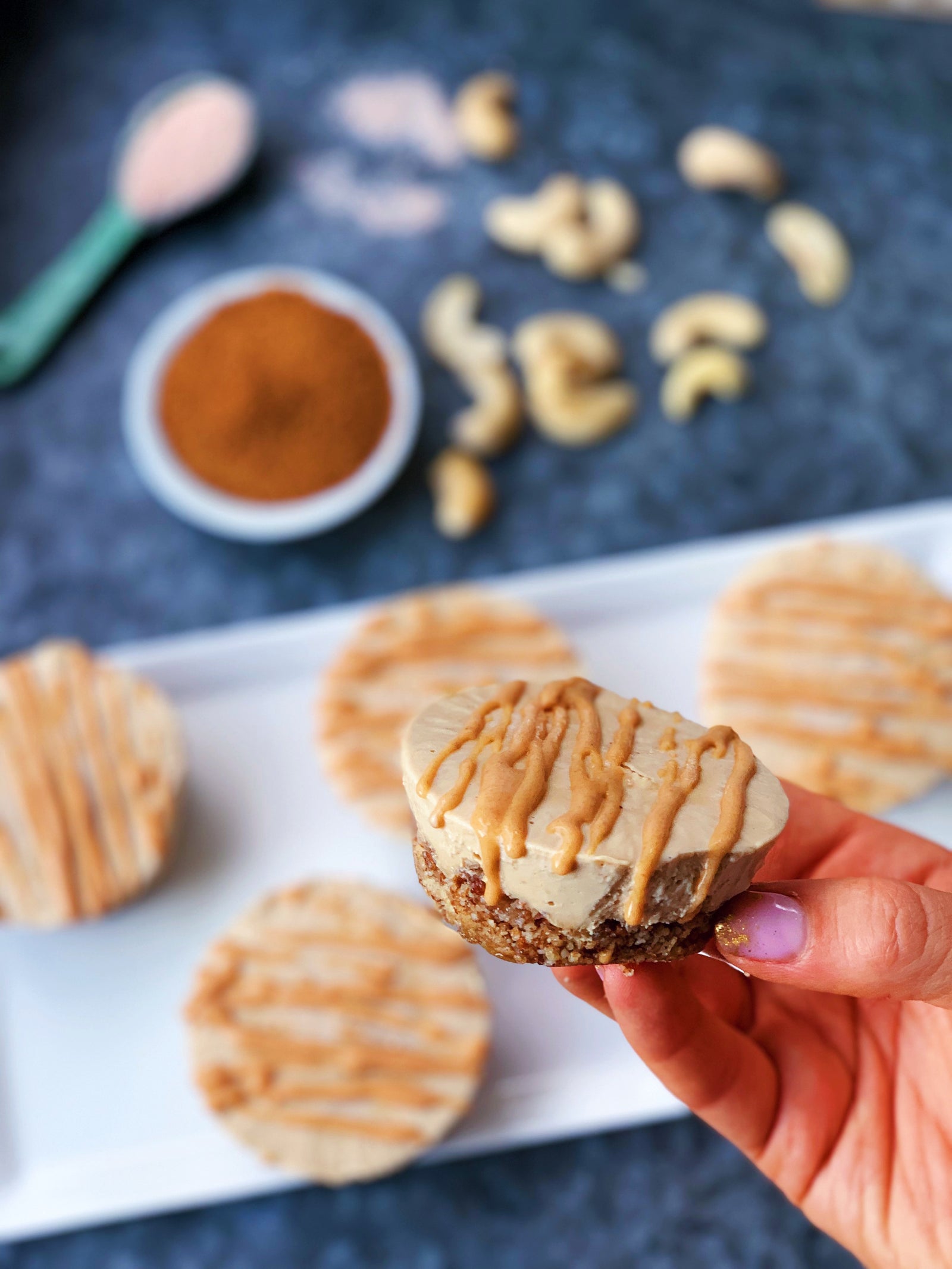 SALTED CARAMEL CHEEESECAKE CUPS
Homemade caramel.
Buttery crust. 
Creamy cheesecake filling.
Layers on layers of SALTED CARAMEL goodness.
How these are just being added to my recipe repertoire I have no idea…. long time fan of anything caramel over here.
Sometimes you just need a dessert that hits all the spots in one bite -- sweet, savory, creamy, and light. Its Wednesday, its dreary, and I thought yall might need a little pick me up. Who's in??
The perfect birthday or entertaining dessert cause they look all kinds of fancy, and they taste it too. 
Enjoy!! 
I n g r e d i e n t s 
CARAMEL
1 can full fat coconut milk, blended before using , divided ( you will use 1 cup for the caramel and the other ¾ cup for the filling )
5 tbsp coconut sugar
1 tbsp arrowroot flour
1/4 tsp sea salt
CRUST
1 cup pecans
1 cup almond meal
1.5 tbsp ghee or coconut oil
5 medjool dates, pitted
1 tsp vanilla extract
Pinch sea salt
FILLING
1 cup cashews, soaked overnight 
1 large medjool date
1.5 tsp vanilla
Rest of coconut milk can (about  3/4 cup )
1 tbsp nut butter (I used cashew)
Full batch caramel ( from above) 
Cashew Butter Drizzle (optional)
2 tbsp cashew butter
1 tsp coconut oil
1 tsp honey or maple syrup
D i r e c t i o n s 
Cut  8 small strips of parchment paper about 4 inches long and an inch thick. Lie each strip into the muffin molds of a non-stick muffin pan. These will act as "tabs" to help you lift each cheesecake cup out of the pan when ready! Be sure the ends poke out enough so you can pinch and lift. 
Crust:
Add your pecans and almond meal into a large food processor and pulse until you see large crumbles. Now add your melted ghee or coconut oil, pitted medjool dates, vanilla, and a pinch sea salt. Process until a sticky crust forms.
If crust is too dry add a tsp warm water and process again.
When ready press your crust into the bottom of each muffin mold, forming an even thick layer in each. I made 8 crusts and saved the rest to top each cup! 
Put your pan in freezer while you prepare the rest.
Caramel:
Blend your coconut milk can first so that the cream and liquid are fully combined. Measure out 1 cup coconut milk and add to a small sauce pot over medium heat.
Whisk in your arrowroot starch, coconut sugar, and 1/4 tsp of sea salt into the saucepan. Vigorously whisk until no clumps remain. Slightly raise heat to a medium-high, and bring caramel to a boil.
Once you achieve a boil, turn down the heat until it's a high simmer. Continue to cook, whisking constantly throughout until it thickens slightly and becomes darker in color. Mine takes about 12-15 minutes.
Turn off heat, move off burner,  and set aside while you make the filling.
Filling:
Add the rest of your coconut milk into the blender (should measure about ¾ cup). Add in the rest of your filling ingredients, including the caramel batch (once slightly cooled), and blend until smooth. Taste and adjust!
Remove your muffin pan from freezer. Pour your filling into each muffin mold, about ¾ of the way up. Sprinkle with the remaining crust (optional) and place back in freezer to set, about 3 hours or overnight.
(optional drizzle) Once your cheesecakes have been in freezer for an hour, melt all drizzle ingredients in a small bowl for 30 seconds. Stir. Drizzle on top of each cheesecake and place back in freezer.
Once cheesecake has been fully frozen (3 hours minimum), allow to slightly thaw so that you can pull each cup out with their parchment tabs. Store in a sealed tight container in the refrigerator or freezer.