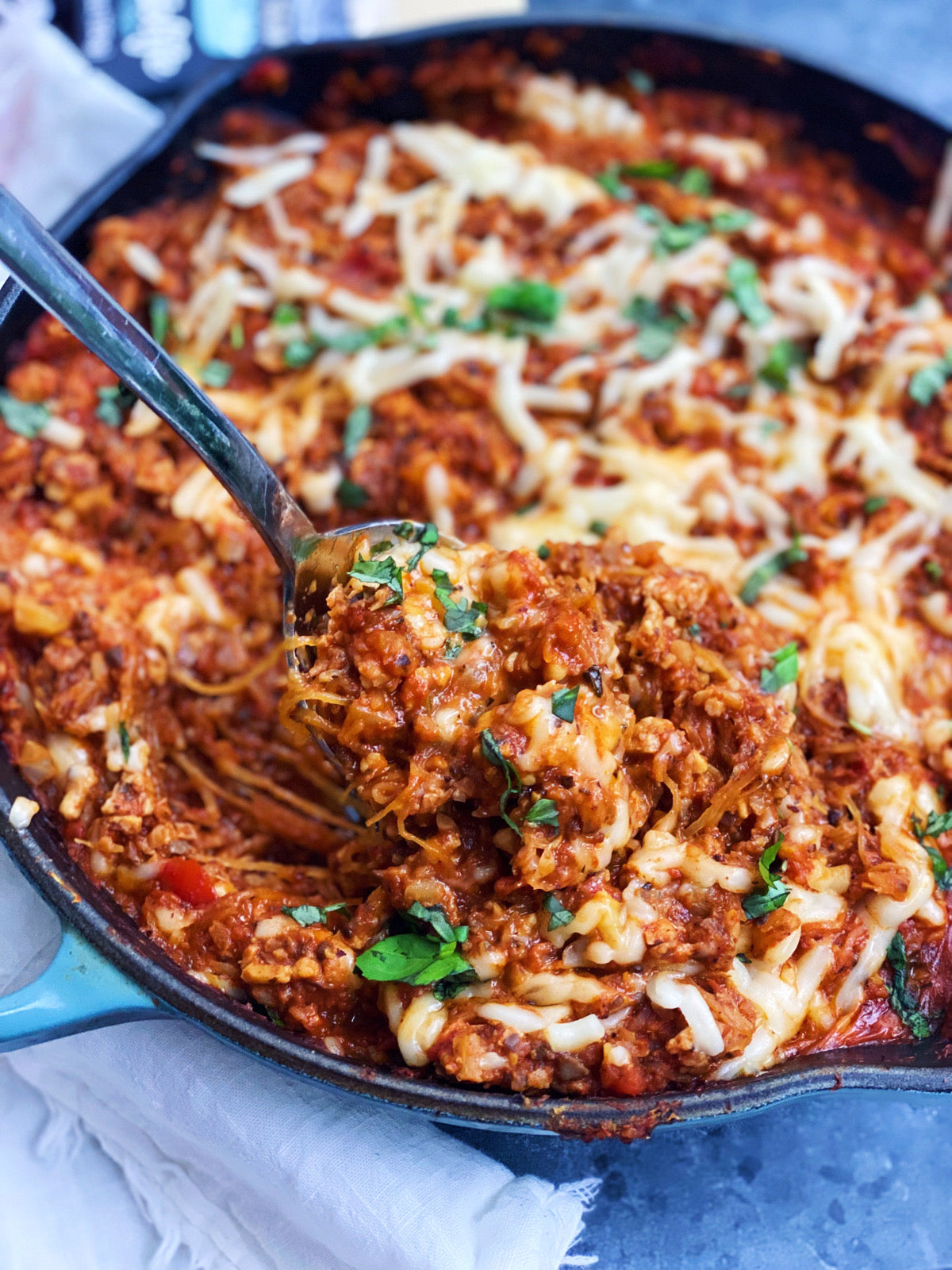 Spaghetti Squash Skillet "Chicken" Parm
Skillet Spaghetti Squash "Chicken" Parm … meet my new weekday staple.  
I swear my most requested recipes are sweets ( yall have a sweet tooth like me ) and one pan meals that will serve your family. No fuss, no big clean up, again… y'all are my people. Where I love dirtying up a kitchen on testing day ( thank you Boyd ) , for a weekday night just give me easy, a roasting pan or a skillet and lets call it a day.
This recipe really hits the spot and can be adapted for all types of eaters. I kept it plant-based but feel free to sub as you wish!
Pro-Tip: If you already have your spaghetti squash roasted this will take you no more than 20 minutes!
*This recipe was inspired by Caroline Chambers 
Ingredients
1 tbsp + of Olive Oil
1 spaghetti squash, see cooking instructions below
1 8oz tempeh package ( I used Lightlife) , sliced into large crumbles
½ cauliflower head, chopped into florets, hard stems discarded
1 8oz container baby bella mushrooms, rinsed, destemmed , and quartered
1 tsp dried oregano
½ tsp garlic powder
Few pinches red pepper flakes
1 24 oz tomato basil marinara sauce
½ tbsp low sodium tamari
½ tbsp coconut sugar, add more to taste
½ tsp sea salt, add more to taste
¼ cup vegan parmesan ( I used Violife )
½ cup vegan mozzarella ( I used Violife)
1/4 loose cup fresh basil , chopped
Preheat your oven to 400F and line a baking sheet with parchment paper. Cut your spaghetti squash right down the middle ( not lengthwise) so that it looks like two half circle domes. For a great step by step visual, see here https://www.acouplecooks.com/roasted-spaghetti-squash-the-right-way/ .
Use a knife to cut around the seeds, then scoop them out with a spoon.
Rub the cut sides of the squash lightly with olive oil and lay cut side down. For a visual see here!
Roast at 400F degrees for 35-45 minutes or until a fork can pierce through. When ready, remove from oven and allow to cool. Use a fork to scrape out the squash noodles! Set aside while you prepare the rest of the dish.
In a large food processor, add in your tempeh. Pulse until resemble large crumbles.
Warm 1 tbsp olive oil in a 12 inch large deep skillet over medium high heat. Add in your tempeh and begin to sauté—stirring often.
To your food processor, add your cauliflower florets and quartered mushrooms. Process until crumbled.
Once your tempeh begins to slightly brown, add in your cauliflower/mushroom mix. Add a dash more oil if you need.
Continue sautéing until cauliflower becomes tender, about 6-7 minutes.
Stir in your garlic powder, oregano, and red pepper flakes.
Add in your tomato basil marinara sauce, tamari, coconut sugar, tamari, and sea salt. Stir.
Season your cooked spaghetti squash with a pinch sea salt and pepper and toss. Now add in your spaghetti squash to your sauté pan.
Stir with pasta tongs or a spatula to work through. 
Grate in your parmesan and stir.
Bring your mix to simmer and allow to simmer for 4-5 minutes, or until most of the liquid has evaporated out. 
Sprinkle a layer of your mozzarella on top and cover with a lid.  
Leave covered for an additional 10 minutes.
Remove the lid once cheese is melted! Serve when ready! 
Store leftovers in a sealed container for up to 3 days.