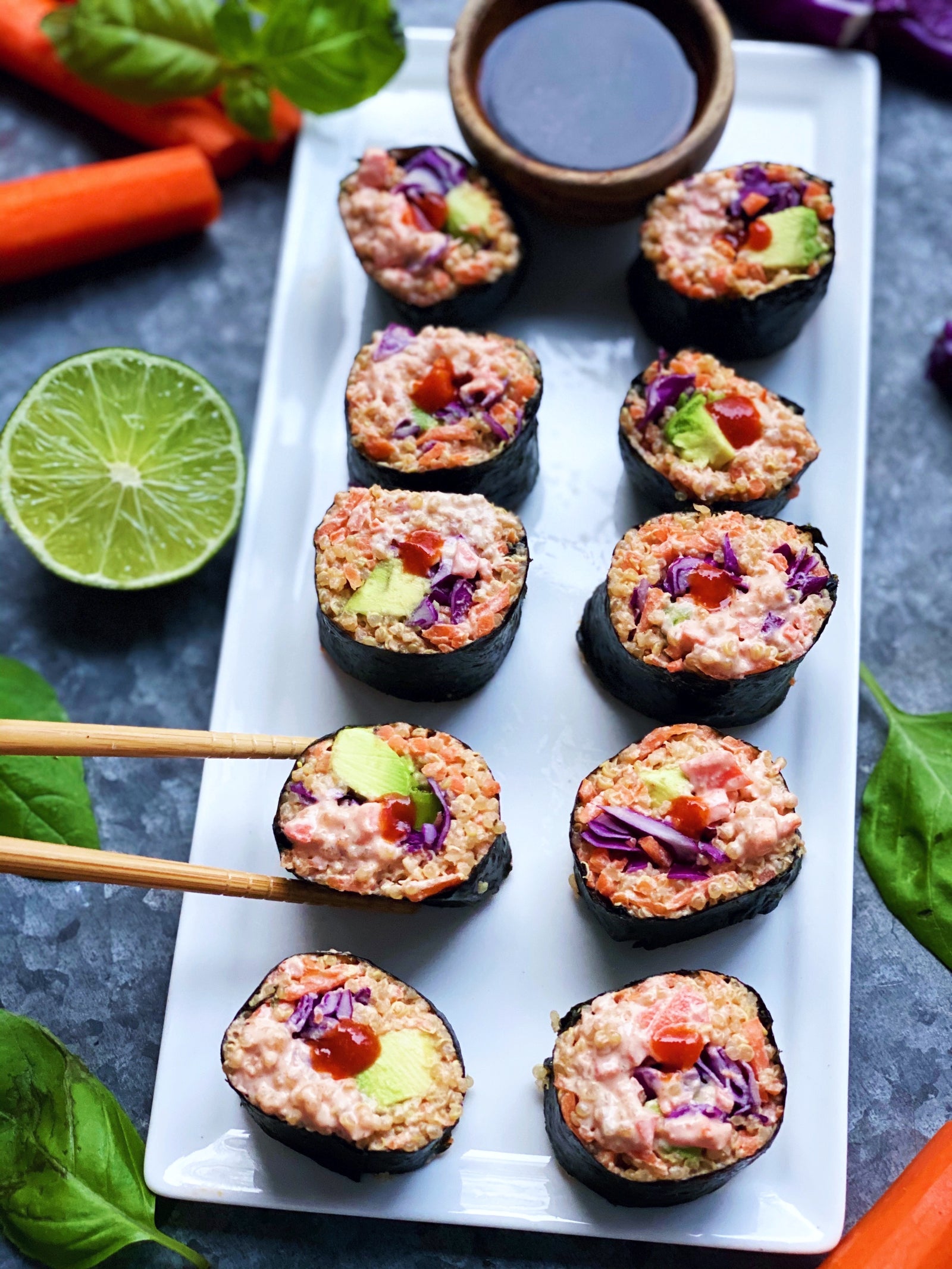 Three words.... SPICY. CARROT. ROLL.
However, those three words lead to quite a few more.... HOLY COW THIS ROLL IS SO DANG GOOD. All the flavor and crunch of your typical Spicy Tuna Roll but let's make It plant-based shall we? 
The homemade spicy aioli takes this roll over the top, and per usual only the good stuff involved, just fresh veggies and creamy avocado. 
I love this sushi so much, and odds are you will too. 
I n g r e d i e n t s 
SUSHI MIX
1 cup shredded carrots, chopped into small bits
1 cup cooked quinoa , chilled
½ tbsp rice vinegar
SUSHI INGREDIENTS
3-4 nori wrappers ( I use this one!)
1 cup red cabbage shredded
½ avocado, sliced
1 large cucumber, sliced into thin strips
1/3 cup green onion
SPICY AIOLI
½ cup cashew mayo ( recipe linked here) or any vegan mayo 
2 tbsp siracha ( more or less depending on spice level)
1 tbsp lime juice
SMALL BOWL
2 tbsp rice Vinegar
2 tbsp water
RECOMMENDED
Sushi Rolling Mat (like this one!)
Cutting Board
D i r e c t i o n s 
Prep all your ingredients prior to rolling your sushi to make rolling as smooth as possible. 
In a large mixing bowl add your cashew mayo, siracha and lime juice. Stir until all combined. Add all your sushi mix ingredients and fold in sauce until all mixed well.
Place your rolling mat on top of your cutting board. Lay a nori wrapper ( shiny side down ) onto the mat. Place your small bowl with rice vinegar and water near your rolling station.
Reference these pictures before tackling the below! 
 Take a heaping ½ cup of your sticky mix and place in the center of the bottom half of your nori wrapper.
Now using your hands spread the mixture into a thin, even layer on the nori sheet, leaving about 1 inch space from the bottom and sides, forming a rectangular shape. 
Begin to add in your veggies, (Do not overload your roll, if so it makes it very difficult to roll!)
Arrange the veggies in a compact line, about a ½ inch from where the quinoa mixture starts from the bottom of your nori sheet.
Clean your hands. Now dip your finger tips into your rice vinegar/ water bowl and dampen along every edge of your sheet. This will help secure your roll. Wipe your hands.
Now slowly begin to roll your sushi. To roll, start with the end closest to you. Using the bamboo mat for help, bring the end up and tightly roll over the filling, pressing and securing with your fingers as you go.
If edges are not sealing well continue dipping your fingertips in your bowl of rice vinegar/water bowl and gently sealing every time your roll.  
Once complete, with a very sharp knife, cut the sushi into 6-8 slices.
Serve with coconut aminos or tamari!
Best when fresh, but leftovers should save in a sealed tight container for up to 2 -3 days!