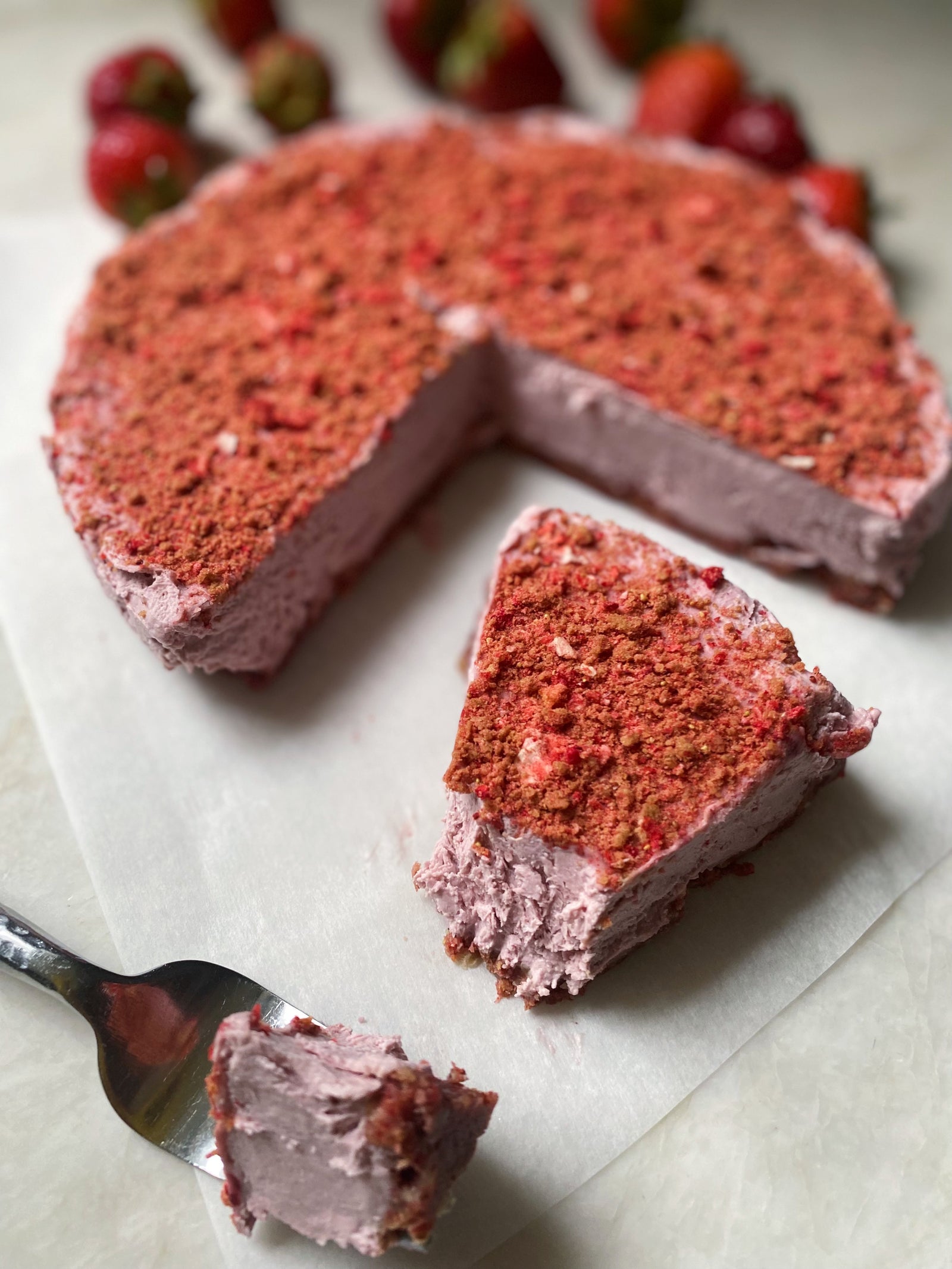 Strawberry Shortcake Cheesecake
If you are wondering what to do with all those fresh strawberries sitting on your counter, look no further. This 'Strawberry Shortcake Cheesecake' is a spin-off on the nostalgic 'Strawberry Shortcake' Good Humor popsicles.  We used to go through boxes at our house and though these won't leave your lips quite as stained pink, these do not miss the mark. 
I can assure you the kids and adults in your household will all be asking for seconds!
Crust
1 cup Simple Mills Honey Cinnamon Thins ( or any graham crackers will do ) 
3/4 cup walnuts 
3/4 cup freeze-dried strawberries 
3 tbsp coconut oil, melted 
1.5 tsp vanilla extract  
2 tbsp maple syrup 
sea salt 
Line a cake pan with parchment paper. 
Add your graham cracker thins and walnuts to your food processor. Pulse a few times. Now add in your strawberries and pulse a few times. Add all other ingredients and process until small crumbles remain. The mixture should be slightly wet and sticky. 
Press your crust firmly into an even layer in your cake pan, using your fingertips. Once you have formed your crust, place the pan in the freezer while you prepare your filling. 
Filling 
1.5 cup raw cashews, soaked in water overnight 
1 can full-fat coconut milk ( refrigerated overnight) 
8-10 fresh strawberries, stems removed 
3 tbsp coconut oil, melted 
2 tbsp lemon juice
1/4 cup maple syrup 
2 tsp vanilla extract 
pinch sea salt 
Topping 
1 cup Simple Mills Honey Cinnamon Thins 
3/4 cup freeze-dried strawberries 
Drain and rinse your cashews and add to blender. Open your coconut milk can, scoop out only the hardened fat/cream, and add It to the blender. Discard of any liquid from the can or save it for another use. 
Add all other ingredients into your blender. 
Blend on high until your batter is smooth and creamy, no clumps. This will take a few minutes! 
Remove your crust from the freezer and pour the filling on top of the crust. 
Add back into the freezer to set before adding your topping. 
For your topping: add your Honey Cinnamon Thins or graham crackers to your food processor. Pulse a few times. Add in your freeze dried strawberries and pulse until you achieve large crumbles. 
After about 2 hours of freezing remove your cheesecake from the freezer and sprinkle on your topping. Lightly press the crumbs into the top of the cheesecake and return back to the freezer. 
Freeze for another 3 hours. 
When ready to serve, remove from freezer and allow ten minutes to thaw before slicing.